Allow me to start with a personal note. If you are not interested, feel free to skip this paragraph. "Be With Me" is the very first of Eric Khoo's films I have seen. It was at the Bratislava International Film Festival in 2005. And the film somehow stuck in my head. To be honest, I didn't remember any particular detail; just that I walked out of the cinema and I was in love. Little did I care about the fact that "Be With Me" premiered in the esteemed Director's Fortnight section of Festival de Cannes 2005.
Buy This Title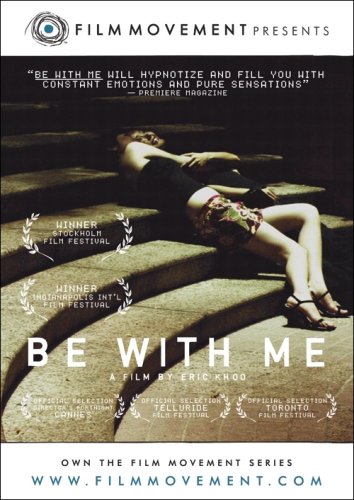 "Be With Me" was inspired and based on the life of Theresa Chan (herself), blind and deaf teacher whose life is an embodiment of the saying "against all odds". Hers is but only one of the three stories titled Meant to Be, Finding Love, and So in Love. Regardless of their characters and sub-stories, "Be With Me" interplays love lost, love unfulfilled and love unspoken. Yet it does not let sadness to settle, as it gives way to dreams, hope, and happiness that somehow always manage to find their way.
"Be With Me" builds on the harmony of seemingly opposing decisions of the three main characters that, thanks to the interweaving of the stories, seem to be affecting each other. Well, certainly they affect the way the others are perceived, adding different perspectives to their difficulties, despite it is only in the end they intersect. This goes hand in hand with an impartial stance of the narration that takes all the stories as equal, all the problems and obstacles as equally important.
Whether it is Theresa Chan and her will to live and love, Jackie (Ezann Lee) who struggles in what became the first explicitly lesbian relationship depicted in Singaporean cinema, the security guard (Seet Keng Yew) who is secretly in love with a woman working in the building he works in, or the widowed father (Chiew Sung Ching) of the social worker (Lawrence Yong) assisting to Theresa Chan who keeps falling into grief after his wife's passing, "Be With Me" doesn't judge. It merely gently states and allows to be seen.
Theresa Chan and her real-life story is the backbone of the film. The matter-of-factly way she recounts her life and the routine of preparing her own meal, teaching children to speak or pottery renders her spirit even more admirable. Hers is the majority of the words spoken in the film that only contains less than three minutes of (spoken) dialogue.
And yet, the communication, the need for interaction, is the theme of the film. The different ways the words are brought up in the silence of the film also stand for the ways the characters live their love lives. Words are written by hand, typed on an old manual typewriter, in Braille, felt by a touch on the face, a touch of fingers or tersely turned into instant messages of online chat or text message. Words expressed to stay, to outlive, but also to be quickly consumed or deleted.
Displaying a keen eye and a talent to depict small details of everyday life in different types of households, streets or professions linked with the film's protagonists, "Be With Me" creates a set of the believably realistic and intriguing world(s) inhabited by even more intriguing persons and recreates one admirable and amazing life story. What it shows is not always nice, but the way it portrays it is endearingly and strongly gentle (yet unsentimental). Very beautiful. Very human. And the question "Is true love truly there, my love?" might linger in your head for years.