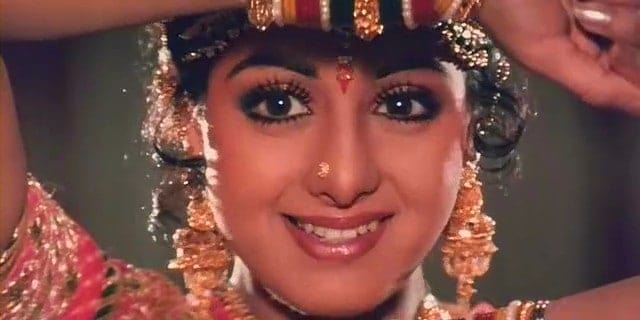 Yash Chopra was always in love with "love". He portrayed love on the silver screen with the imagination of the purest lover, including shades of different phases of love in life. "Chandni" was released in 1989 and was one of the matured love triangles of Indian cinema of that period, crafted with some brilliant acting, cinematography and music, under the guidance of a class director. Though for me " Lamhe" (1991) has been the best movie by Yash Chopra, "Chandni" was more appealing to the masses and became a big hit in the late eighties, making Sridevi a household name in India.
"Chandni" screened at Indian Film Festival of Los Angeles
Beautiful and bubbly Punjabi girl Chandni ( Sridevi) meets Rohit ( Rishi Kapoor) in a marriage ceremony. Rohit falls for the charm of Chandni instantly and proposes for marriage. But the complications start due to the social differences of the two families, although the love story continues. Suddenly, Rohit suffers an accident in a helicopter and his right side gets paralyzed. The narrative takes a different turn then, as Rohit analyzes his current condition and starts avoiding Chandni, considering himself handicapped and not fit for her anymore. Chandni moves to Mumbai and joins a travel agency headed by Lalit (Vinod Khanna), a widower. Lalit falls for Chandni and they dating each other. With time, Chandni becomes close to Lalit's family and his mother ( Waheeda Rehman). But the narrative takes another turn and Lalit meets Rohit in Switzerland in a business trip, where Rohit is under treatment. They become friends and the narrative slowly moves into a love triangle till it reaches a happy ending with the marriage of Rohit and Chandni.
Sridevi is brilliant as Chandni as the role perfectly suits her personality and brings the best out of her. Rishi Kapoor and Vinod Khanna put up a mature performance and Waheeda Rehman is a delight to watch. The music of the film is classy, composed by renowned Indian Santoor player Shiv Kumar Sharma and Indian bamboo flute player Hariprasad Chaurasia , known together as Shiv-Hari. Lata Mangeshkar renders some beautiful songs in the movie, including the chart topper "Mere Hatoon Mein". Cinematography of Manmohon Singh is smart and exploits the scenic of European country side brilliantly.
Yash Chopra was going through a rough phase professionally when Chandni happened in 1989. It was the first collaboration between Sridevi and Yash Chopra and turned out to be an all time blockbuster in Bollywood. The classical beauty of Sridevi was aesthetically captured by the director and mesmerized the audience. The story line is very appealing to the masses and the movie received the 37th National Film Award in India for best popular film and also 10 nominations in the 35th Filmfair Awards. The success of Chandni helped Sridevi to strengthen her position as the number one female star in Bollywood in the late 1980s – early 90s.