by Sayaak Santra
Now this is one of the most obvious things you could ever read, isn't it? A movie reviewer from India NOT reviewing one of Ray's films….? Well, this can't be happening. So, here it is. A good old review of the masterpiece which once defined a much neglected segment of Indian as well as world cinema. Am I really going to rant about the state of the art cinematography or the captivating screenplay of a masterpiece that is already beyond any kind of criticism? (For instance, there is a chase sequence in this movie which involves camels running after a train in the Thar Desert. This is a true milestone, regarding a 1974's Indian cinema scenario). No, I won't. On the contrary, let me guide you through a rather overlooked aspect of Ray's filmmaking, THE MUSIC; in this particular case the musical score of 'Sonar Kella'.
Buy This Title
Ray's film music not only hails a wide appreciation but also manages to set quite a few trends. In his earlier films, such as the 'Apu' Trilogy, 'Devi,' 'Jalsaghar' and 'Paras Pathar,' Ray worked with maestros like Ravi Shankar, Vilayat Khan and Ali Akbar Khan. Being influenced by previous experimentalists, like for instance Chetan Anand and K.A. Abbas, Ray managed to create wonders through his collaboration with these maestros. He somehow redefined the concept of background scores in films through his amazing musical knowledge and restraint, while he created the necessary impact. But beyond a certain point, Ray realizes that all these maestros, with all due respect to them, are having a few limitations which also come out as ideological differences regarding the concept of background score and film music.
This is the point where he decided to take the situation in his own hands. "The reason why I do not work with professional composers any more is that I get too many musical ideas of my own, and composers, understandably enough, resent being guided too much", he says. Note that Ray himself was an avid piano player and raised with Indian and western music. Not just classical repertoire, but the sound of the streets as well.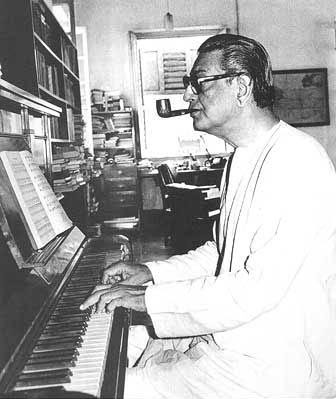 Conventional Indian music instruments are being used in unconventional notations. This is happening in order to create a specific atmosphere during the cast introduction of Sonar Kella. The music makes the viewers feel tense. They have to sense that the movie is some kind of thriller brought onscreen in a much lighter tone. In addition, we have to keep in mind that the book on which the movie is based is a detective novel written by Ray himself, aimed at a teenage target group . And the "I get too many musical ideas of my own" moto can be understood within the latter half of the introduction score. Ray is using rattles in order to create some kind of percussive progression, a trait which makes the whole concept sound even more fascinating.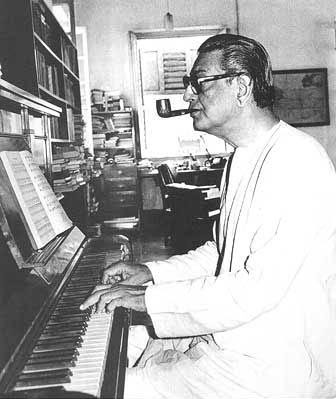 The film kicks off with the main theme of Feluda, aka Pradosh C. Mitter, the protagonist of this movie as well as the writer – director's renowned series of detective novels called 'Feluda'. This tune became so popular, that even in these days many Indian people – especially those who come from West Bengal – once they started listening to the tune, you could see a glimpse of their childhood veils reflecting on their faces. The warmth of goodness, a feeling of sweet nostalgia and the tense atmosphere of a detective story are just a few traits which a family along with the kids can enjoy and also feel overpowered while listening to the tune. Feelings, which I also perceive when I listen to the tune.
The movie is taking place in the state of Rajasthan, located on the western side of India which is part of the great desert of Thar. During past times, Rajasthan was a place of Maharajas and their prize fortresses were built there. The fortresses and their artifacts are still visible there. Despite the past royal glory of the state, nowadays, it is a heritage area, which means that one can still find oneself amidst the past times while travelling through. Moreover, some of the most critically acclaimed forms of Indian classical and contemporary music were invented there. Some Ragas or Raginis have their roots traced back to Rajasthan. But that's not all. Rural Rajasthan is famous for many folk artists, who have ancient roots and traditions traced back to ancient times. An old devotional song by Meera Bai, who herself came from Rajasthan is used in the film. The song is filmed through a performance by a group of gypsy folk artists, a very common sight in Rajasthan until these very days. The dim, nightly lighting of the scene matches perfectly the melodic appeal of the song, as well as the mystery that ensues underneath an apparent sense of wonder.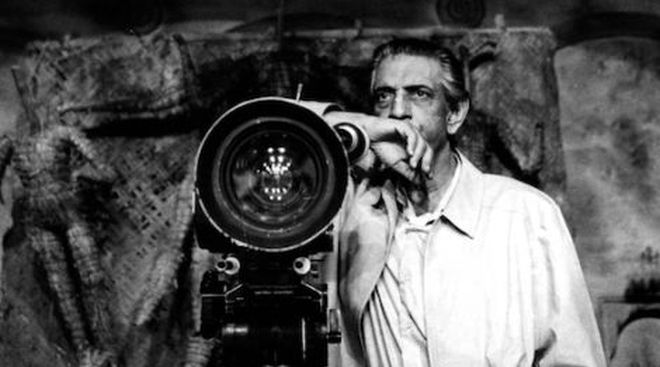 Each and every element of the tense and mysterious progression is present in the score. All this atmosphere is highlighted by the use of mostly Indian classical instruments, blended with a mild flavor of western instruments. Sometimes, such instruments are used in order to generate certain phonetics that perfectly match the direction and the screenplay. As a result, the viewer can ideally relate to these traits.
Overall, this film is one of Ray's numerous onscreen wonders in order to perceive the essence of his musical genius, accompanied by his amazing ability to create a unique kind of ambience by using just the minimum of artistic means. May you have a nice listening and an equally interesting, to say the least, watching.