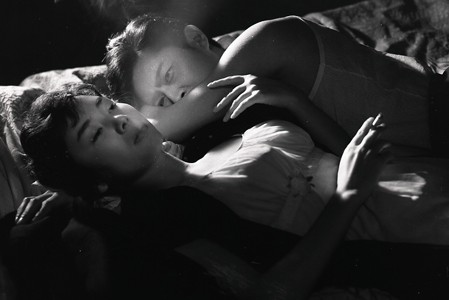 Only one year before he paved the way for the frenetic cool of the Japanese New Wave with his unabashedly sexual and violent taiyo zoku film 'The Warped Ones', Koreyoshi Kurahara took a huge breath before this plunge with a slightly more conservatively executed picture. Taking place a year before the Anti-Anpo demonstrations against the signing of the Security Treaty between the United States and Japan, 'The Age of Our Own' condenses the frustrations and anxieties of the country's youth into an at times beguiling cinematic venture which loses its mind by its conclusion – both in good and bad ways.
"The Age of Our Own" is screening as part of Japan Society:
By following the parallel stories of two brother until their violent confluence in the third act, 'The Age of Our Own' explores the conflicting attitudes of the country's youth. Minami (Hiroyuki Nagato) is largely indifferent to the events spiralling around him and yearns to escape to Paris to continue his studies; whilst living with prostitute Yoriko (Misako Watanabe), he falls in love in singer Akiko (Kazuko Yoshiyuki?) and plans for them both to emigrate to France. His brother Shigeru (Nobuo Kaneko?) meanwhile is disgusted with how Americans treat his fellow countryman and, with his bored band members Shinji (Yasukiyo Umeno?) and the Korean-born Ko (Yûji Kodaka?), take matter into their own hands to teach their employer a lesson. With irrational decisions clouding each of their paths, their lives begin to unravel.
At its heart, Kurahara's film is driven by its politics and his handling of his homeland's situation is masterfully vitriolic. It's iconoclastic nature does come across a little on the nose in the 21st century but at the time no doubt infuriated plentiful spectators – there's a mention of throwing a grenade at Emperor Hirohito (after calling him a coward) for example – and is as subtle as a brick to the face. There's also an overwhelming symbolism running rife from the start: it's female class members clearly reflect their male counterparts' views on the country as much as their rhetoric, and the film's token American character looks down his nose and trash-talks about the people in their own language – again without subtlety – on behalf on his own country's attitude to the conquered. It's a hatred that runs deep but where the film truly excels is weaving the contradictory complexities simmering within each character into the story, empathetically fleshing them out with an understandable humanism. It's a decision which prevents this from being a one-dimensional affair.
Though there are moments of overacting dotted throughout, the cast does a good job of exhibiting the frustrations plaguing Japan's youth at the time. Nagato truly embodies the listlessness of Minami as clear as day in every aspect, whilst Kaneko, Umeno, and Kodaka dazzle with such youthful energy, exemplified in the jazz they play, and overflows in their antics. Theirs a boyish charm is eager to escape its innocence and yet comes hurtling down once their breaking point has been reached. Though the band's story does at times feel secondary, their giddiness at plotting their prank is fun and charming to watch and cuts through the pseudo-seriousness of Minami's story like a knife. The more their story develops and explodes (pun intended) the more we pine for hilarious send-off; sadly, this is not the case as a blend of the real-world politics and unnecessary farce pulls the brakes down fast on their journeys. It's here we remember what the focus has always been on: serving only to draw the audience into their world, the stories are secondary to the larger game Kurahara is playing here.
'The Age of Our Own' ultimately lacks the energy and punchy immediacy of the director's later films, especially 'The Warped Ones'. However, it's more subdued and traditional cinematographic approach allows its subjects plenty of space to breathe, to exist. Moments of intimacy are further humanised by close-ups more seductive than delicate, as if such moments were indeed a sin. Its pacing seems fairly standard for the era except in its conclusion which feels a little rushed considering the paths traversed beforehand; time is needed to get into the characters' mindsets and is thus executed to enhance this spectacularly. Jazz weaves itself in and out of the picture but, like Shigeru's band, feels more like lounge music – background noise – more than anything else. It all paints a calming drama waiting to burst into life, much like the way the characters seek theirs, despite all that is going on; it might come across as diluting the context but it feels necessary to understand everything the way Kurahara intended.
Politically symbolic and symbolically political, 'The Age of Our Own' is as restrained as it is destructive, a paradoxical entity of cinema with all the hallmarks of the beasts Kurahara would unleash to cinema-goers in the coming few years. Whilst everything feels secondary to its underlying message, everything serves to bolster those feelings of abandonment by a country seen, at that time, to be getting meeker. Poignant and dissident, it isn't afraid to pull punches when it needs to and ironically acts before it thinks. Though it is a shame its climax is beyond fantastical, it stands as an underrated and seemingly undiscovered gem with great importance and appeal.