Filmmaker Nila Madhab Panda has received Padma Shree, one of the highest civilian honors in India, presented by the president of India in 2016. He has directed six Hindi feature films. His first feature, the iconic I AM KALAM, has won thirty-three International awards and one National Award. He followed that success with a series of acclaimed films, including JALPARIA, BABLOO HAPPY HAI and KAUN KITNEY PAANI MEIN.
On the occasion of his latest film, "Dark Wind" (Kadvi Hawa), screening at Indian Film Festival of Los Angeles, we spoke with him about climate change and its consequences, Sanajy Mishra, and other topics.

Climate change is real and Indian theatrical release of "Dark Wind" coincided with the Delhi toxic smog problem, which made the international news. This made a lot of people realize the importance of the film, so the timing was perfect I've heard you have been working on this script for a long time, then how and why did you made it now of all time?
Well, I grew up literally on a river bank (Mahandi, in Odisha) and have been very close to nature since my childhood. When I became an adult, what I enjoyed the most was watching the journey of weather. The change of weather, the look of nature depending on weather change etc. It's such an amazing feeling when nature changes things on its own. But over the time, we humans became very powerful, we think we are the most important element in the whole chain of the ecosystem. We did things according to our benefit and to make our life easy. So nature took its own action.
Eventually, when I became a filmmaker, I tried to bring water, air and all other nature's elements into my films. Of course it was much easier when I used to make documentaries. Then of course I did this shocking film in 2005 ("Climate's First Orphans), on a coastal cluster of 7 villages in my state that had gone under the sea. When I shot it in 2005, three villages were engulfed by the sea, and as the years passed, everything went under water. You can visibly see hand pumps, remains of houses etc inside the sea. That is the effect of climate change. Looking at this kind of scary images of the impact of climate change made me think I needed to do a serious film like "Kadvi Hawa" and when you ask about right timing, tell me when it is not the right time. I remember when I saw Los Angeles for the first time in 2001, it was green. See the color of LA today, it's dry, arid, yellow. California is the best example, years of drought, why?
Farmer suicides are also a major point in the film and just last month over 30000 farmers in the state of Maharashtra participated in the Kisan long march protesting for their rights and livelihood. So again the time when this film came out seem to be perfect. Do you think the film helped more people and especially politicians to be more aware of problems faced by Indian farmers?
Indeed, it's all relevant to the time; When is it not? Every day for many years now, farmers are dying. It's linked. Certainly the film has created a big awareness level.
Did you shoot on location in Bundelkhand, the actual draught affected area? How was the shooting experience and the interactions with the locals? Any memorable episodes, good or bad?
Most memorable yes, even the pan shop had water pouches, selling for 50 paise. Water is all they wanted. All I can say for the shooting experience is we are soon going to run out of our resources.
Even though he has played serious roles, Sanjay Mishra is mainly known for his comedy parts. Hued is the protagonist in "Dark Wind", in a role that demands a lot from him, but he did an absolutely stunning job. How did you guide him for the part, and why did you cast him for the role?
He was my first choice since I started writing the script. But yes, lot of effort was needed in order to make him play the role. We spent months with visually challenged people. Lot of exercises.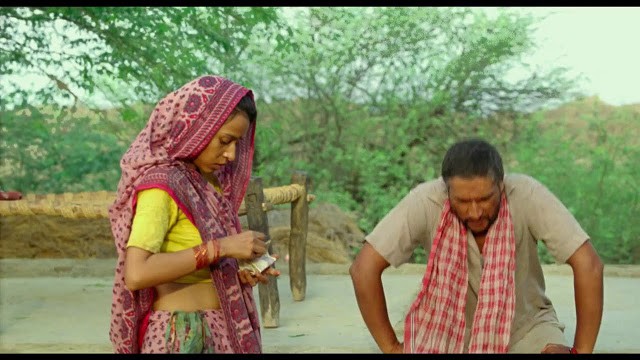 In India, films like "Dark Wind" are not at all a safe bet, commercially speaking that is, so how hard is it to find producers and raise funds?
It is always difficult to make films like this. It means someone has to become poor for certain. So one has to define what being rich means. So me and my friend Akshaya Kumar Parija, decided to be poor financially, because no one can fund such films.
You are someone who has received a number of national and international awards. Did these accomplishments make it easier for you to find funding for your film?
Of course, its easy today to get casting and funding.
You have been working on the script for more than 8 years, before shooting the movie. Why?
Like I have explained in the beginning, this is not a story which is developed as a fictional one. I have followed nature, films and characters for years, to represent them metaphorically as nature.
What can you tell us about your next film "Halkaa" and when is it due for release?
It's a about a child, and how he thinks about adults. How he finds solutions to his problems, and if adults can be of any help. It will be released in July [2018].