A curated programme of Japanese films called "Kinetic Visions: The Students of Hasumi Shigehiko" will be screening at the University of Chicago every Sunday starting this week. The programme will feature number of films by directors who were formerly students of Japanese critic and theorist Hasumi Shigehiko.
Hasumi Shigehiko (1932-present) is one of the most influential critics and theorists of Japanese Cinema. Emerging at the film journal Cinema 69 at the end of the 1960s, he would go on to become one of the dominant critical voices of Japanese Film Criticism in the 1970s and 1980s, write numerous theoretical books on film form and experience, and become one of the founders of Film Studies as an academic discipline at Rikkyō University and later Tokyo University.
Hasumi's students include numerous influential Japanese film scholars such as Yomota Inuhiko and Chika Kinoshita, as well as a long list of influential genre and art-house filmmakers, including: Kurosawa Kiyoshi, Aoyama Shinji, Nakata Hideo, Suo Masayuki, Shiota Akihiko, Shinozaki Makoto, Manda Kunitoshi, and Hori Teiichi. Their work includes films that were popular both in Japan and internationally (such as The Ring [1998], Shall We Dance? [1996], and Pulse [2001]), and esoteric art films that are rarely screened in North America (such as Okaeri [1995], Eureka [2000], and Harmful Insect[2001]).
The programme aims to explore Hasumi's influence and legacy on his students, and looks at the ways that his theoretical work on cinema manifests itself in their films. It hopes to bring attention to the close relationship between theory and practice in contemporary Japanese cinema, and to promote the work of several unsung great films and filmmakers of Japanese cinema alongside the more famous work of their former classmates.
Check out the films that're included and the schedule for the programme below:

Pulse (4/7/2019 @ 7:00 PM)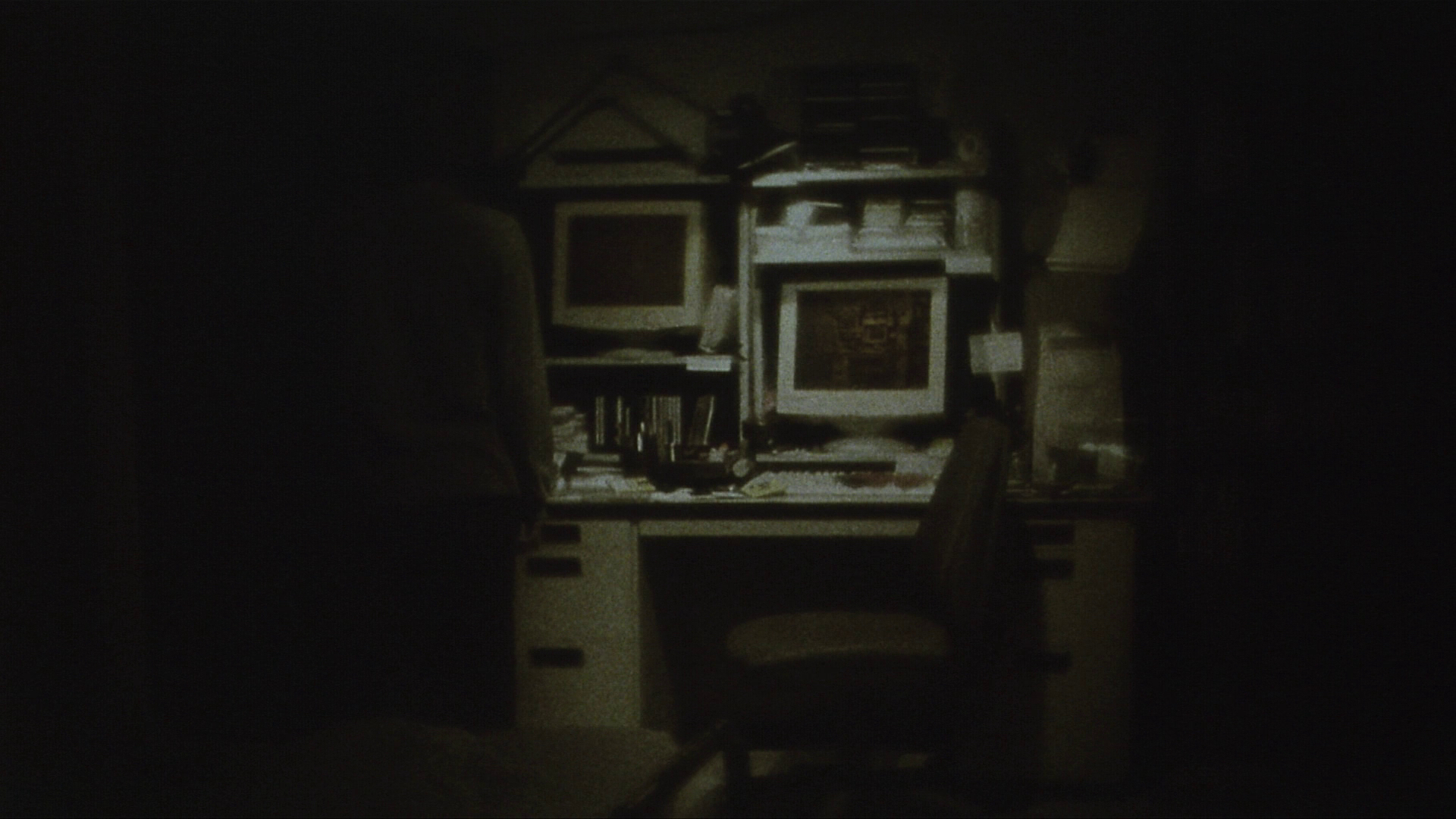 (Kiyoshi Kurosawa, 2001) · In this outlandish sci-fi/horror film, the Internet creates social isolation and threatens to destroy civilization. Like fellow Hasumi acolyte Nakata Hideo had in Ringu, Kurosawa plays with the media/spectator relationship in a way that curiously echoes the writings of their former teacher, but offers more inexplicable imagery and fewer definitive answers. Made when the internet was just becoming ubiquitous, Pulse offers a prescient, if bleak, meditation on what it might do to human relations. (runtime: 119m format: 35mm)
Harmful Insect (4/14/2019 @ 7:00 PM)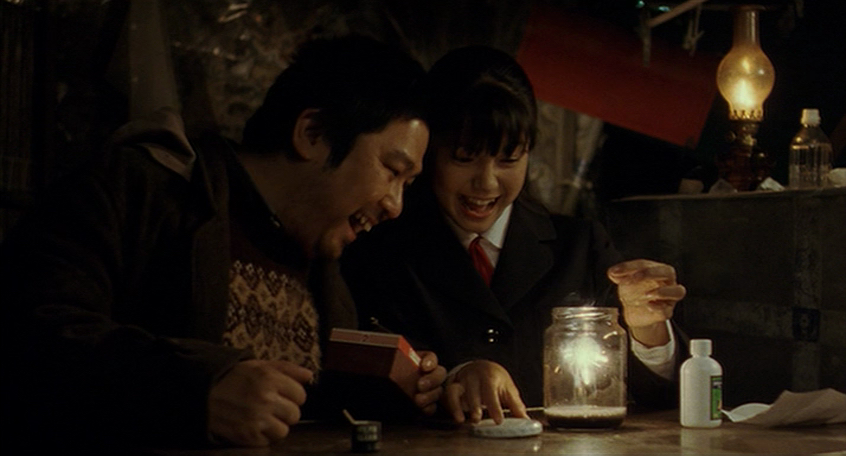 (Akihiko Shiota, 2002) · After her parents divorce and lose interest in her, Sachiko suddenly finds herself an outcast at high school. As she looks to find a surrogate, she encounters a great number of authority figures eager to exploit her before she takes up with some beatniks, becoming a social outcast as she finds herself. Shiota's austere framings within an apparently mundane setting reveal surprising similarities between this dramatic coming-of-age film and the horror films many of his former classmates were making. Print courtesy of Japan Foundation. (runtime: 92m format: Imported 35mm)
Shall We Dance? (4/21/2019 @ 7:00 PM)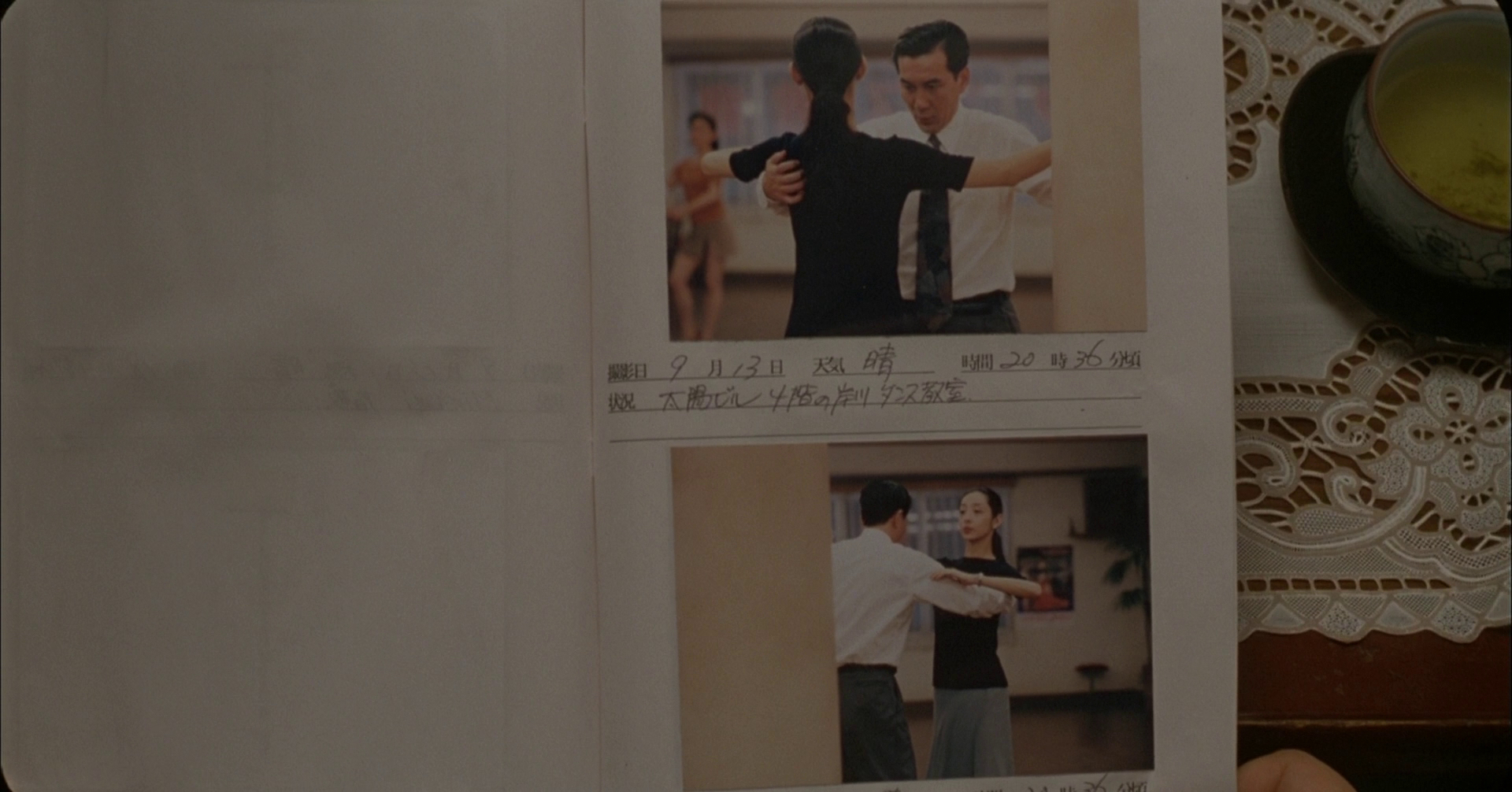 (Masuyuki Suo, 1996) · The one film in this series that might be described as a "feel-good" comedy, Shall We Dance?concerns a salaryman who tries to fend off the monotony of his lifestyle by taking dancing lessons, but his wife becomes concerned that he might be interested in his dance instructor. Suo had already made a name for himself with Ozu pastiches like Abnormal Family and Sumo Do, Sumo Don't; here, he updates the milieu of his favorite filmmaker's 1930s salaryman comedies to Japan's 1990s post-bubble economy. Print courtesy of Yale Film Archive (runtime: 136m format: Archival 35mm)
Wild Life (4/28/2019 @ 7:00 PM)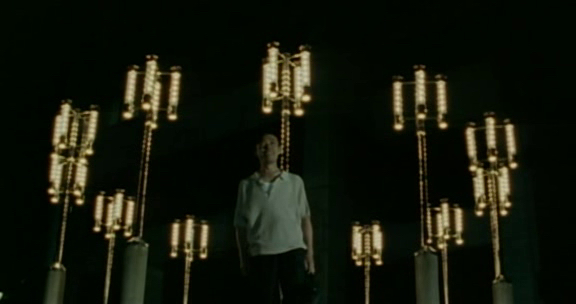 (Shinji Aoyama, 1997) · A freewheeling yakuza film about a none-too-bright boxer who goes in search of his ex-boss and gets wrapped up in a blackmail scheme beyond his comprehension. Aoyama has been an influential voice in both writing and filmmaking over the last several decades in Japan, and it seems fitting that he made Wild Life the same year that he wrote the "Nouvelle Vague Manifesto; or, How I Became a Disciple of Philippe Garrel" (which can be found in English here). Print courtesy of Japan Foundation (runtime: 90m format: Imported 35mm)
Cure (5/5/2019 @ 7:30 PM)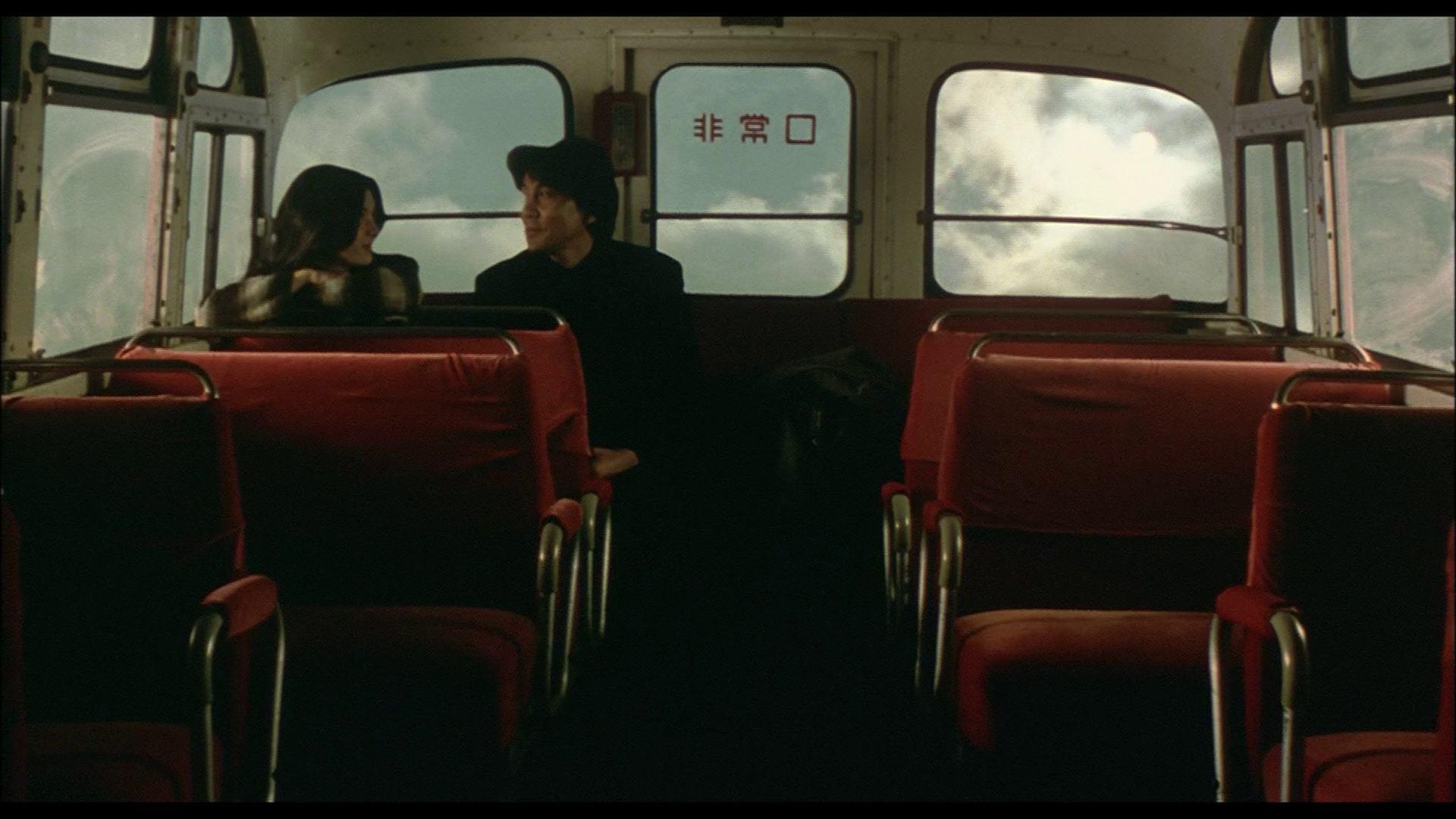 (Kiyoshi Kurosawa, 1997) · A detective investigates a series of similar murders where a mysterious and confused drifter appears to be the only link. Kurosawa's breakout film has been compared with '90s American thrillers like Silence of the Lambs and Se7en, but is ultimately a bolder and more experimental work that refuses narrative clarity and closure, and is all the more frightening for it. Haunted by seemingly mundane imagery, Cure possesses a magnetism drawing in viewers almost like hypnosis. (runtime: 111m format: 35mm)
Eureka (5/12/2019 @ 6:00 PM)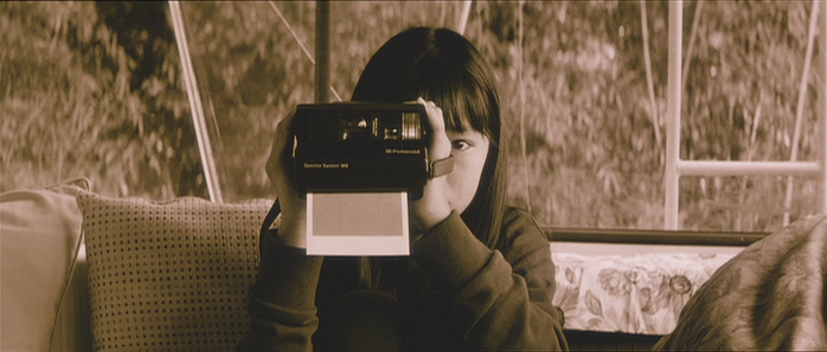 (Shinji Aoyama, 2000) · Eureka follows the three survivors of a bus hijacking in rural Kyūshū, and shows the lingering effects of the traumatic event on them: their families and relationships gradually fall apart, and their neighbors view them with suspicion. Aoyama's magnum opus shows the director developing on the art-house instincts of his earlier films like Wild Life, and builds an epic moving portrait from close observations of everyday life in glorious sepia-tone. Not a minute of its 218-minute runtime is wasted. (runtime: 218m format: Imported 35mm)
Okaeri (5/19/2019 @ 7:00 PM)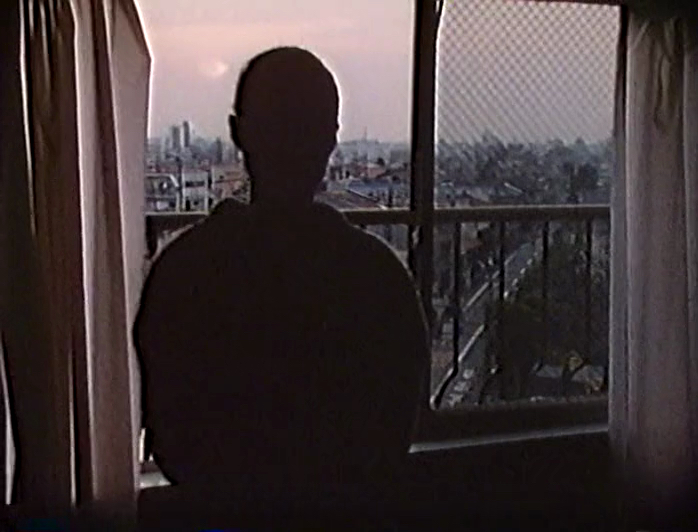 (Makoto Shinozaki, 1995) · An austere family drama about a young wife's struggles with mental illness. Shinozaki had been a film critic, and saved up money to self-fund this project by buying second-hand film stock from European art films. The subject matter and formal rigor (particularly its use of static long takes) make the film a difficult but rewarding aesthetic experience. Allegedly, Shinozaki's former classmate Kurosawa Kiyoshi added a subplot to Cure about the detective's wife after seeing it. Very rarely screened. (runtime: 99m format: Imported 35mm)
Dark Water (5/26/2019 @ 7:00 PM)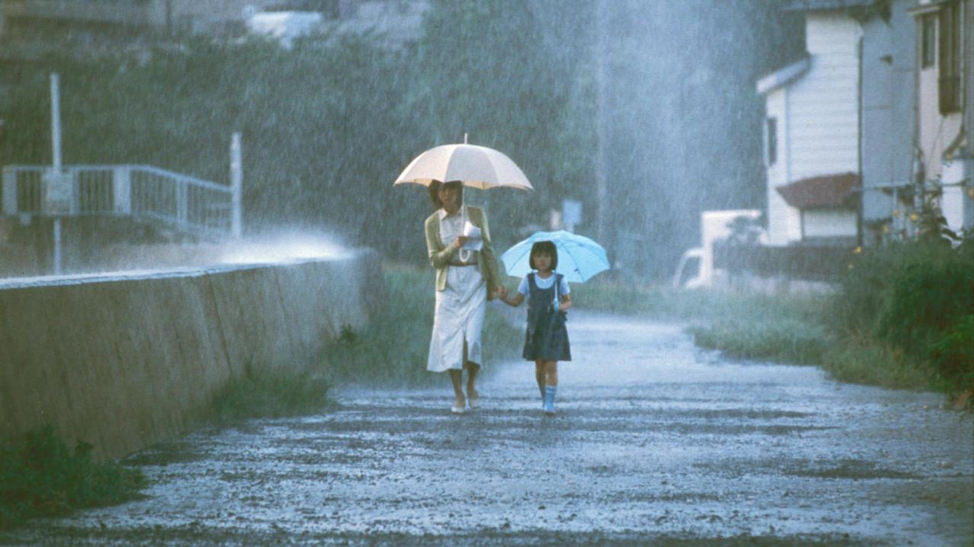 (Hideo Nakata, 2002) · Yoshimi, a young mother going through a contentious divorce, moves into an inexpensive new apartment, only to notice strange water leakages with no visible source. Gradually, other, stranger phenomena begin to take place, and Yoshimi is faced with another risk: if she tells anyone about them, her husband may try to make her look insane to win custody of their daughter. This moody J-horror piece was directed by Nakata Hideo, who had previously made the enormously influential Ringu. (runtime: 101m format: DCP)
Bright Future (6/2/2019 @ 7:00 PM)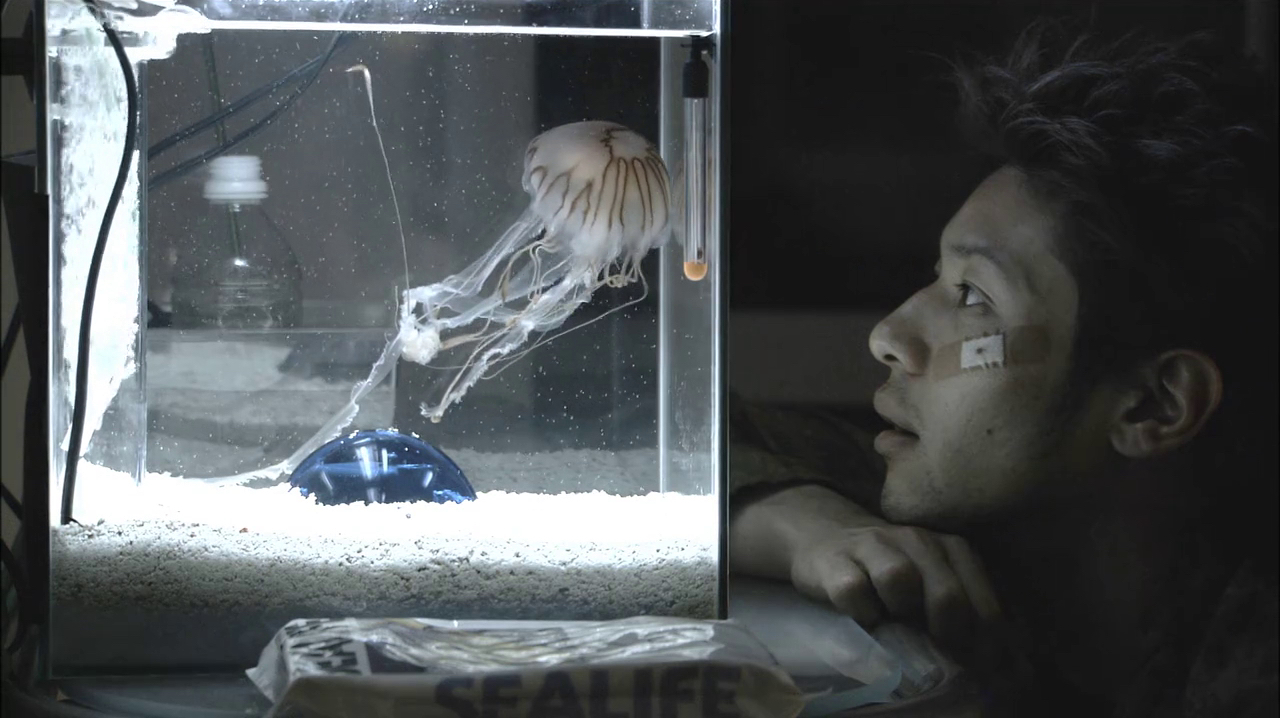 (Kiyoshi Kurosawa, 2003) · Two outcast factory workers hate their exploitative boss. When one kills the boss and is arrested, he bequeaths his pet mutant jellyfish to his colleague. The latter unleashes the jellyfish into a river, and its spawn gradually takes over the waterways. Though it shares a perverse way of looking at post-bubble Japan's social ills with Kurosawa's earlier horror films, Bright Future edges closer to something like magical realism and offers a less bleak vision of what might be ahead. (runtime: 92m format: 35mm)
The Synchronizer & Besshō Tea Factory (6/9/2019 @ 7:00 PM)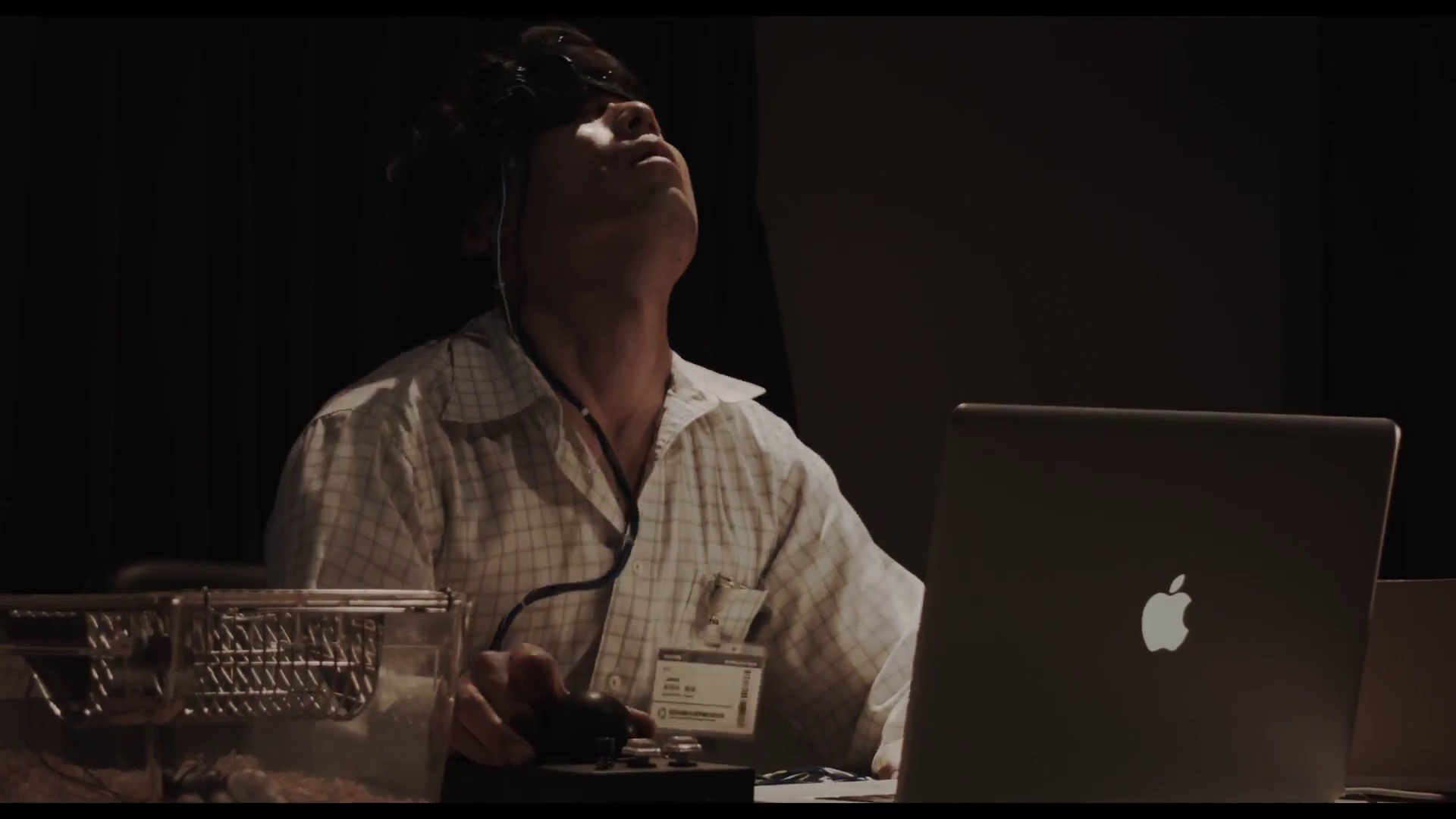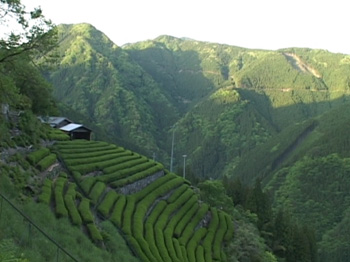 (Kunitoshi Manda/Teiichi Horvi, 2017/2016) · A scientist tests an experimental treatment on his mother, but discovers unexpected side effects and unleashes latent impulses within himself. Manda made this perverse, Cronenbergian horror film on a tiny budget while teaching at Rikkyō University.

Besshō Tea Factory is a documentary showcasing the tea harvest in Osawa Village, located on a mountainside. Following the gathering, curing, and processing of tea leaves, acclaimed documentary filmmaker Hori showcases the rural life and natural beauty of the region. (runtime: 83m + 64m format: DCP)