76 titles (of which 51 in competition) from 12 countries, a retrospective, a monograph, a tribute to new independent Korean cinema, 2 "strange couples", the world-premier of a restored film and more than 100 themed events organized in the heart of Udine. This is the immense itinerary of which, from an artistic and cultural perspective, the FEFF is the most important European outpost.
A bona fide "cinematic island" where cinema is not just celebrated – with 3 world premieres, 12 international premieres and 18 European premieres and 14 debut films – but also looks to the future: this year, 15 projects have been chosen for Focus Asia, the Festival's market, and 10 for Ties That Bind, the international Asia/Europe workshop.
The journey to the Far East begins on the 26th of April with the moving Korean film "Birthday" directed by Lee Jong-un and produced by Lee Chang-dong. Based on the 2014 Sewol Ferry disaster, it is an anatomy of pain and experience of public and private mourning. (Trailer here)
Some of the highlights of the festival are Fruit Chan's sex and social satire "Three Husbands", Filipino director Mikhail Red's new horror movie "Eerie" (watch the trailer), the new Herman Yau's work "A Home With a View", the box office hit "Dying to Survive" by Muye Wen and a homage to the late Ringo Lam with City on Fire. Very strong as usual is the Korean line-up with 12 titles in competition (20 including the out of competition titles!), followed by Japan with 9 and China and Hong Kong with 8
Hong Kong superstar Anthony Wong will be the FEFF 21 special guest to receive the Golden Mulberry for Outstanding Achievement Award.
Both his film debut "My Name Ain't Suzie" and the most recent multi-nominated "Still Human", will be screened during the Festival.
Let's have a look now at the whole line-up:
Competition Section
CHINA (8)
A Cool Fish, RAO Xiaozhi, would-be-robbers -black comedy, China 2018, International Festival Premiere
Crossing the Border, HUO Meng, human-drama-road movie, China 2018, International Premiere
The Crossing, BAI Xue, cross-boundary coming of age film, China 2018, Italian Premiere
Dying to Survive, WEN Muye, black comedy cum drama, China 2018, European Premiere
Lost, Found, LUE Yue, a kidnapping and two mothers, China 2018, European Premiere
Pegasus, HAN Han, rally-action-dramedy, China 2019, International Festival Premiere
The Rib, ZHANG Wei, transgender drama, China 2018, Italian Premiere
When Love Blossoms, YE Tian, stage mirrors live, China 2018, European Premiere
HONG KONG (8)
Bodies at Rest, Renny HARLIN, cat-and-mouse action, Hong Kong 2019, Italian Premiere
A Home with a View, Herman YAU, weird-family black comedy, Hong Kong 2019, International Festival Premiere
Hotel Soul Good, YAN Pak-wing, offbeat ghost mayhem, Hong Kong 2018, European Premiere
Master Z: The Ip Man Legacy, YUEN Woo-ping, elegant martial arts film, Hong Kong 2018, European Festival Premiere
Missbehavior, PANG Ho-cheung, whirlwind cheeky romance comedy, Hong Kong 2019, European Premiere
Project Gutenberg, Felix CHONG, counterfeiting thriller, Hong Kong 2018, Italian Premiere
Still Human, Oliver CHAN, barrier-busting tearjerker drama, Hong Kong 2018, European Premiere
Three Husbands, Fruit CHAN, politically-charged sex drama, Hong Kong 2018, European Premiere
INDONESIA (1)
212 Warrior, Angga Dwimas SASONGKO, genuine Indonesian martial arts, Indonesia 2018, European Festival Premiere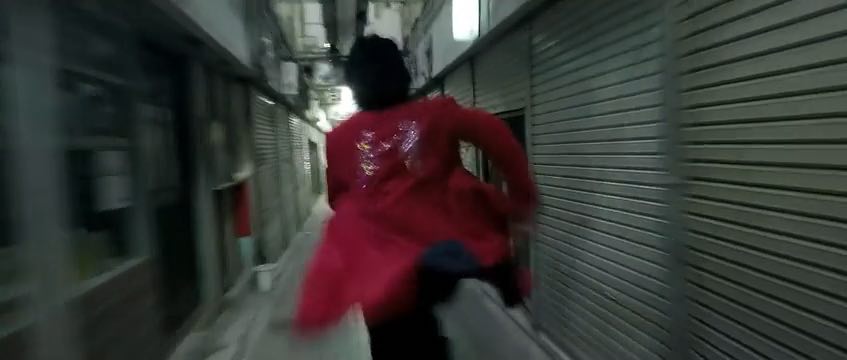 JAPAN (9)
Dare to Stop Us, SHIRAISHI Kazuya, Wakamatsu-vibes-drama, Japan 2018, Italian Premiere
Every Day a Good Day, OMORI Tatsushi, tea ceremony –feel-good film, Japan 2018, European Premiere
Fly Me to the Saitama, TAKEUCHI Hideki, quirky colorful pop saga, Japan 2019, European Premiere
HARD-CORE, YAMASHITA Nobuhiro, surrealist generational comedy with Robot, Japan 2018, European Premiere
Jam, SABU, hyper Sabu-esque absurdist dramedy, Japan 2018, Italian Premiere
JK Rock, MUGURUMA Shunji, rock'n'roll-never-dies comedy, Japan 2019, International Premiere
Lying to Mom, NOJIRI Katsumi, bizarre family drama, Japan 2018, International Premiere
Melancholic, TANAKA Seiji, quirky noirish drama, Japan 2018, International Premiere
Only the Cat Knows, KOBAYASI Syoutarou, matrimonial drama with cat, Japan 2019, World Premiere
MALAYSIA (3)
Fly by Night, Zahir OMAR, tense action thriller, Malaysia 2018, European Premiere
Motif, Nadiah HAMZAH, female–cop thriller, Malaysia 2019, World Premiere
Two Sisters, James LEE, ghost and madness horror film, Malaysia 2019, International Premiere
THE PHILIPPINES (4)
Eerie, Mikhail RED, ghost-on-the-loose horror, The Philippines 2019, European Premiere
Heaven's Waiting, Dan VILLEGAS, supernatural romance, The Philippines 2018, International Premiere
Miss Granny, Joyce BERNAL, time-travel comedy with songs, The Philippines 2018, International Festival Premiere
Signal Rock, Chito ROÑO, bittersweet Neo-realistic dramedy, The Philippines 2018, European Premiere
SOUTH KOREA (12)
Believer, LEE Hae-young, trust-me-or-trust-me-not crime film, South Korea 2018, Italian Premiere
Birthday, LEE Jong-eon, powerful and emotional drama, South Korea 2019, World Festival Premiere OPENING FILM
Door Lock, LEE Kwon, duplicity thriller-horror, South Korea 2018, European Premiere [with Brussels International Fantastic Film Festival ] Default, CHOI Kook-hee, financial thriller, South Korea 2018, European Premiere
Extreme Job, LEE Byoung-heon, cooking cop action comedy, South Korea 2019, European Festival Premiere
The Great Battle, KIM Kwang-sik, super epic war movie, South Korea 2018, Italian Premiere
Innocent Witness, LEE Han, bittersweet courtroom thriller, South Korea 2019, International Festival Premiere
Intimate Strangers, LEE Jae-kyoo, Perfect Strangers go Intimate, South Korea 2018, International Festival Premiere
The Odd Family: Zombie on Sale, LEE Min-jae, zombie-reverse comedy, South Korea 2019, International Premiere
Rampant, KIM Sung-hoon, period epic zombie saga, South Korea 2018, Italian Premiere
Romang, LEE Chang-geun, old age love story, South Korea 2019, International Premiere
Unstoppable, KIM Min-ho, plenty of punches thriller, South Korea 2018, Italian Premiere
SINGAPORE (1)
Konpaku, Remi M SALI, sex and the ghost, Singapore 2018, International Premiere
TAIWAN (3)
The Devil Fish, CHUANG David, jump-on-your-seat folkloric horror, Taiwan 2018, International Festival Premiere
More than Blue, Gavin LIN, star-crossed lovers story, Taiwan 2018, European Festival Premiere
The Scoundrels, HUNG Tzu-hsuan, buddy-buddy action noir, Taiwan 2018, European Premiere*
THAILAND (2)
Krasue: Inhuman Kiss, Sittisiri MONGKOLSIRI, the curse of the flying head, Thailand 2019, International Premiere
Reside, Wisit SASANATIENG, ghost possession in the villa, Thailand 2018, International Festival Premiere
Out of Competition
DOCUMENTARIES (3)
BNK48: Girls Don't Cry, THAMRONGRATTANARIT Nawapol, female pop group, Thailand 2018, Italian Premiere
Kampai! Sake Sisters, KONISHI Mirai, ladies and sake, Japan 2019, World Premiere
People's Republic of Desire, WU Hao, on-line dreams, China 2018, Italian Premiere
YI DAI YI LU – One Belt One Road, Pio D'EMILIA, the Road of the Silk, Italy 2018, International Festival Premiere
THE ODD COUPLES (4)
The World of Suzie Wong, Richard QUINE, USA 1960
My Name Ain't Suzie, Angie CHEN, Hong Kong 1985
City on Fire, Ringo LAM, Hong Kong 1987
Reservoir Dogs, Quentin TARANTINO, USA 1992
Restrospective
100 YEARS OF KOREAN CINEMA: I CHOOSE EVIL – LAWBREAKERS UNDER THE MILITARY DICTATORSHIP (8)
Black Hair, LEE Man-hee, gangsters&prostitutes, South Korea 1964
The Body Confession, JO Keung-ha, melodrama, South Korea 1964
A Day Off, LEE Man-hee, youth drama, South Korea 1968
The Last Witness, LEE Doo-yong, political detective story, South Korea 1980
Lovers in Woomukbaemi, JANG Sun-woo, extramarital affair story, South Korea 1990
Promise of the Flesh, KIM Ki-young, memory melodrama, South Korea 1975
Jagko, IM Kwon-taek, drama on the wave of memory, South Korea 1980
Ticket, IM Kwon-taek, hard life for 5 women, South Korea 1986
INFO SCREENING (4)
A First Farewell, Lina WANG, Uyghur village story, China 2018, Italian Premiere
Ten Years Japan, HAYAKAWA Chie, KINOSHITA Yusuke, TSUNO Megumi, FUJIMURA Akiyo, ISHIKAWA Kei, Japan 2018, Italian Premiere Ten Years Taiwan, CILANGASAN Lekal Sumi, Rina B.TSOU, LU Po-shun, HSIEH Pei-ju, LAU Kek Huat, Taiwan 2018, European Premiere Ten Years Thailand, Aditya ASSARAT, Wisit SASANATIENG, Chulayarnon SIRIPHOL, Apichatpong WEERASETHAKUL, Thailand 2018, Italian Premiere
KOREAN INDIPENDENT FILMS SIDEBAR (3)
Coffee Noir: Black Brown, CHANG Hyun-sang, action-comedy-noir, South Korea 2017, European Premiere
Passing Summer, CHO Sung-kyu, romance comedy, South Korea 2018, International Premiere
Saem, HWANG Kyu-il, dramedy, South Korea 2018, International Premiere
RESTORED CLASSICS (2)
A Speck in the Water, Ishmael BERNAL, drama, The Philippines 1976 – 2018, European Premiere Restored Film
The Wheel of Life, King HU, LI Hsing, PAI Ching-jui, drama-romance, Taiwan 1983 – 2019, World Premiere Restored Film
More info about guests, tickets and calendar can be found on the official website