Yoshihiro Hanno is a Paris-based musician and composer, who has worked with auteurs like Hou Hsiao-hsen and Jia Zhangke. This film is his directorial debut, in an effort that started 14 years ago when he first met Munetaka Aoki in Paris.
Kenji lives a quiet and lonely, to the point of secluded, life, working in a foundry and staying in a ragtag house with no TV or music. One of his colleagues, Shimoda, repeatedly tries to be friendlier with him, inviting him to go out together, but Kenji stays distant. One day, however, Shimoda comes to his house uninvited, and asks him to let a woman stay in his place for the night. The woman is named Satomi and is on the run from her ex-boyfriend, while Shimoda seems to have feelings for her. Without actually agreeing, Shinji finds the woman staying in his house for days, and after some time, he even opens up to her about his actual situation. To Shimoda's utter anger, the two of them eventually become something of a couple, but Satomi seems to harbor a secret herself.
"A Woman Wavering in the Rain" screened at Japan Filmfest Hamburg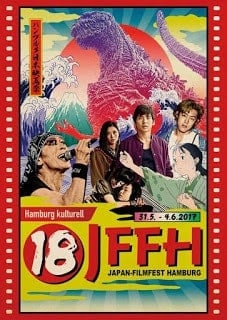 Yoshihiro Hanno pens and directs a dark indie film that lingers somewhere between the drama and the thriller. His characters are living the lives of others, pretending not to be who they really are, as they seek redemption for their past actions, and solace from the past that led them to those actions. His comment, however, is an antithetical one, since, through their struggles, he wants to stress the value of living an ordinary life.
Some faults in the narrative and direction do exist, since the film becomes overly dramatic at points and occasionally lags a bit, particularly during the end. However, these aspects do not fault the general quality of the movie, which is on a quite high level.
Technically, the film follows the norms of Japanese indie, with the slow pace implemented by Hanno's own editing, and the minimalist, but realistic and filled with humid Asian color cinematography by Tatsuya Yamada. Hanno's atmospheric music also moves towards the same subtle direction.
At one point, the story seems to take a more violent turn, as feelings erupt and secrets are revealed. However, Hanno does not follow the direction of "Hime Anole," (a film that has many similarities with this one) that succumbed to violence almost completely, but retains the movie as a drama focused on the characters and not their actions.
Munetaka Aoki is impressive as Kenji, wonderfully portraying his character's seemingly timid nature, and at the same time managing to emit a sense of underlying violence. Ito Ono as Satomi is also very good in her role, as she exemplifies the fact that she has something hidden beneath her fragile exterior. The highlight of both the film and the actors' performance comes in the two scenes where each one has a monologue revealing the truth and, at the same time, transforms to his real self. The acting in these very powerful scenes is truly outstanding.
"A Woman Wavering In The Rain" has its faults; however, it is another great specimen of Japanese indie and a very hopeful debut for the director. Fans of the genre are sure to enjoy it.