My opinion about the horror genre, with few exceptions, is that it is a preterit category, with the thousands of entries having said everything there is to say about how to scare people. And yet, it comes as a surprise how popular this kind of films still are, with this particular one being the highest-grossing Indonesian horror movie till date. Let us see what it is about.
The story is based on Risa Saraswati's bestselling novel "Gerbang Dialog Danur" and revolves around Risa, an 8-year-old who lives by herself, in essence, since her parents are busy with their work, leaving her to roam in their estate with the sole company of an elderly gardener. Eventually, Risa stumbles upon three kids in the house, and starts playing with them, only for them to be revealed as ghosts. Her actions make her mother worry, since she just sees her daughter interacting with "people" she cannot see, and soon invites a shaman to perform an exorcism, taking the advice of the gardener. The exorcism succeeds, but a few years later, Risa returns to her childhood home with her little sister, Riri, in order to take care of their grandmother. The sudden appearance of a new nurse named Asih brings the old nightmares back.
Let me start with the obvious. The film checks almost every cliché the genre ever entailed. The kid who is the only one who sees ghosts, the shaman and the exorcism, the haunted house, the grandmother who knows what is happening, the bathtub, the evil maid, and most of all, the jump scares, are all here in their preterit glory making sure that nothing new is presented in the film. However, this is not something bad to begin with, as we have seen films that manage to present those elements with a fresh perspective ("Satan's Slaves", for example). This is not the case here though, and the narrative drowns in its effort to include all these elements, although its biggest fault comes with the time transition, which is not explained at all, leaving the spectator wondering what is happening for some time until everything becomes clear.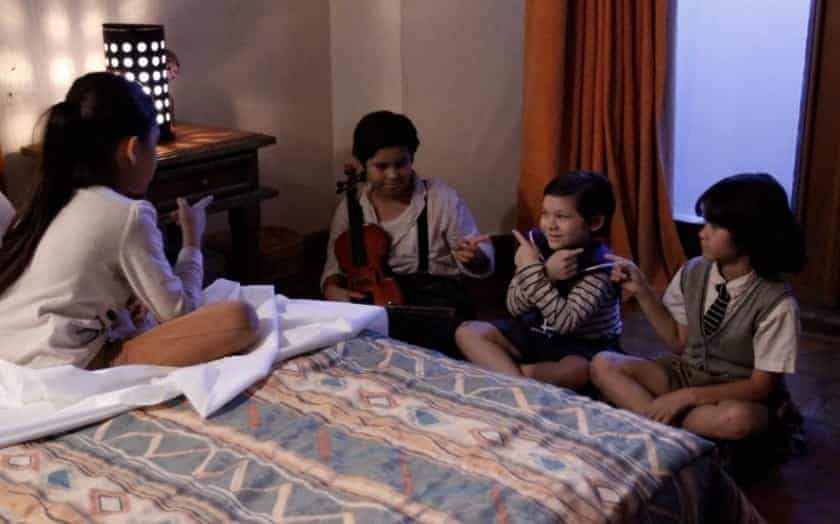 On the other hand, the visual aspect of the film is on a very high level. The cinematography, particularly the way the house and the surrounding garden are portrayed, is excellent, resulting in a combination of danger and beauty that suits the film's aesthetics quite nicely. The various SFX are also convincing and the work done in the music and the sound in general is quite competent.
Regarding the acting, the one that definitely stands out is Shareefa Danish as Asih, who gives a rather terrifying performance, particularly through her intense look.
With the exception of the clumsy transition, "Danur" is not a bad film; the problem is that it has nothing new to offer, although fans of the horror genre will not find much they will not enjoy.