Yutaro Nakamura's feature debut is another splendid sample of Japanese indie, that uses the familiar theme of the "love triangle," to present a number of social issues among Japanese youths.
The people compiling the triangle are three individuals who have been friends since high school. Yat was a child actor who has turned away from his past and is now trying to become a rock star, as he is the lead singer in a band. Takuma is a photographer who shoots Yat frequently. Yumika is Takuma's ex-girlfriend, a timid girl who still lives with her parents. The three of them seem to get along as friends, despite their past.
"Grab the Sun" screened at Japan Filmfest Hamburg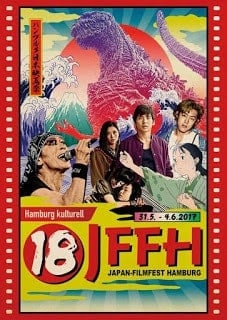 However, things are not as smooth as they initial seem. Takuma also deals drugs on the side, and has a couple of friends they all smoke drugs together, one of which is a girl who is kind-of his girlfriend. Yat seems to have some family trouble, through his good-for-nothing brother who never stops of reminding his failure as a child actor and the toll it had on their family. Lastly, Yumika seems a bit lost in life, and things get even worse when she steals some of Takuma's drugs.
Yutaro Nakamura directs and pens a film that starts out as a happy-go-lucky movie, but soon transforms into a youth drama, through the struggles the three protagonists face. Yat is trying to adjust to his new life, but his past does not seem to let him, and his frustration eventually erupts. Takuma seems completely lost in a life that does not seem to move at all. Yumika seems cute and innocent, but is soon proved somewhat cunning, despite the tragedy she experiences. The one thing that seems to connect them, and is the main source of their psychological state, is the fact that they are reluctant to reveal their true thoughts for each other. Some of the best scenes in the film take place when this invisible wall is torn down.
However, Nakamura's point of view on subjects like rape and drugs is somewhat detached, as he portrays them like occurrences that just happen in life. Instead, he focuses on the entertaining side of his theme, in a style that reminded me of Hong Sang-soo's early traits, in films like "Virgin Stripped Bare by Her Bachelors." However, and with the help of Kazuhiro Suzuki's realistic cinematography and a number of impressive tracks sung by Kaito Yoshimura, he totally succeeds in presenting a very entertaining spectacle.
Kaito Yoshimura as Yatsuto anchors the film, and despite some sequences of hyperbolic acting (in a too common Japanese phenomenon), his performance is impressive, particularly in the scenes where his seemingly overly cool facade is removed. Koudai Asaka is more than adequate in the role of the detached Takuma, who does not seem to care about anything, apart from having a good time. Yukino Kishii is also very good as the cute and mischievous Yumika, while her performance when she acts stoned is quite realistic. Yuya Yagira and Kanji Furutachi also appear in small roles.
"Grab the Sun" is another Japanese indie, but manages to separate itself from the plethora of similar productions through Nakamura's point of view, Yoshimura's acting and the rock music that permeates the film.