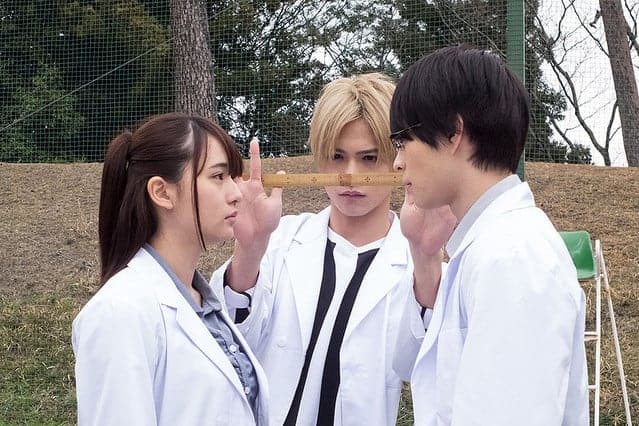 Anime has its own style and rules as we all know, and when it comes to the live action adaptation of a manga / anime story, we ought to be prepared for what is coming. Time has shown us what they are capable of when it's time to adapt a manga or a famous anime TV show to a motion picture. Some results were good, but other ones were a complete failure. Bringing to life the same characters drawn on paper or in animation to the big screen is not an easy task, so let's see what "Proof of Love's" live action film has to show us. The film is based on the manga of the same name written by Arihred Yamamoto, and this adaptation is directed by Masatsugu Asahi and Toshihiro Satô.
"Proof of Love" is screening at Japan Filmfest Hamburg
The story is very simple as well as amusing: Shinya Yukimura and Ayame Himuro are two scientists who want to discover if love can be solved by a scientific theory. The two of them also have feelings for each other and they want to be able to resolve their feelings through similar theoretical facts. With this perfect opportunity, they will try to solve the theory of love that they express among themselves. Therefore, together with their personal work team, they decide to go on a trip to investigate the theory of love.
In spite of the moderate production with low means, the story is self-centered on its characters and their objectives, and that's something more than valuable. In the search if this love mystery, the main characters, Himuro and Yukimura (played by Nan Asakawa and Shun Nishime) will proceed with all kinds of tests to find out if the love they feel for each other is reciprocated, and if so, why it is so. To watch them achieve all this kind of tests and investigations with all the team is very entertaining, and that's thanks to the hilarious script from writers Hidehiro Ito and Shûji Yuki.

Furthermore, the both protagonists do a great job, especially when the two of them are together performing their scenes. The way they act, like the whole cast, is exaggerated and gesticulated. We see all the identities of any juvenile anime, like the placement of the glasses, lapidary phrases, cool poses and mysterious looks … All that is there, and instead of being ridiculous, it looks pretty good on screen with favorable results, and that is mainly thanks to the actors. Yûka Yano, Karin Ogino and Tom Fujita are also part of the main team of scientists, and together they all form a great team interpretative speaking.
On the other hand, the film, as it is to be expected, does not use great special effects nor any technical wonders to tell the story the directors want to share with us, instead implementing a good narrative and the immersiveness of it. The cinematography may be simple but it is effective and it is in accordance with the movie's essence.
In conclusion, "Proof of Love" may not be any audiovisual wonder with great messages or metaphors of humanity, nor does it pretend to be. It does manages to entertain, however, and make the audience have a good time forgetting everything else. Anime fans and, of course, fans of the original in particular, will like it for sure as it is an interesting movie that stands out for its naturalness and simplicity. "Proof of Love" is undoubtedly a proof that great things can be done with very few goods.