"What we are doing to the forests of the world
is but a mirror reflection of
what we are doing to ourselves."
(Mahatma Gandhi)
In his short feature "Vinashi" directed by Indian filmmaker Abhilash Shetty, whose feature "Crony" has been a blend of elements of drama as well as the supernatural, tackles the issue of our relationship with the environment. While his first film already presented Shetty's willingness to experiment with audiovisual elements of the medium, "Vinashi" takes a more minimalist approach. However, in this case, Shetty seems to be less interested in telling an individual story, but a more universal tale about how nature has been continuously exploited by mankind.
Watch This Title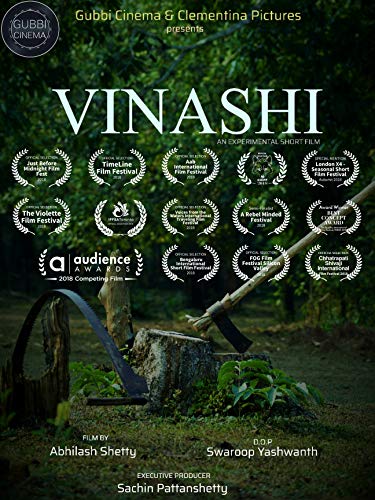 Based on the quote by Mahatma Gandhi, "Vinashi" tells the story of a cycle within our world. As a man, played by Shetty himself, walks towards the camera, he carries first an axe, then a saw and finally a burning torch. While the setting of the forest may hint at a calm atmosphere, the sound design, mirroring the kind of item Shetty carries, as well as the expression he has, contradicts this first impression.
Considering the inspiration for the film, the overall structure is simple, yet effective. Mankind, as represented by Shetty's character, exploits nature, destroying his own natural habitat while committing suicide in the process. As the camera movement does not change and his character moves in more or less the same way, the cycle seems inevitable, creating the image of mankind's eventual doom.
In the end, "Vinashi" is a deviation from the more genre-based "Crony", but one which shows Shetty exploring the ramifications of the medium. While making a simple, yet powerful statement about the state of nature and mankind, the director proves not only his still expanding set of skills, but also his interest in social and global issues.