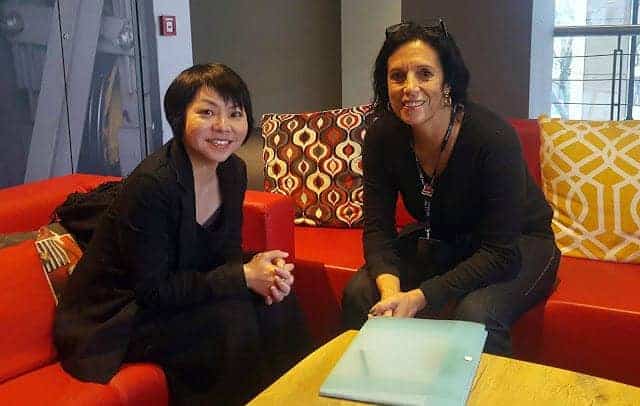 A top-selling novelist in Hong Kong. She is a Chinese author of supernatural fiction, romantic fantasy and psychological thriller. Lam has published 59 novels, 4 short story collections and 3 essay collections from 1999-2017. Her novels Magic Kitchen and Ripple Effect were adapted into feature films Magic Kitchen and Virtual Recall in 2004 and 2010. "Soul Mate", by Derek Tsang is her first feature film screenplay.
Lam has received numerous Best Screenplay nominations and recognition for "Soul Mate" including the 53rd Golden Horse Film Awards, the 36th Hong Kong Film Awards, the 23rd Hong Kong Film Critics Society Award and the 1st Malaysia International Film Festival. She won Best Screenplay at the 2nd Golden Screen Awards, the 24th Beijing College Student Film Festival, the 8th China Filmmakers Association Cup and the 6th Hamilton BTCA (Behind the Camera Awards) China.
On the occasion of the release of SoulMate on DVD on 6/14, we speak with her about the differences between writing a novel and writing a film script in a team of women, luck, and liking Ansen a bit more than July.
Buy

This

Title
First of all, I would like to apologize as I am not very familiar with your books.
Oh, don't worry they are not translated in English (she laughs)
Is this your first experience in script-writing? And how did you get to join the team for "Soul Mate"?
Yes, this is my very first experience as a scriptwriter. About two years ago, just out of the blue I received a phone call and someone told me they had this Chinese writer short story that they wanted to adapt into a film script and they were looking for a writer. They had tried others, but they wanted something fresh and something unusual and unexpected, and because in my novels I am quite known for the unexpected endings, they told me they were interested in me and if I would consider trying. So, one afternoon I read it, as it is only a 20-page story. I was very taken by the characters and I thought there were lots of potentials to develop the story and so the day after I called them and said: "Yes, please, let me try!"
Did you find it challenging? Writing a script must be very different from writing a novel.
Yes, it was very challenging for me as it is very different from what I usually write. Also, I write my books alone of course, but writing a script is a team work. Every day you have to think about the structure and then discuss it with lots of other people. Every line of every dialog is scrutinized. It is very different!
And was the director Derek Tsang part of this discussion team?
Yes, he was. Always observing our arguments! We were all women in the team and he is very comfortable with women, he grew up with his mum and grandmother and he was always saying that watching us discussing and arguing made him understand more and more about women.
A couple of your books have been adapted into films, so do you think you have a sort of cinematic vision when you write?
Yes, it's true. I think visually when I write and lots of people says that reading my books is like watching a movie. So when I arrived in the "Soul Mate" team, from day one I had a vision of the story.
What was the biggest challenge or obstacle for you in this project?
I think that communication between us was the biggest challenge, because we were a team of four, with very different upbringing, very different characters, personalities.
Also, you know the two characters, Ansen and July, well, I was a bit more pro-Ansen, but I am also very fair so I was very conscious about it, and one of the other writers was a bit pro-July and we had to communicate a lot to avoid mistakes or to put too much of us in the characters. Lots of constructive discussions, hours and hours.
And were the other scriptwriters of the team also from Hong Kong?
No, they are from China.
About that I want to ask you if it was difficult to write a story that was so well received in China. Sometimes Hong Kong movies have some difficulties to reach China's culture. How did you overcome this gap?
Well, the emotions of the film are universal, but we have been very careful with little touches and details, like the school environment and the upbringing in China, and we tried to find common ground. It takes time to find these common elements that audience in China and Hong Kong can both relate to, and that creates a bridge. It was good that other team members were from China. It is a slice of youth culture, it's important to get it right!
Going back to the original material, can you tell us more about that? Was it an on-line novel?
Yes, it was originally available only online, in the 90's, later was published as a book. It's a short story but very well written, a traditional love triangle story and we tried to keep the characters as they were as they were very well written and we developed it into a story that it's not only a love story, but mainly a story of love, life and death.
How much of your life experience and of yourself did you put in the story and the characters? Or did you try to stay out?
No, I couldn't stay out. Actually, yes, my best friend is very much like July, we grew up together since primary school, and she too works in a bank and I think I put lots of my relationship with her in the script. I personally love the scene when they are at the train station and Ansen is on the train, leaving. Then July sees the pendant she's wearing and Ansen says to her: "If you ask me to stay, I'll stay". I was really in Ansen's shoes when I wrote that line! I am very happy, this movie has been so well received, it had so much luck!
Oh come on, do you really believe it was just luck??
Yes, I do, but of course the director has lots of talent.
And in the meantime are you still writing your novels? Can you tell us a bit about this other side of your career? How did it start?
As a child I always wanted to be a novel writer, but i didn't think I had the talent, then at University I tried to write my first novel but I thought it was really boring and I just gave up. Then I got a job in PR and few years later, one night, very weird, suddenly I really wanted to write and so I sat down in front of the computer and the words just came flowing out and then I wrote my first novel, a supernatural fiction about a person who cannot see his reflection in the mirror, a mystery story, then I gave the manuscript around to friends and they liked it. During Christmas, a few years later, I printed 100 copies of it and gave it as a gift to my friends at my Christmas party and they pushed me and helped me to publish it and distribute it to book stores. We were all thinking it would have been a one-off. But as a miracle the book went really well and at the forth book my publisher took me on board.
How did it feel watching your books turning into movies? Did they ask you to supervise the script?
Yes, they asked me to be part of the adaptation team, for example for the first one that director asked me to do it, but I said: "Oh no, no!" and when I went to the premiere I was really worried. Of course, it was very different from my work, because they wanted to launch it to the China market and being a supernatural story, of course in the film they had to turn everything into a a dream*! (she laughs). But I am still honored they wanted to make a film from my novel.
You have won lots of awards for Soul Mate's script and I don't think that this is luck. Will you give another go at script-writing in the future?
Yes, yes. Actually, the original team of "Soul Mate" is on another project, a very initial stage, and they asked me to join them and I think I will give it a try.
*Mainland China doesn't allow supernatural stories and often they are turned into a dream of the protagonist or the delirium of a fool in order to avoid censorship.