Four of the most renowned genre filmmakers in the Southeast Asian region – Eric Khoo from Singapore, Joko Anwar from Indonesia, Pen-Ek Ratanaruang from Thailand, and Ho Yuhang from Malaysia – come together in this session to discuss the creation and their involvement in the HBO Asia series "Folklore". How does folklore inspire and inform horror in each of the directors' works? What are the research processes and responsibilities of representing their cultures in an internationalised genre film market?
DESCRIPTION
A Fear of Monsters: Folklore and Horror in Cinema
9 June 2019
3 – 4.30pm
Oldham Theatre. Free admission with registration
Speakers:
Eric Khoo (Singapore), director of "Folklore: Nobody"
Joko Anwar (Indonesia), director of "Folklore: A Mother's Love"
Pen-Ek Ratanaruang (Thailand), director of "Folklore: Pob"
Ho Yuhang (Malaysia), director of "Folklore: Toyol"
Moderator:
Wardah Mohammad, Management Assistant Officer (Outreach) at NUS Museum
Wardah Mohamad (b. 1991) graduated from Nanyang Academy of Fine Arts in 2011. Since then she has worked in contemporary art galleries and collaborated with artists in their artistic projects and research. She continues to live and work in Singapore where she currently works at Outreach & Education at NUS Museum.

ABOUT THE SPEAKERS

Award winning film maker and Cultural Medallion recipient Eric Khoo who helms Zhao Wei Films has been credited for reviving the Singapore film industry and for putting Singapore onto the International film map in 1995. He was the first Singaporean to have his films invited to major film festivals such as Toronto, Busan, Berlin, Telluride, Venice and Cannes. Together with 12 STOREYS' co-writer James Toh and actress Lucilla Teoh, he also wrote a White Paper which resulted in the formation of the Singapore Film Commission. Besides his filmmaking achievements, Khoo has produced several award-winning films including 15 (2003) and APPRENTICE (2016). Eric is the showrunner for FOLKLORE, an HBO Asia Originals series.
Joko Anwar is an award-winning Indonesian screenwriter, producer and director who started his career as a journalist then a film critic. His works include THE FORBIDDEN DOOR, MODUS ANOMALI, A COPY OF MY MIND, which was in competition in Venice, and the HBO Asia Original Series, HALFWORLDS. Through his accomplished career, he has received multiple international film awards. His most recent movie, PENGABDI SETAN (SATAN'S SLAVES), hit the top spot of 2017's box office in Indonesia and won Best Film at the prestigious Overlook Film Festival in New Orleans.
Pen-ek Ratanaruang was born in Bangkok. He is one of the most remarkable directors in the film world and a leading figure in the Thai film industry.
He made his debut as a feature film director in 1997 with a movie that broke the mould of Thai cinema called 'Fun Bar Karaoke'. Since then, he has been recognised as a major pioneer in the Thai New Wave cinema of the late 1990's / early 2000's. Four of his films – 6IXTYNIN9, MONRAK TRANSISTOR, LAST LIFE IN THE UNIVERSE, and HEADSHOT, – were Thailand's official submissions to the Foreign Language Film Oscar category. His films have been screened in major festivals and have been distributed worldwide.
Ho Yuhang was bored and raised in Petaling Jaya, just outside the Malaysian capital Kuala Lumpur. He took a degree in engineering at Iowa State University in the US, but opted for a career in TV production when he returned to Malaysia. His debut feature MIN in 2003 was financed by television and shot on digital video, but was invited to many film festivals as a film and won the Special Jury Prize at the Festival des 3 Continents in Nantes, France. His subsequent features and shorts have been invited to an ever-widening circle of festivals and have won several more prizes, including the NETPAC Award and the Tiger Award for Best Short at International Film Festival Rotterdam (for SANCTUARY and AS I LAY DYING respectively). It was followed by RAIN DOGS, which became the first Malaysian film to enter the Venice Film Festival in 2006. His widely anticipated AT THE END OF DAYBREAK received the NETPAC Award at the Locarno Film Festival and garnered seven Best Actress Awards for lead actress Kara Hui. He won the Financial Times Emerging Voices film award for his short TRESPASSED in 2015. His latest film is MRS K, a Malaysia-Hong Kong co-production.
ABOUT HBO ASIA'S FOLKLORE

Folklore is HBO Asia's first horror anthology series created by Singaporean director, Eric Khoo. It features the deeply-rooted superstitions and myths across six Asian countries, including Indonesia, Japan, Korea, Malaysia, Singapore and Thailand, with each episode helmed by a director from a different Asian country.
ABOUT A FEAR OF MONSTERS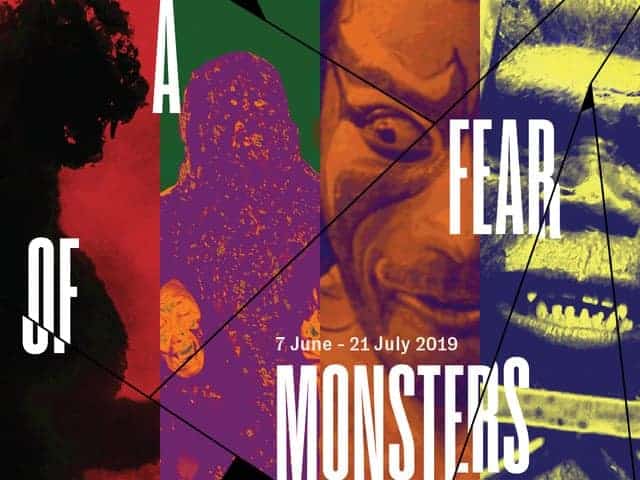 Monsters have entertained and united us through our fear – from the genre defining Orang Minyak to the enduring image of Godzilla tearing through the streets of Tokyo – A Fear of Monsters explores the monsters that have traversed folklores and popular culture to the silver screen.
Featuring Asian horror films from the 1950s – 2000s, this programme is a cinematic continuation of AFA's exhibition, State of Motion 2019: A Fear of Monsters.
View the full list of films here.