Makoto Sasaki in the initial sequences of his documentary "Night Cruising", immediately throws us into deep end. At first glance everything seems all right… but after a while, one may start wandering if a technical issue occurred. For 12 minutes, we follow just a black screen with an audio track containing dialogues, background music and sound effects. When it becomes obvious the unusual form is intentional, leaving the initial surprise behind and trying to understand what is happening is the best strategy. That masked picture seems to be a science fiction movie, with some action scenes and a duo of interesting characters: a blind fighter and a telepathic… But how much of the bigger picture we can actually comprehend deprived of the picture itself?
"Night Cruising" screened at Japan Cuts 2019
Researchers agree that we live in an era of predominant visual culture and sight is being favored as the major sense. It is also the sense commonly associated with experiencing cinema and its magic. No wonder, film history has started by putting still images into motion, to create an optical illusion of life and movement. It is reflected in a language, if we browse through dictionaries, verbs like "to watch" and "to see" are associated with films. However, there are much more elements adding in for the perception of movies than just the sole visuals. For a particular group of cinema amateurs, that ocular aspect is actually the one they are not sensing… at least not in a conventional way: people with impaired sight. Eccentric beginning of Sasaki's documentary enforces viewers to reflect on their perspective.
After initial blackout, and before the title appears, there's a reel of short comments of visually impaired individuals about their encounters with cinema: mostly they talk about their favorite movies. But do not be misguided. "Night Cruising" won't be what you may expect: a film focused on disability. Makoto Sasaki's documentary investigates… the creative process and to what extent it is filtered by the creator's experience.
As we read in a press note: This movie has a preceding title. "Innervision" was a movie in which Kato, a congenitally blind man, experienced the sites of filmmaking and scriptwriting by the guide of Makoto Sasaki, Kato's friend and film director, and ended with a scene where the introductory narration was recorded.
The 2013 45-min documentary ended with a "to be continued" promise and "Night Cruising" shows us Hideyuki Kato, a musician and a sound engineer, working on his first movie as a director: a SF short titled "Ghost Vision", which he also scripted. Kato explains briefly that he just wanted to make a movie. Born without sight, he wants to share his vision with the public, the images that exist inside his head. However, to do so, he also needs to understand the perspective of the sighted better. Thus working on elements of the imagined world, he meets various specialists. For example, to decide on his characters looks, he visits an anthropologist from the university and they talk about face features, comparing the skulls and faces reconstructed on their basis. The most intriguing encounter is with the one with scientist specializing in colors who explains the color palette to the blind film maker.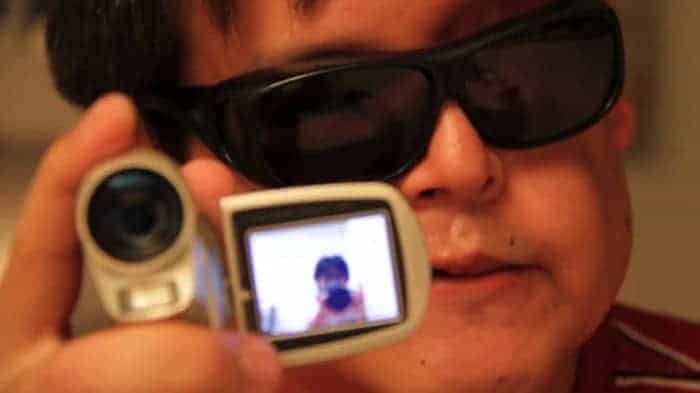 Kato also talks to different crew members responsible for e.g. fight scenes, special effects, recording a dubbing. During those brain storms, they deconstruct every scene, thinking about the desired final effect and the means to achieve it. It is fascinating how they can communicate with the director, explaining the planned framing and possible techniques and how both sides find a way to mirror their perception to each other. Kato's disability doesn't really change the craft. Every element must be considered story-wise and character-wise. Just the methods are different, like concept arts prepared with a 3D printer to enable Kato to see them via his fingertips.
As the work progresses, we understand that the audio track of the first 12 minutes was the one from "Ghost Vision". To conclude, for the last 12 minutes we will watch the finished film, and the final effect is quite intriguing. A bit raw, as it is stitched from pieces using different techniques, but still appealing, and left me waiting for more of this world and characters. The most important is that we can compare differences in our own perception of the presentation with and without visuals. The documentary's director do not give us ready answers, instead he encourages us to think and ask questions. Not only about the perception, but also what is the fundamental of cinema: the story or the image.