Young Japanese director Aimi Natsuto with her feature debut 'Jeux de plage' makes a wonderfully cinephile tribute to the greatest of the French cinema. Structure of the film is based on twelve short segments, every of which relates to different French film. Titles like 'Vivre sa vie', 'La Règle du jeu' or 'La Drôlesse' bring back memories of the most fruitful years of the French cinema. Luckily, in all her passion for masters like Truffaut or Ophüls, Natsuto does not lose her unique character and youthful energy of a young talented filmmaker.
"Jeux de plage" is screening at Japan Cuts 2019
'Jeux de plage' depicts roughly twenty-four hours from the life of an elegant guest house in a picturesque seaside town in Japan. Full of many peculiar guests, the villa becomes a witness of a real comedy of errors. Fourteen individuals circulate around the house, however, the director puts focus on three female students, making their story a core of the complex plot. Yui, Sayaka and Momoko are seemingly just ordinary friends spending time by the sea. In fact, it quickly turns out that the relationship between the two of them is way more complicated.
Sayaka, a character we can mostly associate to, is a sensitive but slightly withdrawn girl. Step by step, we are discovering that she has romantic feelings for Yui – an incredibly beautiful and self-confident yet dominant and cold leader of their small group. This complicated relationship, full of subtle gestures and little understatements, is only a part of the wider landscape of human desires represented by the visitors of the peculiar house.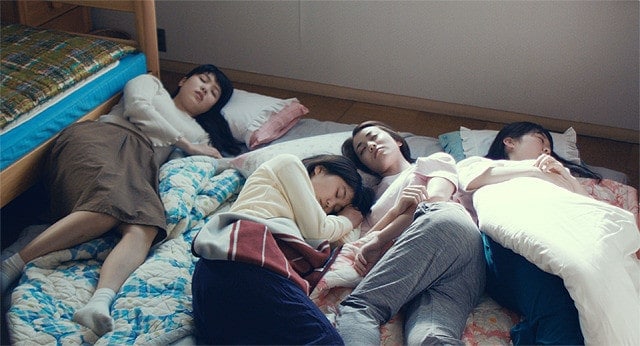 Apart from the girls, there is also a lustful university professor followed by his angry wife, an immature musician conflicted with his band and a slightly bizarre but kind and subtle Thai, who starts writing love poems to Yui. An unsuitable Korean couple, an annoyed owner of the house and a mysterious Miwako, strange Malay film director and a desperate man nagging everyone on the beach – all these people complete the lively array of diverse characters created by Natsuto. The director depicts them ironically yet with a big touch of sympathy. What is however vital for the world created by Natsuto is its strongly feministic character.
All the male characters in the film are not even evil or annoying but only pitiable, with their uncontrollable lust, helplessness or weakness. On the contrary women – in 'Jeux de plage' they are incredibly strong, confident and self-sufficient, easily dealing with problems and talking in all honesty about their sexuality, which is still not entirely common for Japanese women nowadays.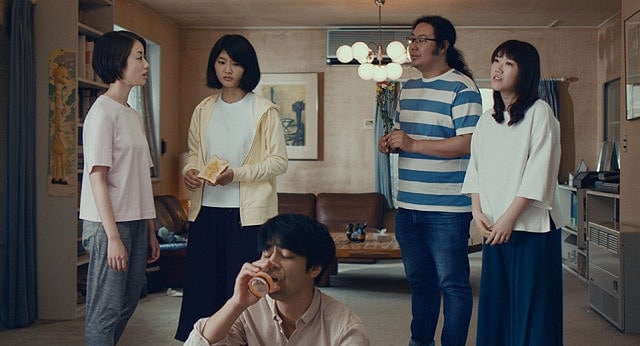 From an artistic point of view, 'Jeux de plage' is a particularly graceful and visually appealing piece of decent cinema. The impeccable scenography, full of beautiful items and enchanting colors, together with well-thought costumes and subtle cinematography form an integrated whole of high aesthetic value. However, it is still fresh, unpretentious, and far from being overwrought. The credit for this ravishing atmosphere goes also to the flawless casting. The actors, even though we will not find any big names among them, perform truly sensitively and convincingly.
Aimi Natsuto creates a gentle and intelligent comedy, which is eagerly associated with Rohmer's oeuvre. Her strong cinephile passion and inspiration by the European cinema are noticeable at every turn, which makes 'Jeux de plage' even more pleasant and interesting to watch. Despite all the artistic values of this modest but successful film, the strongly feminist attitude of this young Japanese director deserves particular attention.