Korean cinema has made some impactful inroads into the mainstream moviegoers' recognition on the courtesy of directors like Park Chan-Wook, Bong Joon-ho or Jeong Byeong-Gil and provided plenty of thrills with quality genre cinema, including horrors (eg. "Train to Busan" or "Wailing"), period dramas ("Taxi Driver") and futuristic blockbusters. But it is not always big and loud. Plenty of cinephiles were touched by poetic metaphors of Kim Ki Duk. However, in film festivals' lineups one may find lovely nook of unpretentious indies as Ko Bong-Soo's "Delta Boys" or works of Hong Sang-soo. Jeong Seung-o's "Move The Grave", picked by the selectors of New York Asian Film Festival, falls into that last category.
"Move the Grave" screened at New York Asian Film Festival
Described not quite accurately as a "road movie", it is an ironic family drama, revolving around a kind of uncanny family reunion. Hye-yeong Baek (Jang Liu), a single mother of a troublesome middle-grade son, is forced to leave her job, as the company is not happy with the amount of time she needs to deal with her maternity duties. On the same day, she gets a message that her father's grave must be transferred to another location because of some construction plans. Thus she and her three sisters (and the mentioned little brat) are travelling in one car to a remote homeland island, called by an uncle to take part in what we should called a second funeral. As one may expect, jamming four (and a half) different characters in a one car, even of a spacious type, is not the way to invoke the atmosphere of warmth and sisterly love, so spats are inevitable. When they finally get to their destination, a conservative uncle doesn't even want to hear about continuing any proceedings without the presence of the eldest son – and the women's brother – Seung-rak. Consequently, they need to find him, which is not an easy task. Sisters haven't heard from him for months – as he tends to get in touch only when he needs money and doesn't bother to update about his current whereabouts. From now, on the situation gets more and more complicated… and a car gets more and more packed with people.
With time, we understand that tensions between the characters are not the result of some resentments or old conflicts, but are shaped by common hardships they encounter in their lives. For Hye-yeong, as mentioned before, those are the perils of a single mum. For Geum-ok (Lee Seon-hee) marital problems. For Geum-hee, (Kim Min-hee, Hong Sang-soo's muse) financial issues troubling her and her husband-to-be before tying the knot. For Hye-yeon, the youngest sister, a student with a sharp feminist views, her own rebellious (from the old generation perspective) personality. Those differences between the siblings are also reflected in the character's varied visual representation. Geum-ok is corpulent (though her weight is not used as a pretext for shabby fat-shaming jokes), Hye-yeong dresses adequate to her corpo worker status, Geum-hee is stylish young lady and Hye-yeon, with a short-cut hair and casual comfy clothes, is a typical tomboy.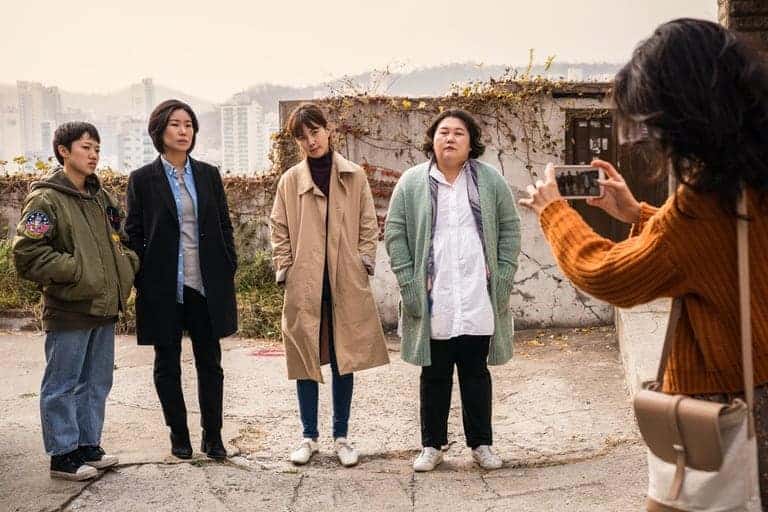 The director shows us family that is not at all a poster one. Its members don't seem to like each other very much, don't seem to meet very often, but paradoxically – care about each other and are quite familiar with each other's problems. The special bond connects the sisters. They constantly need to fight their place and redefine their roles in a male-dominated traditionally patriarchal society, and they are used to do so since the early childhood, when their brother was getting whatever the best (food, clothes or room of his own), while they needed to share.
What is interesting, in "Move the grace" women are strong, dominating and decisive, while male are weak and immature, unable to cope with the roles of leaders. Like Geum-hee's fiancée, who suggests that to support their future budget as a married couple, he may bring toothpaste from his parents' house. The movie reflects bitterly on traditional family ties and is an interesting commentary to changes in gender roles in modern Korean society. It marks forming the new system of values and inevitable conflict between the old ways and the modern practice. As the director explained himself in a short interview: "We have been growing since we were born, listening to and learning the roles of man and woman who have long lived in the patriarchal system. But now that patriarchy is almost over, I think we should dissolve the existing family structure and think about the new alternative family form. I wanted to ask the question of how to live in this transition period".
Steady pace ensures that a viewer won't get lost with a growing number of characters. Style is naturalistic, with cinematography depending on simple frames, and the core of a narration are dialogues. Witty and subtly amusing, this debut feature is a promising work of the director who seems to have a good observing eye. At times it lacks a deepened character portrayal, and maybe a more bold approach to the subject, but still is a worthy addition to cinematic portrayals of a modern family.