Born in South Korea in 1994, Shim debuted as a child actress in multiple South Korean and Japanese dramas and films between 2004-06. After beginning her acting career and entering high school in Seoul, Shim moved to the States and finished high school in New York's Professional Children's School in 2013. Shim won eight awards for her role as a 74-year-old in the body of a 20-year-old in the festival circuit break-out hit "Miss Granny" (2014).
On the occasion of her film, "Blue Hour", screening at Japan Cuts, we speak with her about the role of Kiyura, her chemistry with Kaho, her co-protagonist, her collaboration with Yuko Hakota and Denden, and many other topics.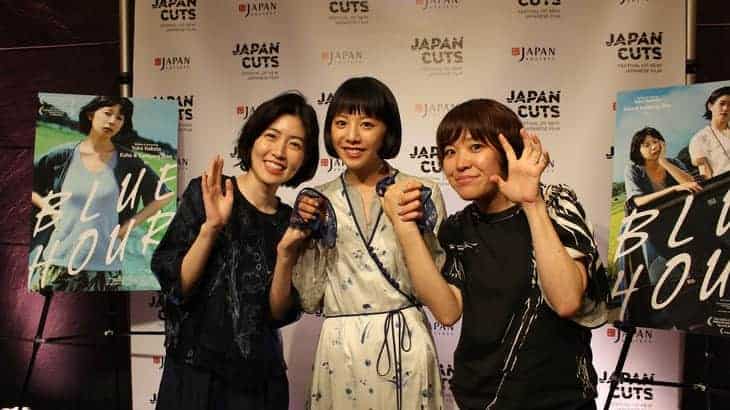 What drew you in this particular role?
There are many things that drew me to this role. First of all, I think stories about women are quite rare and the story about two women going on a road trip together really captured my heart and I immediately knew I wanted to do it. There are plenty of elements that make the role of Kiyura very evocative; on the one hand, she is very bright, she knows how to use Japanese humor, but she is also able to convey a sense of loneliness. Therefore, I was able to do many kinds of acting through this role. I also found that the movie is very relatable to me as a woman and I liked the fact that it was a contemporary story about women, so I was really excited about this part.
One of the best assets of the film is your chemistry with Kaho. How did you two manage to portray your relationship so excellently?
Before the shoot, the director and the producer created an opportunity for us to meet, we talked a lot about the film, and we discussed about how we should act in our roles. There were also a lot of instructions from the director, I would often approach her about the role of Kiyura, about different ad libs that she could do for the role. Those were discussions that happened between the director but also happened with Kaho. There was a lot of trading ideas with one another. I have to say that from the first day of shooting there was a familiarity that I experienced with her and that is pretty rare.
How was your collaboration with director Yuko Hakota?
Actually, before the shoot, the director and I first started talking about the costumes, we really thought about what would fit the character of Kiyura and then we chose a few scenes to rehearse together. I think, due to those rehearsals, we were able to create much naturalism in the acting. Then, during the rehearsals, we had a lot of conversations about movements and different things Kiyura could do as a character. The director even asked me to do unexpected ad libs, that Kaho would not know beforehand, just to surprise her. So, we traded ideas like this and things were very friendly between us. This movie was actually my first real Japanese role, therefore I was actually very nervous, but due to this process of preparation, I found out by the first day, that things are very easy, I felt that I really could embody the role.
Female friendship is one of the main concepts in the film. What is your opinion on the concept?
It is interesting that you say that. I understand that female friendship is one of the main themes, but actually, it is more about adults that live in this generation and the kinds of loneliness that they can feel. I think it is quite a difficult story, but a story that resonated with me. I think that a lot of adults deal with this difficult problems and deal with the inadequacies that they may feel and end up in a very dark place, but this movie allows us to watch that play out with a very warm gaze. I understand that much of the story revolves around the two women but is really about women today, living in this generation and the different problems that they encounter.
Kiyura is a rather intense character. She is always cheerful, she drinks, she smokes, and in general she seems to enjoy life as much as possible. How similar are you as a person to her and in that regard, how difficult was portraying such a character?
Actually, it wasn't hard to act as her at all, besides the scenes I had to drink and smoke, actually I was acting directly with my feelings. I have to thank the director for creating that environment that could allow this kind of realistic acting.
Denden is one of my favorite actors. How was your cooperation with him? Is he as eccentric as his roles?
Actually, I am also a huge fan of Denden. There was a movie called "Wilderness" that was an adaptation of a Shuji Terayama novel and I loved Denden's acting in that movie. He plays a boxing coach, but when I was watching the film, I could only think that he was an actual boxing coach. When I learned that he would play Sunada's father, I was so excited and I would love to work with him again in the future. When we were acting together, he influenced my acting a lot and it was because of him that our scenes together turned out pretty great.
What are the differences between working in a Japanese film and a Korean one?
One of the main differences is the duration of the shooting. In Korea, for a feature film, it would last for about 3-4 months. In Japan, there are many films that are shot in a very brief time, but "Blue Hour" in particular only took two weeks. I was super surprised by that. Of course, there many difficult aspects when you are having such a short shooting period, but what I noticed is that the cast and staff really united and were passionate about making this movie. I was really moved by this and I would say that my focus on my acting was immense; therefore, I can say it was a new and very positive experience for me.