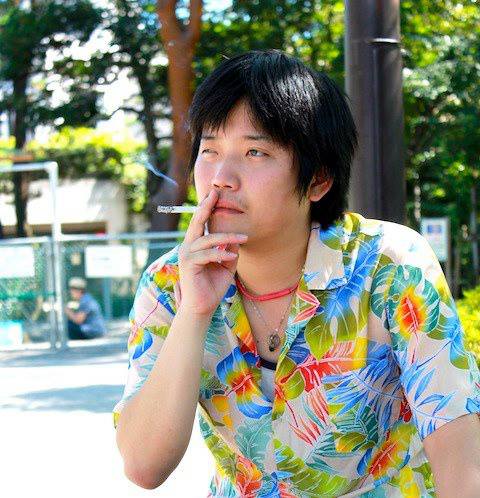 Koichiro Oyama was born in Osaka. He attended Osaka University of Arts but he dropped out eventually. He worked as assistant director to Hideo Nakata in "Ring" and Setrsuro Wakamatsu in "In the City of Dawn". His short "Horumon" was selected for the NEOJAPAN category of Short Shorts Film Festival in 2011. "His Bad Blood" is his first feature film
On the occasion of "His Bad Blood" screening at Fantasia 2019, we speak with him about parents and children, the idea behind the film, shooting in the country, Christianity, the cast, independent films in Japan and many other topics.
(translation by Yoko Seki)
The film seems to revolve around two questions: can people change? Are children bound to follow in their parents' footsteps? What, in your opinion, are the answers?
I grew up with a bad father myself. This film was created by layering my own father-son relationship on the two main characters. My feelings toward my father are dark, in the shade of gray. Still, I think I have to get in touch with him once in a while and I do so. After having mixed emotions, hated him and missed him, I am calmer right now.
When I ask myself a question, "why/where these feelings started from?", I can reach only one reason as the answer, the tie of blood that is. I put that kind of feelings into my movie
In this film, the father and son who are far apart, finally acknowledge each other's existence. It's a small change, but it took 108 minutes to describe.I think people can't change easily. If I were Shinichi, the son, telling people "That man is my father" in public would be the biggest possible change. Each viewer sees it differently, transformation for some, just a trivial thing for others. Personally, I think it's a big change.
For the second question, my answer is yes. In the last scene, where does Shinichi go? Does he start his own life or repeats his father's life? Although I would like to leave it to the audience, my message is clear. He repeats.
Knowing that the bad man is his father, people will have cold eyes on Shinichi and various difficulties can be expected. Still, he chose and/or accepted the road of trouble. That's how I depicted the last scene.
Why did you choose to present these two topics in a small village/rural setting? Do you think that people in these kinds of places are more likely to be prejudiced? In general, how do you view people in these kinds of small communities?
All the filming was done in Iida City, Nagano prefecture. In that area, the community is tight knitted in the traditional way, and smaller groups within the community such as Goningumi, group of 5, keep watching each other. Whenever somebody does something different, members of the community isolate the person as if he/she violates village regulations.
Traditionally in Japan, that custom was common in many areas. Japanese people care about cooperation. These days, such communities are disappearing. As I wanted to show the situation clearly and understandably, I decided to depict it in the actual society. Also, the film is based on the true story, actually happened in that area.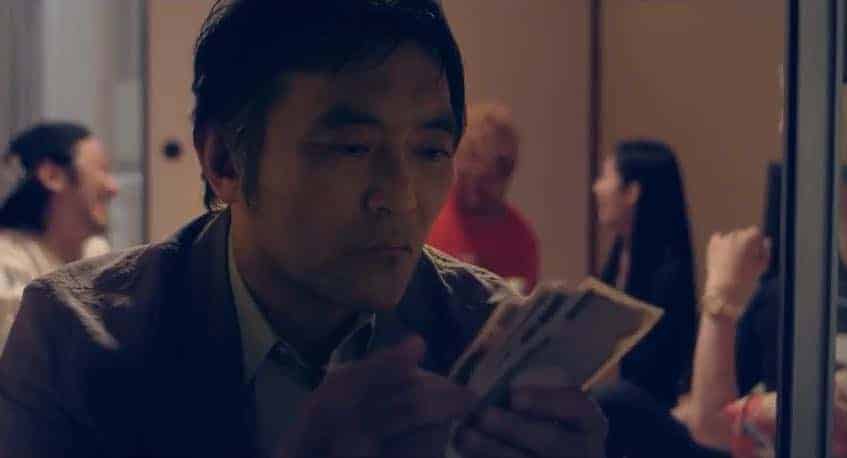 The film also deals with Christianity. Do you feel that religion can change people radically?
I'm not a religious person. When I decided to shoot the film, I participated in a worship and it was the first time to touch Christianity.
There were father and son, who are the model of this film. They were Christians, living in Nagano. They were far apart, met 20 years later without knowing they are related. I tried to describe Christianity as a part of the everyday life of main characters, rather than ideologically. So I simply depicted their days, without message/opinion.
Toyama attended a Christian funeral when one of the model people passed away. At the ceremony, people sang "What a friend we have in Jesus" together. That hymn is sung at weddings and many other occasions. "So, what is the meaning? What is mercy?" I thought.
The main characters are so distant from love and care for each other. At the end, they still can't feel mercy, but reach the point of acknowledging each other's existence.
There is no religious message here.
Although I have never be close to any religion, I suppose that it might be nice to have one in your life .
A lot of the film's humorous moments come at the expense of organized religion. Why did you choose this approach? In general, how important do you think comedy is for movies?
(Director's reaction : surprised)
Mr. Sakura Enomoto (producer/actor) explained about the reaction.
Sakura Enomoto: "It was me who talked about cases I actually saw and heard to the director. Extreme belief and dedication can collapse family. They believe in miracles and donate huge amount of money to see it for instance. To depict such sensitive issues, it should be comically done."
Koichiro Oyama: In the film, the pastor is the closest to Christianity. So I carefully drew the character. The humorous scenes are triggered from him. He directs the father and son into trouble. On the other hand, they couldn't reunite without him after 20 years. He is actually the most cruel person in the story.
My goal is, for example, that a person who saw my movie, would feel the need to contact his/her father after a long time.
It is be nice to receive good reviews from critics or jury members at film festivals, but I would rather be a filmmaker who can inspire personal feelings of each viewers. On this film, there are viewers who enjoyed the comical parts, but on the other side, there are people who think those parts should be cut. I value both opinions. As a film maker, I want to entertain viewers. Comedy is important to entertain.
Can you give us some details about the location the film was shot? What was shooting like, any memorable episodes, good or bad?
Since the film is based on a true story, we started to visit places where various events actually happened. It took about 5 years to make this movie.
Usually, local municipality has a film commission to support film productions, providing financial assistance and/or other services. However, as the city of Iida is very conservative, there are no such services available officially. Local offices, public organization were not helpful at the beginning, There is no major industry that we could find sponsors.
Our film production was a "foreign body" for the community, it was difficult to accept for the people. We started building trust from scratch. We tried hard, we participated in local festivals and fried yakisoba noodles for instance, and over the course of three years, we gradually gained trust of the people.
We called for help on local media such as newspaper and radio, it was hard to get financial support. So we asked for ANYTHING. " Single grain of rice, abandoned car, vacant house… anything will do it" we said. "If you have time, please come to the shooting location, move lighting equipment or act as extra".
Since this is my first feature film to direct, I wanted to spend three weeks to shoot. But our budget was just enough for one week. Recently, filming a movie in one week became commonplace in Japan. I usually work as an assistant director of commercial movies and I'm frustrated with the condition.
I wanted to film my first movie with the best crew and the best actors possible for now and I needed three weeks to realize it. Then, I got great help from variety of people to achieve that. For example, about 100 local women, young and old, prepared bento (lunch box) for us every morning, using mostly donated ingredients. The cost of one serving was 18 yen. In Tokyo, a bento-box at filming location costs 880 yen in average. We could use the difference=864 yen × people × days for some other needs. If this film was made with Japanese standard, it should cost about 1.5 million dollars. We managed to make it with $150,000.
At the beginning, the location was chosen because of the true story, but while we were working together, we started to share passion to make a great movie with the locals. We convinced them that Iida city has a lot to offer, such as beautiful landscape, and the movie must be appealing to the world. This visit to Montreal is a kick start. I would like to show this film in different cities and countries and bring good news back to the Iida people.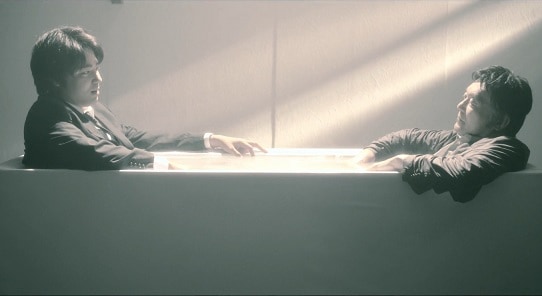 What was it like working with Ikkei Watanabe and Yu Toyama?
First of all, I don't like to categorize actors with selling power. It's easy to see who is popular to sell in Japan, but it doesn't matter overseas. I care about the acting, if it's interesting or not. I wanted to film with actors who act interestingly.
I have been working for TV dramas as an assistant director and I've asked my favourite actors to perform for my film "when the time has come". Renowned actors accepted our flat rate, much lower fee than the standard.
As for Ikkei-san, (Mr. Ikkei Watanabe), he is an experienced actor with his own style, I wanted to crush the image of him. Whenever I saw him as the "Ikkei-san" that everyone knows, I cut and took it again and again. We had 10 takes or 15 takes for the same scene. Ikkei-san never complained.
What are the major differences between working with a veteran versus a younger actor? What was the casting process for the film like?
There are some differences but at the same time, there is none. Veterans have technics and personality to be popular and successful. Younger actors have charm that they don't notice by themselves.
At the filming, I made no distinctions between the two. I check if the actor plays the role interestingly, no matter if he is a veteran or a newcomer.
The casting process was different. I had been asking the veterans to be on my film when the time comes. We had an audition for new actors. We also looked for actors who are originally from Iida area, because of the local dialect.
There are veteran actors who could not make it this time, because of the schedule. I will ask them again next time.
What is the independent film landscape in Japan like at the moment? How did you feel when the film won an award in Yubari?
I'm mostly in the world of commercial films and I have a sense of crisis. In the field of commercial films, restrictions are getting tougher, with tight budget, compliance and poor working environment.
Independent films are technically easier to make these days.Financially, there are methods such as crowdfunding. I think that the barrier between independent films and large-scale commercial movies is getting thinner.
However, we can't fight the world without changing the big mechanism.
Many Japanese films are participating in Fantasia, but I'm wondering if we are the only one independent film this year. We will go anywhere in the world to present our film. Please call us anytime!
Talking about the Yubari Fantastic Film Festival… We were stuck in the darkness until then. We finished the movie and reached for the Tokyo Film Festival, but it was not accepted. Bill payments were close to due, nothing good was happening around us.
In such miserable situation, a tiny light was seen through the dark tunnel. It was the Yubari experience. Until then, all the news on the film to the Iida people were negative. We have not return their favour yet.