Born in 1975, Makoto Sasaki's first documentary film Fragment came out in 2006 and achieved a long run of three years including screenings in the U.S. and Germany. Other titles include INNERVISION (2013), MINORITIES AND SEX: STRICTLY PERSONAL WAY OF LOVE (2015), See the Light (2018), A Kid on the Alley of Atami is included in the omnibus film Play Room (2018). Many of his works focus on the boundaries between the majority and the minority.
Hideyuki Kato was born in Tokyo in 1977 and currently lives in Tokyo. He is congenitally blind. He serves as a system engineer, and a musician (E-bass guitar). He is a member of the band, celcle. He occasionally composes songs. Kato made appearance in the film innervision. He works as a lecturer at an international preschool. His hobbies include cooking, crafting, and works that require precise skills to the extent that cause you a headache (e.g., building plastic models).
As a curator, Miyuki Tanaka has been engaged in a number of exhibitions, performances, and publication editorials. Her activities are based on creativity and communication found in everyday life. After being engaged in the exhibitions, bones (2009) and The Definition of Self (2010) at 21_21 DESIGN SIGHT, her interests often include technology, where future of humans and the society could be found. She curated LIFE by MEDIA: Proposing new forms of life and living with media and YCAMDOMMUNE at Yamaguchi Center for Arts and Media [YCAM] in commemoration of its 10th anniversary. At Miraikan, she took in charge of Prosthetic Fashion Show: Rhythm of athletics, and the collaborative live event between a band from the social welfare facility Shobu Gakuen and musician Masakatsu Takagi, "subliminal wave of light" otto & orabu × Masakatsu Takagi LIVE at Miraikan. She has continuously been engaged in projects related to disabilities, including Japan Foundation presents Disability × Performing Arts Series 2016: dialogue without vision (2016, Kanagawa Arts Theatre), exhibition The Great Ordinary (2017, Borderless Art Museum NO-MA), and performance CREATIVE AUDIO DESCRIPTION: dance work-in-progress seen by ears (2017, Kanagawa Arts Theatre) among other projects. Her projects present disabilities as an alternative perspective of re-viewing the world.
On the occasion of their film, "Night Cruising", screening at Japan Cuts, we speak with them about the intricate concept of the film, the way people with sight-disabilities perceive cinema, the creation of the project, and many other topics.
Mr Sasaki, how did you meet Hideyuki Kato?
Makoto Sasaki: Seven years ago, a group of students that work with sight-disability groups came to me and proposed a project regarding a documentary related to their group. Kato-san was in that group, and that is how we met. One thing we also learned is that we are both the same age and so we grew up watching the same films, like "Top Gun" or "Karate Kid" and I thought it would be interesting to make a film about him making a film. There was a film that we made earlier together, called "Innervision". The setting of the film was that we were friends, it wasn't that we were faking being friends before, but through making this film, we actually became real friends.
"Innervision" ends with a "to be continued" note. Did you plan from the beginning to make a longer, extended film?
Sasaki: We were not necessarily thinking about making a feature film after finishing "Innervision", but "Innervision" ends before the actual making of the film and that was from the original concept and the film was about how to communicate with the audience about imagination. After the release, people started asking if there was going to be a sequel and so I started to think that perhaps, one day, it would be interesting to make a sequel to "Innervision". That was around the time I met Tanaka-san and thus this idea became a reality and that is how "Night Cruising" begun.
Why did you decide to begin the film with the particular 12 minutes sequence? (a black screen only with audio track)
Sasaki: "Innervision" was a 45-minute mid-length film and when it came out, we wondered whether we would show it without any images, we did a dark screening where we showed it without images and then we showed it with images and the reaction to that event was really interesting. Therefore, I was thinking if I could do something like that if "Ghost Vision" was created, that something similar would happen. "Night Cruising" is a film about the making of a film, and I think it can be seen as an interesting project for that, but at the same time I was thinking it would be more interesting to make a film about the shooting of a film after knowing what happens in the first film befor
e, rather than showing a making-of without knowing anything about the context. That is the first reason I decided to have that intro. The other reason was because by doing this black screen sequence, the audience would understand what it means to not see or rather to actually see what that means, and to have the audience think about that through the way I showed the film in the beginning. In that way, different intentions were coming together, by having no images in the very beginning and I think different meanings also arise through that.
What is the most important element of cinema for each of you?
Sasaki: Communication
Hideyuki Kato: For me, the most important element is the voice.
Mr Kato, what was the biggest challenge for you during making "Ghost vision"?
Kato: The first is that I am congenitally blind, and thus, I have never seen colors, and the other is that I have to be constantly aware of the details regarding the characters and the background and that is not something I think, usually, so I had to be able to communicate that with the production crew.
Are you satisfied with the final result?
Kato: If you ask me if I am 100% satisfied, that is hard to say, but I am satisfied with the fact that we created one piece of work together, with everybody's help.
Are you planning to direct another movie?
Kato: I would love to, if it is possible.
How is the situation in Japan with non-sighted movie fans? Do cinemas offer screenings with audio description?
Kato: There are a lot of people who are blind and like films, but regarding audio description, there are issues with the rights. Therefore, as of now, you only get audio descriptions for Japanese films, but there are many people who like foreign films and so, I believe the situation changes and more foreign films can get audio description, so the population who enjoys foreign films will grow even more.
In the last few years, a smart phone app has been developed that you can use in any theater, and this is a significant improvement.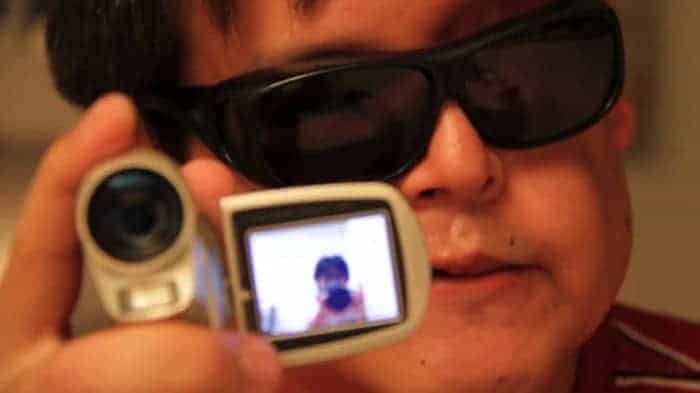 Mrs Tanaka, how did you decide to get involved in the project, and how difficult was getting financial support for it?
Miyuki Tanaka: Actually, it was not an issue of getting involved, since I kick started this project and so, what I found to be curious was the interesting situation that appears when a non-seeing person enters the situation and things that get discussed when that happens and the questions such as "what is "seeing?" that arise in these situations. The thing about making films is that it is hard even for sighted people to understand sometimes, so I knew that, by involving someone who does not see, would create a more interesting film.
Regarding financial support, this film was not funded in a way that is typical for film projects, it was funded more as an art project, mainly through grants, and we were not looking for funding aiming at commercial success, but rather in order to create.
Was it difficult to convince the various specialists to work on this project?
Tanaka: Surprisingly, nobody refused to be part of this and I realize, because, in part, it is not every day that they get to work with non-sighted people, so, overall, they had a sense of curiosity about working on the project. However, as we were speaking, I realized everyone has his or her own imagined idea of what it means to not see. For example, the bone specialist said that you have to create a film that does not care so much about visuals or the creative stuff having high hopes of creating something new, that has been never done before. I think this difference on what it means not to see derived from the lack of interaction with non-sighted people very often, and I also think that is also apparent in the audience's reaction as well.
Mr Sasaki, before meeting Kato, did you think about what movie-watching means for non-sighted people? And what is your opinion now?
Sasaki: I wasn't thinking about this before I met Kato-san. It was only through being asked about a project from a sight-disability group that I started thinking about this concept. That being said, I have been working in experimental films and shot experimental films about disability, and that was how the group came to know my work and eventually, proposed the project to me. That group gave me the topic to think about and I had to consider what would make an interesting film when working with people with sight-disability, and that is when I thought about making a film about a blind person shooting a movie. In terms of the changes that happened after I shot the film, not much has occurred on my end, regarding my thoughts.
Mrs Tanaka, could you also reply to the same question?
Tanaka: In some ways, when I begun this project, I already had this idea of how this film would turn out to be, and I think, in part because I was already working with sight disability people already, there were things I had already though about previously. In some ways, I can also say that not much has changed within me either. However, that being said, having spent a lot of time with Kato-san, it made me really think about the fact that not being able to see is a very small factor in our lives and that, altogether, we are all normal, and that idea was really strengthened inside me. It is not that I relate to Kato-san as a person with disability but, rather, I relate to Kato-san as a person, and his presence inside me became a much larger factor, through the time I spent with him.