A graduate of both the Seoul Institute of the Arts and the Korean Academy of Film Arts, Yi Ok-seop has been carving a name for herself with a variety of shorts, most notably her 2010 debut 'Please, Find My Mom', 2014's 'A Dangerous Woman' (Yi's first collaboration with actor/producer Koo Kyo-hwan), and 2017's 'Girls on Top'. After her contribution to the anthology film 'Now Playing', Yi began work on her feature film debut 'Maggie', premiering at Busan International Film Festival where it picked up a whole host of awards including the Citizen Critics Award as well as Actress of the Year for lead Moo So-ri.
Since 2019 'Maggie' has embarked on an extensive festival run including a recent stop at Fantasia, where this snippet of a panel discussion is lifted from. During the event, the panel divulged its captivated audience with the social problems affecting Korea's youth, the meaning behind the titular catfish, and the origin of the ring Maxine's name.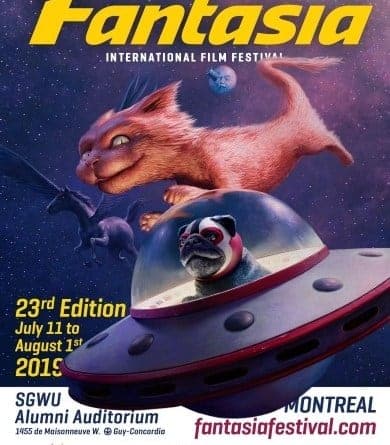 Yi Ok-seop –…violence applied to […] lovers; so these are the social problems that are seen, they are occurring in Korean society now; and even, there is a general sense of insecurity because of the phenomena of sinkholes, and causing people [to feel] that even the ground on which we leap is no more safe. These are them themes that I wanted to show in order to talk about the problems surrounding the youth in Korean society now. So, as you saw in the opening of the film, I was quite inspired to shoot this scene by the social issues that people are experiencing nowadays in Korea, which is the illegal shooting or filming of other people doing business in the restrooms So, it's the general sense of insecurity as well to the point that people just think there will be probably some hidden cameras in the restroom, so they usually wear caps or hats to hide their face when they go to restrooms in public places like restaurants and cafés, and I was inspired by this phenomenon in Korea to include it in the beginning of this film.
So you both wrote the film together and you played the lead role, how did this collaboration come to be and to which extent, if I may ask, your relationship really factor in to this story? Because I think it's a really interesting collaboration and it really gives the film a bit of weight.
Koo Kyo-hwan – So before the director begins making this film 'Maggie', I had co-created several short films with director Yi in the past, so I had already worked with her several times. However for this film 'Maggie' I thought that she has a very clear vision on her own, so I thought that it's better for her to do the directing herself, alone, and I just collaborated as a producer. And even though I presented myself as a producer of this film, I think the director Lee also co-produced the film.
Forgive me if this question is too obvious, but at the beginning you said the word 'Maggie' means 'catfish', and I think in the American film 'Catfish' deals with similar themes…was there a connection between the films?
Yi – So was your question about why we represented the movie title as 'Maggie' rather than 'Catfish'?
No, no, not my question at all! There is a English film, also named 'Catfish', which in a vastly different way – it's a documentary – deals with similar themes, I was wondering if perhaps the director had seen the film or if there was anything in connection?
Yi – I was very intrigued by the mysterious character of the catfish first of all, because catfish is very still in normal times, but we say that it can sense the signs of earthquakes, and it's like some students in our schools who stay very calm and silent but who knows everything which is happening in the class, about every people, so that's why I wanted to portray this fish in this film. And also I chose to include this catfish in the film because if you say that, in the hospital setting, someone detected the sign of earthquakes with a precise machine then you have no doubt, you can just believe it; however if we say that "oh, there will be an earthquake for sure because the catfish just jumped very high, splashing water on the floor, then it means there will be an earthquake" then we have to ask ourselves if we should believe it or not, so it's a question of belief. That's another reason why I chose the character of Maggie. And also I thought that it would be very good to have some existence that can consolate our lives, consolate us and who can just listen to our stories unconditionally, so that's why I chose to include this catfish.
It's a delightful coincidence!
Any more questions?
Why is the ring called Maxine?
Yi – We came up with this idea of giving the name Maxine to the ring, almost at the end of making the film, and when we were writing the script actually we didn't think about it but when I listen to the music 'Maxine' I thought it would be very good to name the ring Maxine so, I just chose this as Maxine. I used to use this technique of giving names to some objects or to some animals when I previously made some short films, and as you saw we gave to the catfish the name of Maggie, and also I wanted to name the ring Maxine in the same context.