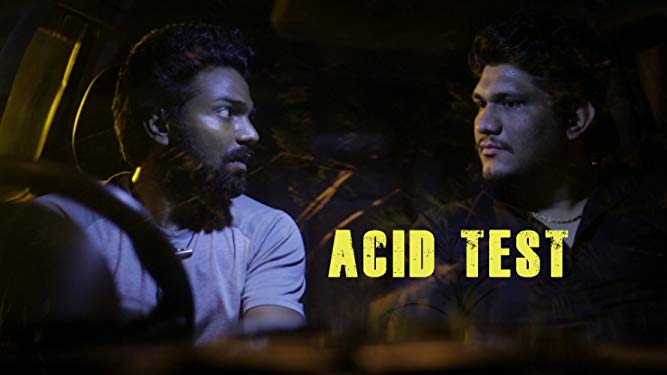 "Acid Test" is an 8 min short film by Saarthak Juneja, released via Pocket Films.
This is a film where most of the exposition happens via friendly banter between its two protagonists "Babban" and "Acid". They are car thieves seating inside a luxury car trying to steal it. While Acid is trying to bypass the ignition lock, Babban is using the time to goof around by trying on sunglasses in the car. That initiates their banter which touches many topics, before they encounter the name of the car owner. That takes the discussion to some serious exchange of thoughts before the shock in the climax happen.
Watch

This

Title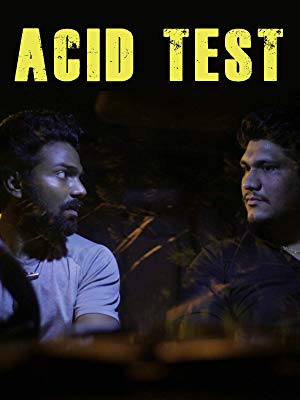 The film gives a view of the deprived section of the society which feels it is right to do the immoral, illegal activities due to the injustice happened to them by being born poor. As Acid/Aslam comes to know that the car owner is the kind-hearted Muslim politician Javen Ali who does a lot of good work for "his" community, he tries to convince Babban to let go of this car. Babban tries to convince him otherwise, trying to explain to him that there is no need to feel good about anyone as they are the most deprived lot. While one of them get convinced, something unexpected happens in the climax as poetic justice.
The film is a very apt concept for short film, shot in the single location of a car's front seats. It is shot well (Chand Sayyed) and is written and directed well (Saarthak Juneja). The flow is gripping and gives us a tour of the insights of the protagonist's world, their anguish. It touches upon the divide of "us" and "they", in terms of both class divide and religious divide.
Acid/Aslam played by Ashwini Kumar mostly gets to react, as Babban played by Kapil Kakran does most of the talking. However, Ashwini Kumar shines in his subtle performance. Kapil Kakran is good but could have been better by not looking pretentious in his dialogue delivery.
Overall, it is a good short film to watch. It provokes important thoughts in our minds regarding class divide, religious divide