"A Chinese Ghost Story" is a Hong Kong fantasy film from 1987 directed by Ching Siu-tung and produced by Tsui Hark. It is the supernatural tale about the bond between a mortal man and a demon's servant that quickly became a cult classic. The movie spawned two sequels, an animated film, a television series, and a remake. In 2005, it was ranked number 50 on the list of the Best 100 Chinese Motion Pictures.
Buy

This

Title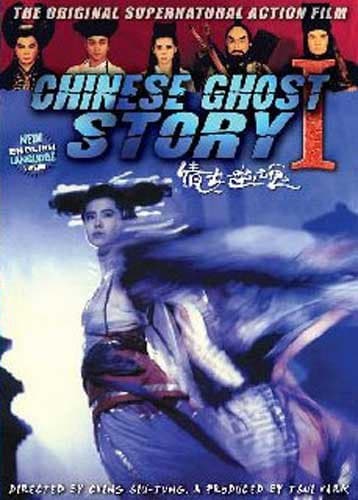 Ning Choi-san (Leslie Cheung) is a debt collector who visits local Chinese towns. Unfortunately, he is also plagued by misfortune as his account book is destroyed, so he has no money to pay for shelter. As a result, he spends a night in a haunted temple outside of the town. He encounters there an enchantingly beautiful woman called Nip Siu-sin (Joey Wong). Little does he know that Siu-sin is a ghost who lures travellers so that the Tree Demoness (Lau Siu-ming), a 1000-year-old monster, can eat men inside out. Nevertheless, Ning Choi-san falls for the ghost and protects her from dangers. In turn, Siu-sin protects him from other flesh-eating ghosts. With the help of a Taoist monk, Yin Chik-ha (Wu Ma), Choi-san descends into the deepest levels of hell to save Siu-sin from the grasp of the Tree Demoness.
"A Chinese Ghost Story" was actually inspired by the Shaw Brothers drama film "The Enchanting Shadow" from 1966 (both movies share the same Chinese title), but Ching Siu-tung and Tsui Hark reinvented the story to such an extent that it bears little resemblance to its original predecessor. The two creators had very different visions of the film. Namely, Siu-tung wanted it be more an action/horror story, whereas Hark opted for a romance/love story. The final result is somewhat the middle ground between these visions.
The movie is eerie, yet not scary, while being dynamic and touching at the same time. This was made possible thanks to the hectic work of the stuntmen, the special effects experts, and the actors over the course of over 8 months. It has to be noted that Tsui Hark was frequently present on the set and admitted to directing many scenes. As a result, what we get from this daredevil endeavour of Hong Kong filmmaking is a beautiful and unforgettable adaptation with spellbinding cinematography and art direction.
One more thing which deserves a comment is the music score by James Wong and Romeo Diaz. It wonderfully enriches the tone of the movie as the instrumental arrangements heavily rely on traditional Chinese music. In addition, the end credits song was sung by Leslie Cheung himself. In fact, the tune is so associated with the series that it was kept intact at the end of the 2011 remake.
With regard to performances, Leslie Cheung is at his best here. Instead of being a flamboyant type, he creates a relatable everyman caught in the middle of a spiritual war he cannot comprehend. It comes as no surprise that the 2011 theatrical re-release of the film as well as the remake were to dedicated to his memory. On the other hand, Joey Wong is outstanding as the ghostly spectre who desires to free herself from the firm grasp of the Tree Demoness. Interestingly, Joey would go on to repeat this role not only in the sequels, but also in many remakes and retellings of this classic film. Naturally, Wu Ma must also be praised for his memorable performance of a ghost-fighting Taoist monk who obliterates demons in a true Dragonball-like fashion.
I highly recommend this film to anyone who is interested in discovering the hallmarks of Hong Kong cinema. The movie is entertaining and enjoyable in terms of action set pieces, but also poetic in its inventive subtlety. All things considered, "A Chinese Ghost Story" is a cinematic tale unlike any other.