"Hot Summer Days" is the first Chinese-language film produced by 20th Century Fox in its then seventy-five-year history. Packed with stars hailing from Hong Kong, Mainland China, and Taiwan, it's the kind of ensemble romantic comedy that American audiences have been eating up for decades. Nevertheless, this Chinese take on the genre possesses just enough redeeming qualities to elevate it—albeit only slightly— above the pack of formulaic rom coms churned out by movie studios around the world. Gorgeously shot with several excellent performances, "Hot Summer Days" is a date movie of epic proportions, as we're treated to a whole stable of good-looking actors— often glistening with sweat—as they try to find love in the sweltering heat of summer.
Watch

This

Title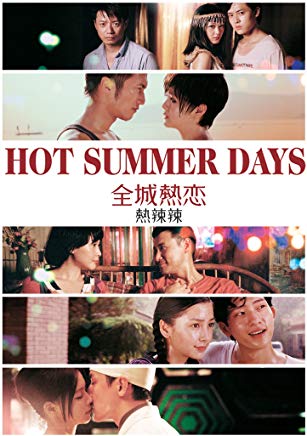 In Hong Kong, we meet Wai (Nicholas Tse), whose air conditioning repair shop is experiencing a much-needed boom in business during the oppressive heat wave. While coping with the demands of customers, Wai ends up falling for a black eyeliner-wearing, tough-as-nails biker chick named—of all things—Ding Dong (Barbie Hsu). The pair make an attractive couple, and Tse and Hsu possess a wonderful onscreen chemistry. However, the film relies too strongly on manufactured melodrama to close out this segment. For a tearjerker to work, the audience needs to be emotionally invested in the characters, and the film doesn't use the short time it has to explore their relationship in a truly satisfying way. Further, the film's treatment of the much more serious content that arises from Ding Dong's personal story is only cursory at best.
The stronger storyline in "Hot Summer Days" involves veteran actors Jacky Cheung and Rene Liu and centers on a long distance friendship-turned-romance involving their characters: Li Yan (Liu), an out-of-work, classically trained pianist living in Shenzhen, and Wah (Cheung), a down-on-his-luck chauffeur and single dad. Due to an accidental text message, Li Yan and Wah embark on a cutesy flirtation. Despite her talents, Li Yan has had to take a position at a foot massage parlor, a fact which she hides from her new friend. Similarly, Wah, who's been working odd jobs just to make ends meet, lies to her and says he's a Ferrari race car driver. Despite their lies, the long-distance friendship ends up providing each of them with some much-needed comfort during tough economic times.
In certain ways, this segment of "Hot Summer Days" can be read as a commentary on the advent of text messaging in our modern culture. The film suggests that we as a society have come to rely on the "safety" of text messaging to perform our identities for others, as opposed to just calling someone up directly or (gasp!) seeing one another face-to-face. The would-be romance between Li Yan and Wah boasts quite a few funny sequences, particularly one about the disparity between what a person thinks and what he or she actually writes in a text during a blossoming romantic courtship. This isn't necessarily great cinema, but Jacky Cheung and Rene Liu are so fun to watch that their romance doesn't feel like the trifle it actually is.
Unfortunately, not all of the stories in "Hot Summer Days" can match up to this one. In another Hong Kong-set storyline, we meet a writer (Vivian Hsu) bearing the strange nom de plume, "Wasabi." She has returned to Hong Kong after a whirlwind tour of the globe to reunite with her old boyfriend, a sushi chef with the equally stupid nickname, "Soy Sauce" (an oddly mustachioed Daniel Wu). However, their reunion doesn't go as planned as the two former flames get into an argument. Soy Sauce tries to call Wasabi back to apologize, but she refuses to acknowledge him until he's called her back a certain number of times. What's her rationale? It seems that the number of phone calls Soy Sauce needs to make must match the number of post-it notes it will take for Wasabi to create a paper heart. This is both an arbitrary punishment and an idiotic conceit. This particular storyline attempts to coast on the appeal of its two actors, but largely falls flat. The audience is thus forced to accept that Wasabi and Soy Sauce, like their namesake condiments, simply belong together.
The absolute worst segment of the film is the Beijing-set sequence involving Leslie Guan (Duan Yihong) a pompous fashion photographer who is struck blind after a cruel rant against a young model (Michelle Wai). With his faithful assistant (Fu Xinbo) by his side, Leslie pursues the young woman in the hopes that a sincere apology will break "the curse." This vignette seems out of place: it doesn't match the clearly romantic vibe of the other stories, and the premise is utterly ridiculous (even after a last-second reveal that changes everything). Unlike the Daniel Wu-Vivian Hsu storyline, this segment cannot rely on star actors to carry the weak story.
Rounding out the film is a romance involving two teenagers. This segment hinges on a nostalgia for a simpler time, although the amber hues of the color palette mask deeper political issues worthy of cultural critique. Somewhere in Mainland China, we meet a poor local boy Xiao Fang (Jing Boran, nominated for Best Newcomer at the Hong Kong Film Awards), who will do just about anything to win the affections of a beautiful young factory worker named Xiao Qi (Angelababy). She orders him to stand in a single spot for one hundred days if he wants to court her. He does his best to follow her direct orders but figures out a few creative loopholes along the way, often with comic results. But this segment is not all laughs and sight gags, as it introduces some serious drama by the end. The storyline is a little too cliché, but overall, it makes for an otherwise satisfying teenage romance.
Amidst these tales of young and not-so-young love, the film also features Hong Kong cinema legend Gordon Liu Chia-Hui, as the estranged dad of Nicholas Tse's character. The old man passes the time by hanging around the beach and telling dirty jokes to a bevy of bikini-clad girls. Charlene Choi and Shawn Yu show up for brief cameos, but the biggest treat in the film is the onscreen return of the otherwise retired superstar Maggie Cheung, who appears briefly in the film as a mysterious, lovesick woman pouring her heart out to Daniel Wu's character. Unfortunately, her "In the Mood for Love" co-star Tony Leung Chiu-Wai does not make an appearance to cheer her up.
"Hot Summer Days" was originally released to coincide with both Valentine's Day and the Lunar New Year holiday, but it is perhaps best viewed in the comforts of one's home, coincidentally on the type of day described in its title. While cliché-ridden and overly schmaltzy at times, the film makes for an otherwise enjoyable viewing experience, largely due to some strong performances and some gorgeous cinematography by Sion Michael. As ensemble pieces go, directors Tony Chan and Wing Shya bring a semblance of balance to the film's multiple storylines, although some are definitely more satisfying than others.