The producers of the TV series "Masters of Horror," an anthology shot by various directors, chose Miike to direct an episode. However, given the artistic freedom they allowed him, the result was a given. "Imprint" was violent enough for the people at Showtime to refuse to broadcast it. Let us see what caused this reaction.
Buy This Title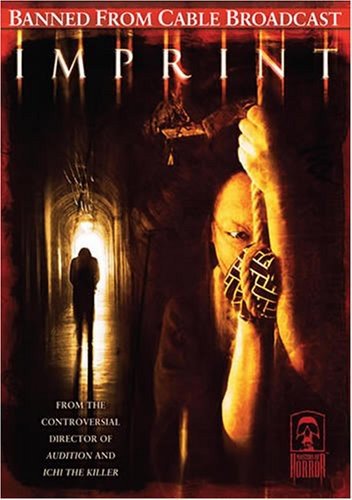 In 19th century Japan, Christopher, an American journalist searches for his lost love, a woman he abandoned despite his promises. His investigation leads him to a secluded island, where a prostitute informs him that his loved one is deceased. Subsequently, she begins describing the life of the girl, a dramatic story of torture and hidden secrets.
Miike presents a grotesque edition of Japanese folklore and a love story that transforms into something irrational and evil. From the beginning, with the pregnant corpse hanging above a river, to the whore house with the many deformed prostitutes (particularly the narrator), the exceedingly graphic torture scenes that leave nothing to the imagination, and, finally, the elements of incest or pedophilia, this is obviously an extreme movie addressed solely to the most hard-core fans of exploitation and splatter.
However, and as is usually the case with Miike's films, there is much artistry to be found here, particularly in the visuals of the production. In that fashion, Toyomichi Kurata's cinematography portrays the hellish world the film takes place in with a very fitting maximalism, particularly in the use of color, while the production design by Takashi and Hisashi Sasaki, the art direction by Shinsuke Kojima, the set decoration by Hiroshi Tanaka and the impervious costumes by Michiko Kitamura result in a truly phantasmagoric result. Yasushi Shimamura's editing connects that various timelines in a way that highlights the nightmarish premises of the film, while the relatively slow pace suits the aesthetics of the film quite nicely.
On the other hand, the story and, to an even larger degree, the acting seem to exists solely to provide a background to the gore and the overall exploitation elements. The female acts, Michie Ito, Youki Kudoh (she especially is quite good) and Toshie Negishi plus the cult figure of Mame Yamada are bearable in the whole context, but the same cannot be said for Billy Drago in the role of Christopher, who is probably the worst part of the film, although the writing in his case, did not help him at all. Of course, the fact that Miike (probably a decision from the studio) had his Japanese actors speaking in English a number of times, did not help their performances at all.
Nevertheless, "Imprint" is a film that justifies the attribute notorious, both for itself and Miike, fully, and one of the movies that definitely stands out in the vast filmography of the Japanese master. Fans of splatter films are bound to have a blast with this.