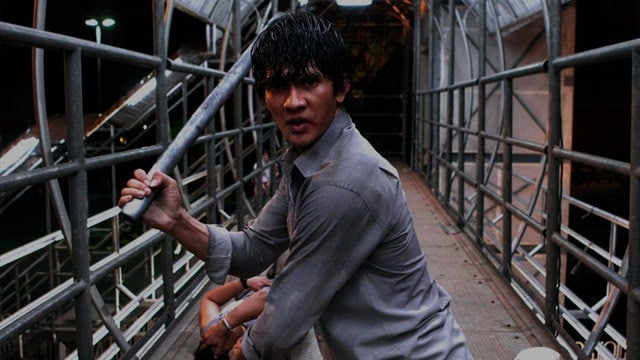 Before the international success of "The Raid" , the team comprised of Gareth Evans, Iko Uwais and Yayan Ruhian shot another film that highlighted Pencak Silat, "Merantau," which actually served as the guide for "The Raid."
Buy This Title

Yuda is a young but skilled practitioner of Silat, who lives in West Sumatra. He is about to embark on the "merantau", a kind of pilgrimage that involves a trip from his village to Jakarta, where he is supposed to open a school and teach Silat. In his way, he meets Eric, a man who has already completed the merantau, and is now living in Jakarta. Eric tells Yuda that he cannot make a living in the city just by teaching, but the young man is too optimistic to believe him. However, his problems start upon his arrival, as the house he was supposed to live is torn down and he is forced to sleep in a construction site. Furthermore, the next day, a chance encounter leads him to save Astri, a dancer, and her brother from a trafficking ring, headed by two foreigners, Ratger and Luc. The two of them and their contact in Jakarta, Johni, want to take revenge from Yuda and Astrid, and a deadly hunting game ensues.
Gareth Evans takes its time to introduce the action, which actually begins after 40 minutes in the movie. This tactic was somewhat risky, but some minor action scenes, as the introductory one in Shaw Brothers style and the one where Yuda is sparring with his father, compensate for the lack of overall action. Furthermore, Matt Flannery, the cinematographer took advantage of both the bucolic scenery of Sumatra and the urban setting of Jakarta to present a number of impressive images, in another trait that compensates for the lack of action.
However, when the fighting starts, the film takes a turn for the exciting, as Pencak Silat is a very impressive and violent style and Iko Uwais makes the most out of Ruhian's spectacular action choreography. Gareth Evans also makes good use of Fajar Yusekmal and Aria Prayogi's music, which mostly consists of rave music with electric guitars, to heighten the impression of the action scenes. His quick-cut editing also moves towards this direction. This tactic finds its apogee in the club scenes. The ones with the bamboo rod and the motorcycle are the most intricate, but the ones that truly stand out are the duels in the elevator and in the end of the movie, where all of the film's elaborateness in the action department comes into focus.
The acting is also on a quite good level for the genre, with Iko Uwais being convincing in the protagonist role, gorgeous Sica Jessica being a great "damsel in distress" and Mads Koudal being an impressive sociopath.
Although not as violent or imposing as its successor, "Merantau" is another great martial art film, which will definitely satisfy all fans of the genre.