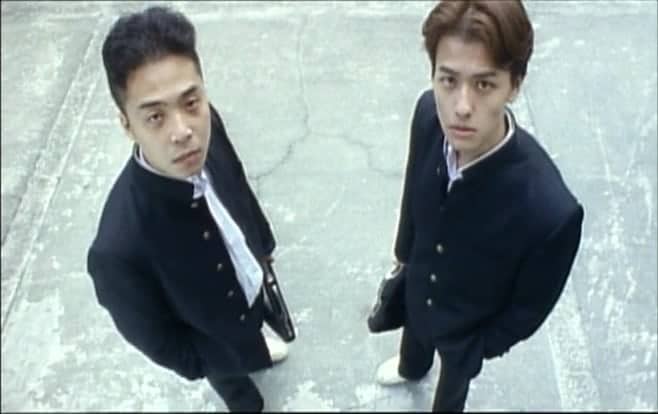 Just at the time when the extravagant and talented director Takashi Miike was making a name for himself, after doing "Bodyguard Kiba" and having done in the same year "Shinjuku Triad Society" (his first theatrically distributed film), he opted for this adaptation of a comic written by Dôkuman, titled "Osaka Tough Guys". Miike here bets on the most bizarre, extravagant and surreal atmosphere as possible, full of absurd humor and hilarious situations.
Buy

This

Title
The plot of the film revolves around Makoto Fukunaga and Eiji Yamada, two delinquents with nothing to do in life who have recently been expelled from their high school for their misconduct, and who hang out drinking or getting into fights. The future for these young people does not look very rosy, so by mistake, looking for a job, they end up enrolling in the Kinsu yakuza clan, perhaps the most pathetic and poor in the whole country; Following this, Makoto and Eiji will live a series of quirky adventures, while trying to earn some money as they aim for a better life.
"Osaka Tough Guys" is a delirious exercise, with Takashi Miike bringing out his more vandal and casual style to the story. One of the most positive aspects of the film is the performances.
Kentaro Nakakura and Yoshiyuki Ohmori are undoubtedly the two main legs of the film. Both characters are born losers, but endearing and charismatic ones, and one could easily identify with them. The secondary characters are also noteworthy, highlighting Gaijiro Saito, Sei Hiraizumi, Mika Takahashi and Hachirô Oka. The character within the movie called Daimon, played by Rikiya Yasuoka is one of the fundamental pillars of the story, leaving several of the best moments of the film, in addition to Rikiya Yasuoka's brilliant performance, who, although his character is despicable, we end up getting fond of him.

Miike here decides to narrate the film in a more immovable way so to speak, with less movement from the usual hand held camera tactics that is sometimes common in direct to video productions. Seiho Maruyama's cinematography itself is not a big deal either, but the frames are clean and crafted with care, with well-executed camera movements and panning. Furthermore, the editing is also something to consider when watching the movie, it helps considerably when it comes to the crazyness and the surrealism of the story as a whole.
"Osaka Tough Guys" is a delirious, grotesque and, on numerous occasions, surreal comedy trip. The progress of the two friends in a decadent yakuza clan is a chain of gags where there is no time for rest, whose engine is almost always an eschatological or a sexual one (or both at the same time). A mix between childish humor in its simplicity and perverted way in its intentions, gifted with expressive resources taken from the manga and even meta-linguistic elements (the scene in which one of the characters destroys a karaoke with its songs is worth admiring).

Inaddition, deep down "Osaka Tough Guys" also offers a bleak picture of the few options of Japanese youth. Product of a poor and corrupt education system, Makoto and Eiji are cannon fodder for the yakuza clans, who recruit their members from a youth of stunted past and little future. Makoto's girlfriend sees how her aspirations to become a movie star lead her to be used as an involuntary actress in illegal pornographic productions sponsored by the yakuza. Even the clan to which the protagonists belong has to make use of absurd businesses and shameful cheating in a decadent society in which elegance and honor have long been lost. The film uses the most absurd humor as an elusive formula to portray a reality that is too crude and depressing.
"Osaka Tough Guys" turns out to be one of Takashi Miike's most essential works before being known as the great Takashi Miike. His absurd humor worthy of Stephen Chow's films makes it a most enjoyable and entertaining journey with the most amusing "Terminator 2" homage included; pay attention to it, you will never forget it.