By Nicholas Poly
'My films have been labeled "slow, boring, queer, colorless, anticlimactic, opaque…" Is it praise? Slander? What can I say?'– Excerpt from Tsai Ming-liang's interview on Slant Magazine in 2015.

To be honest, I've witnessed the very same labels 'tagged' on works of art that refuse to be adjusted in any kind of artistic norms. Moreover, works of art which prefer to step out of this, somehow, enforced 'political' correctness by being skillfully evasive. Such bodies of work impose their own evolution of life-force by moving away from certain chronological timeframes and geographical zones, visual palettes, moods and environments, production or technical values.
Buy

This

Title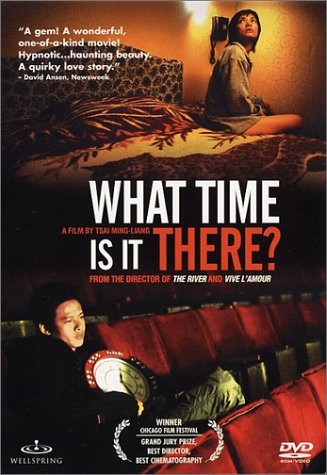 Therefore, all I can say is that once you enter Tsai Ming-liang's universe, this life-force is channeled through a vision of originally innovative, as much as essentially nostalgic, cinematic expression. One of these rare occasions where an artist is bound to place himself between multiple 'worlds' and chronological layers, in order to play the 'sensor' part on behalf of an audience which is willing to receive a great number of 'fluid' emotional landscapes. Such landscapes, most of the times, cannot be easily described in plain words or, eventually, be analyzed as solid dogmatic showcases. It sounds a bit cliche but it kind of resembles the proverb 'an image is worth a thousand words' where you can replace the term 'words' with what suits the occasion better. Then again, one doesn't exclude the other, which means that nothing can prevent anyone from presenting an idea in a fully dogmatic manner and having an equally effective impact as an outcome, regarding the viewer's psyche. I suppose this is another hint among a vast number of reasons that make cinema such a popular and exciting form of art. Plus, there is always a space to debate but no time for pompous excommunications, as these are constantly cancelled by the nature of the medium itself.
In this particular case, a proverb, no matter how refined it may sound, it can only seem like an understatement in order to make an exact point regarding the cinematic philosophy of the 59 year old Malaysian auteur. Ming-liang is chronologically placed among the 'second new wave' creators of Taiwanese cinema. A breed of filmmakers (like Ang Lee) who arrive just in time, during the early 90's, to pick up the torch passed to them from seriously gifted visionaries like Edward Yang and, of course, the living legend that Hou Hsiao-Hsien is. By that time, these tremendous creators were already writing their own wondrous cinematic history. Every person who appreciates Asian filmmaking at its finest should watch Hou Hsiao-Hsien's 1993 hypnotic, masterful biopic "The Puppetmaster" or Yang's breathtaking epic that 'A Brighter Summer Day' is.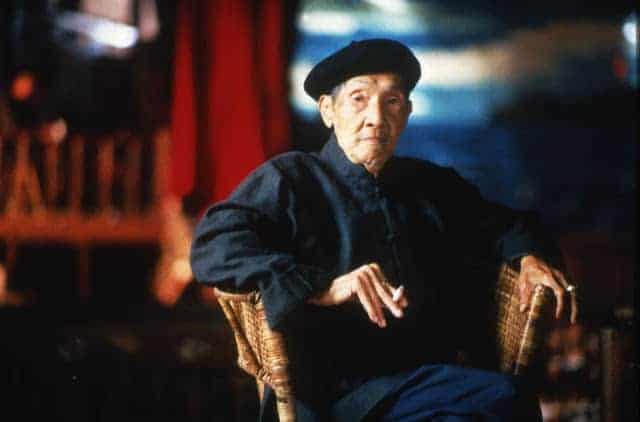 'Second new wavers' find themselves experimenting by focusing on a more universal and independent approach of filmmaking, given the fact that the foundations are already set in the best possible way. They graciously succeed by playing an absolutely fundamental part regarding the evolution of contemporary Chinese film industry. However, this was just the beginning. More than 20 years have passed and nowadays Ang Lee is considered as one of the greatest filmmakers on the face of the planet. Ming-liang is feeling at home with the likes of European cinematography. In 2015, right after the release of his 'Stray Dogs', Ming-liang implied that he is going to retire. I would love to think that such a scenario is not going to happen while his films attract a great amount of cinema aficionados.
His sixth full length creation among a filmography of eleven full length films, eleven short ones and about ten more TV movies and documentaries, is titled 'What Time Is It There?'. It was released in 2001 under the umbrella of a French – Taiwanese co-production.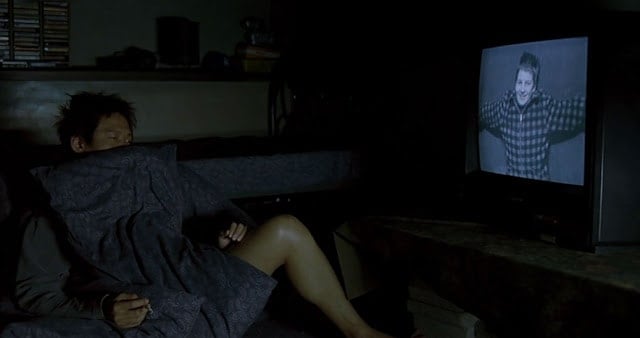 During the opening sequence we watch an old man sitting peacefully by himself, smoking a fag. At some point he will just stand up to call out on his son. The frame 'opens' and automatically it acquires geometrical depth while we watch the man moving outside. In the following sequence, we watch his son inside a car. He is mourning as he is on his way to hold a burial ceremony. He is carrying the old man's remains.
This old man – a father, a husband and literally a travelling spirit, which will be 'found' somewhere between the geographical limits of Taipei and Paris, appears for about less than ten minutes throughout the film. Moreover, he is the 'key' that Ming-liang will use in order to unlock his 3 main character's alienated feelings. His spirit is the invisible compass through which the audience will wander between Ming-liang's 'emotional' landscapes. The 'affected' characters are his aforementioned son, Hsiao-kang, a salesman who owns a stand with hand watches in the streets of Taipei, Hsiao-kang's mother (the old man's wife), and a girl named Shiang-chyi.
The aforementioned, thoroughly minimal opening sequence, which lasts about 5 minutes, is a small sample of Ming-liang's cinematic style. This style is practically used in the largest part of his film and is accompanied by sparse dialogue and steady shots, which occasionally 'open' through human motion and interaction. Of course, one could mention quite a few creators who implement such cinematic styles. You may receive an essence that brings in mind shots which vary from T. Angelopoulos' long takes and 'nouvelle vague' cuts to Fellini's dreamlike atmospheres, next to Antonioni's alienating quests. There is a difference in this case, though. This difference comes in the form of a certain and very personal resonance that comes out through Ming-liang's sequences. This kind of resonance oozes in the form of a circular narrative style starting in the opening sequence to end up in the closing one. Ming-liang is undoubtedly a contemporary maestro who loves to play by his own rules. We must also note here that this kind of narrative is not here to serve some kind of plot twist. Even though his films may seem slow paced or giving an impression of a somehow seamless narrative, the truth is that everything revolves around an amazingly poetic and philosophical axis. This basis is empowered by amazing technical virtues, like the seminal use of photography and lightning or his use of beautiful camera angles.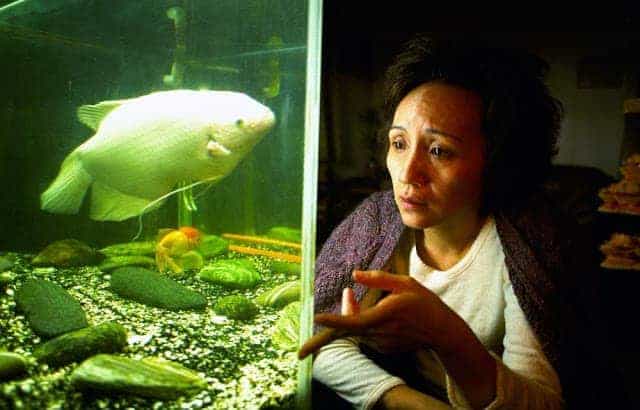 We are introduced to Hsiao-kang's mother, a housewife, who is found in some kind of heavy existential crisis, right after the death of her husband. A woman who starts losing touch with herself and her son. She is found in a state of denial as she is eagerly waiting for a sign. She is still cooking for him, putting food at his side of the table. She is holding a series of rituals in order to keep his spirit at ease. She has a short but desperate monologue with him through the aquarium fish he left behind. We must note here that all this comes with respect to the Buddhist beliefs regarding life after death. Although someone may speculate that Ming-liang finds these ideas somehow old fashioned and dated (this mostly happens through Hsiao-kang's reactions against his mothers ritualistic outbursts, which are enforced upon his presence inside the house) he is not interested in projecting such actions in a somehow degrading way. That would be too predictable. Instead, he prefers to show a valid, more realistic contradiction between two worlds. A contemporary and a more traditional one, the mother and the son both found in a transition caused by this situation. Each one of these worlds has its share of chaos. What I really found fascinating, as much as meaningful, is that these two worlds do not cancel each other. This certain conflict is not taking place just for the sake of it. On the contrary, it seems like it serves as a vehicle, in order to comprehend aspects of the characters' psychology at a very certain chronological point.
The third character is a young girl, who has no connection with the family, whatsoever. She is being introduced through an interaction with Hsiao-kang. She appears as a potential client who wants to buy a watch that the salesman has already stripped around his wrist. At first, he refuses to sell it while he mentions that this would bring bad luck because of his recently deceased father. She insists, while she stresses that she is a Christian, meaning such kind of beliefs do not 'touch' her. Plus, she has got to leave for Paris the very next day. After a bit of a bargain she finally buys Hsiao-kang's watch. By the time she arrives in Paris, we start following her somewhere between her wandering through the streets of Paris and some occasional sightseeing. We often watch her inside her room. She starts hearing some noises coming from the upper floor. She seems lonely and quite homesick. At first, she doesn't seem to care about interactions, though she becomes the receiver of a couple of flirtations. The first one is sort of implied and it is taking place inside a cafe. A man is obviously staring at her while she tries to appear indifferent in a very 'nouvelle vague'-like atmosphere. The second one comes with a cameo from the legendary Jean-Pierre Leaud (who has also a few other passages as Antoine Doinel while Hsiao-kang starts having an almost sudden fixation on Truffaut's alter ego by watching 'Les 400 coups' on repeat) in a beautiful sequence which takes place inside 'le Cimetiere du Montparnasse'. The third one is more complicated and far more revealing, concerning Siang-chyi's character. It comes at a point where she feels somehow worn out and obviously alienated, homesick and worried. A feeling she can't even define by her own self. She becomes physically ill while she is at a restaurant. There, she meets a friendly young woman from Hong-Kong who lives in Paris. The woman helps her and after a friendly chat, we watch Shiang-chyi at her place. What follows is a kind of mishap between the two women, which takes place in a triple, seminal sequence. But I will come back to this point.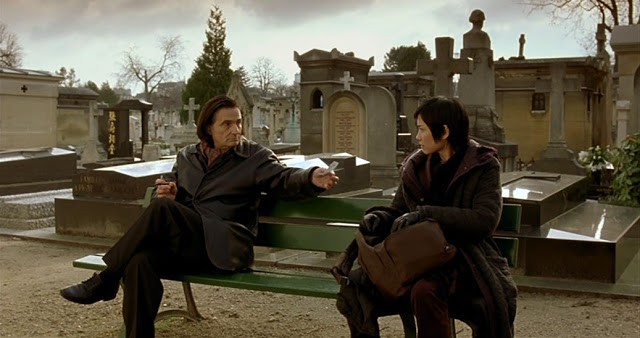 In between these two female characters, Hsiao-kang is experiencing his own major crisis. This kind of crisis includes a constant fixation with time, clocks and French cinema. He is in a constant search for clocks around the city, big or small, digital or mechanical. Clocks found in cinema corridors or even at the top of buildings. He constantly sets them according to the local time in Paris. It's either that or watching Truffaut's 'The 400 blows' and being caught within his mother's mournful and hot-tempered mood. He has also a few bizarre encounters with a couple of characters. A minor incident with a strange guy who looks like he's following him around since the moment he notices Hsiao-kang picking clocks inside a store, and a second and quite serious one with a prostitute. These sequences, which indicate a few funny notes, can be seen as tragic, at the same time. Nevertheless, they are presented in a quite offbeat way.
Towards the end and through an amazing sequence, Ming-liang synchronizes his 3 main characters by showing each one of them during a kind of sexual intercourse (or at least an attempt to have one). This comes out in a more redeeming rather than sensual approach. Hsiao-kang's intercourse with the prostitute in which she ends up stealing his merchandise, his mother giving herself an orgasm next to her deceased husband's photograph and Shiang-chyi in a failed attempt to make love with the Hong-Kong girl she meets in Paris. These three different shots come out as a single sequence. This is the point where these seemingly different characters release a kind of pressure and frustration that follows them until that moment. There's no apparent motive driven by sexual desire, though it's not exactly clear. I have the impression this is more about the alienation itself. In fact, it feels more like an act of despair in a way. Each one of these characters needs to find a way to humanize his or her alienated feelings and what is more natural than touching or being touched through someone. It does not matter whether it is real or inside their heads. Thus, this is the sequence in which all three characters finally find a small crack through their introverted, dreamlike microcosm. It almost feels like an alternate universe. We don't know details about their past and as a result it seems like all three of them entered this world right after the old man's death. It is like they are found in a kind of transcendence or something is keeping them in such a state.
What comes as a result for each one of the characters, right after the aforementioned sequence, is a kind of internal as much as external kind of peace. They seem more relaxed, serene. This is where Ming-liang ideally closes the perfect circle into which his narrative is slowly wrapped around and this is where we meet the old man once again. This time we obviously meet him as a spirit. This is happening while we watch Shang-chyi sleeping on a chair by a small pond in a Parisian park. Her luggage is floating on the surface of the water. A truly magnificent shot, as the movement is there through the floating luggage, while at the same time it emits a relaxing stillness. In the meantime, Ming-liang cuts through the other side of the pond revealing the old man's spirit which slowly fades away from the screen, moving towards a wheel in an amusement park. One of the most brilliant closing sequences I have ever had the pleasure to watch inside a theatre.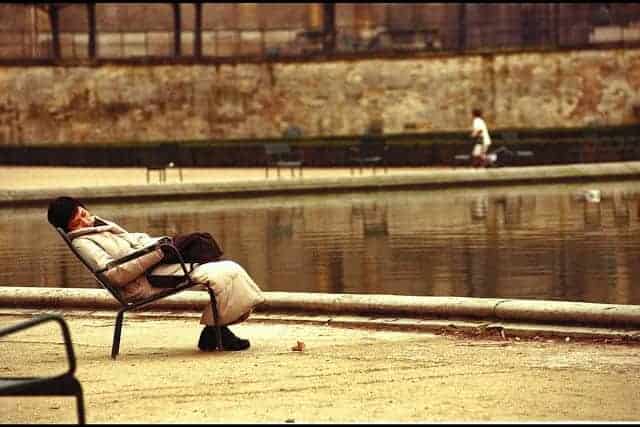 The performances by Ming-liang's main triplet are astonishing, to say the least. Khang-sheng Lee as the troubled Hsiao-kang, Yi-Ching Lu as his mother and Shiang-chyi Chen as the tourist are so naturally simplistic but so effortlessly convincing, all at the same time. This triplet is present in almost all of his films, especially Khang-sheng Lee who is by his side since 1989 and his TV debut 'All the corners of the world'. Having watched almost his entire filmography, I can say that once you allow yourself to slip inside his cinematic universe, you can easily notice how flexible these performers really are. We are talking about demanding roles accompanied by strong physical performances, plus a very certain rhythm in order to be synchronized with Ming-liang's unique tempo, which follows each one of his features. For example, it is really fascinating watching Shiang-chyi Chen playing the estranged tourist in "What time is it there?" while in his following feature, the mesmerizing "Goodbye Dragon Inn", we are watching her moving at the pace of a snail, almost crawling, in order to perform a crippled girl, wandering in every single corner of a cinema which is about to shut down.
On the whole, "What time is it there?"' is a bittersweet film about loss and denial. It is a film about urbanism and alienation, which, exactly like a travelling ghost, tries to get a hold on to human figures. Some people wish to escape from it, so they create their own parallel realities, some desperately provoke it and some think they can get away from it. Unfortunately, it is everywhere. In addition, it is an exceptional cinematic game between space and time and how these dimensions separate but also collide within the human spirit. Though there is stillness and the characters move in a seemingly certain timeframe, we get the sense of a constant movement like time-travelling. The thing is that Ming-liang is encouraging us to wander within this, almost, metaphysical dream, rather than unkindly waking us up or even throwing a bit of light by trying to point fingers and give any kind of answers. Those who seek answers in such questions may look somewhere else because this is a place for dreamers. One of the great things though, is that everything is taking place without losing touch from an underlying modern philosophical skepticism. This trait is bringing the balance between the real and unreal. There is room for both worlds. This combination comes in a very sweet but also sad way. It is poetic and utterly cinematic at the same time.
As an overall effect, all these reasons answer the question why Ming-liang's films come off as some of the most elegant, really meaningful cinematic love letters I have ever had the pleasure to receive as a viewer. I really hope he has a few more left to send because the receiver is definitely there.