Shengwei Zhou's impressively crafted feature length stop-motion animation "SHe" centers around mother's struggle to provide her daughter with a better life by teaching her how to alter the appearance, and with it her behavior.
Zhou's take on gender and class differences is situated in a world literally made of clothes, and his main protagonists are shoes that get worn out by slaving in a cigarette factory.
Listening to her mother's advise, the red patent stiletto learns to be a flat black male shoe, squeezing herself into an uncomfortable and unnatural skin, in order to "fit in".
"SHe" has been successfully touring the international festivals since its premiere in Beijing, where it was nominated in the categories Best Film and Best Director, and after several more festivals in China, it had its North American premiere at Fantasia International Film Festival earlier this summer.
"SHe" is screening at Mulan International Film Festival
"SHe" is in a way a feminist film, and it would be interesting to know where its inspiration comes from, considering it's made by a young guy.
I was inspired by my mother. She would arm herself as if she were a man during the work, and after work she would show her tender femininity. I wanted to tell a story about a mother who sometimes looks like a man. But, I don't regard "SHe" as a feminist film. That would be too limiting. "SHe" is a dystopian sci-fi film in a post-human context. People are apt to be devoured by desire and power regardless of their gender. I hope individuals could master their desires and pursue freedom and love.
Clothing garments sold across the world are largely made in China. Did you also want, if not primarily, to address the "sweat-shop"-issues of China's contemporary society?
I don't think so. The factory in "SHe" signifies the depression individuals suffer from the industrialization under capitalism. I drew inspiration from the steel factories in the Industrial Revolution in the west, and my satire is similar to Charlie Chaplin's "Modern Times"(1936). I reflect on and criticize western capitalism, which has nothing to do with the production mode under socialism with Chinese characteristics.
Shoe as the metaphor of class inequalities is as much strange, as it is accurate. How did you come to that idea?
I started the project by collecting trash, and then I categorized and re-purposed it for props and sets. I chose shoes because of the limited resources I had in the pre-production. Then I found the metaphors in them, so I decided to use shoes as protagonists.
Have you chosen the tobacco factory because it produces something regarded for a long time as a symbol of masculinity?
In a way, yes. In early modern times, cigarettes were usually associated with men while cherries are linked to women. However, cherries can become the products for consumption, similar to the cigarettes, rather than an incentive for women to pursue freedom. In the end, I wanted to say that everyone is equally apt to desires regardless of their gender. Anything can be consumed under the trend of consumerism. Both cigarettes and cherries can become products of consumerism.
Has Dali's "Passage of Time" had any influence of your visual representation of the passing time in the factory?
Yes. I am also influenced by the painting "This Is Not A Pipe" by René Magritte.
What do you see as an advantage in expressing ideas through the stop-motion animation?
There are two significant advantages of stop-motion animation: firstly, it can evoke the tactile sensations among the audience through visual presentation because all the materials are from the world we live in and endowed with new lives in front of the camera. Putting lives into the objects will enhance the feelings for the materials and texture. Secondly, there are stops in the animation, which creates an "uncanny valley" effect, making the dolls on the border of childlike innocence and horror.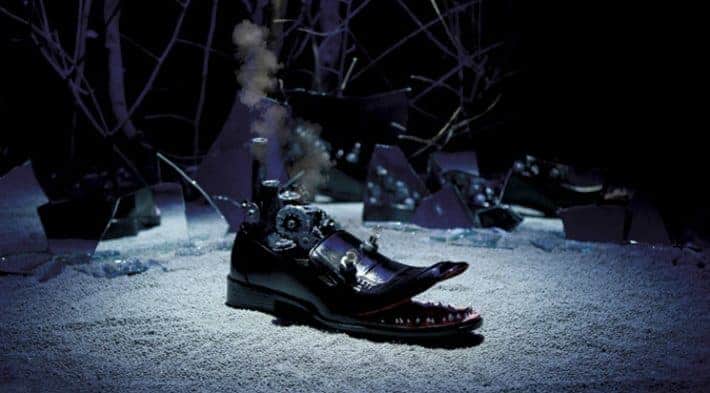 The film was, so to speak, a difficult birth. It took you over a half decade to make it due to money shortage. How have you managed to obtain financing in the end?
The money shortage encourages me to be more imaginative than putting the project to a halt. Because of the limited money, I had to come up with creative ideas like recycling the trash to make props and settings. I didn't seek more money. I was turning the money shortage to an incentive for more imagination.
Are you working on anything new at the moment?
I am working on a mocumentary called VLOGNAME. I will tell a story about contemporary arts. I want to know if truth still exists in the era of the internet age. I will put my answers in my work. I think our era is void of truth and full of stories and emotions. That will be a different project than "SHe".