Ahn Sung-ki made his film debut at the age of 5 in 1957 and has been one of the most popular actors in Korea ever since. Graduated from Korea University of Foreign Studies majoring in Vietnamese. He won the Best Actor award in Asia-Pacific Film Festival in 1993 for his role in the film 'White Badge' (based on the novel of the same title about the Vietnamese war viewed from eyes of a Korean soldier) and he went on winning a plethora of awards, with his role in "Unbowed" being the latest one, in 2012. He's one of few Korean actors who made a successful transition from a child prodigy to a mature adult actor. On 23 June 2012, Ahn, along with Lee Byung-hun, became some of the first Korean actors to leave their hand and foot prints on the forecourt of Grauman's Chinese Theatre in Hollywood, Los Angeles.
On the occasion of him being Guest of Honor at the Ulju Mountain Film Festival, we talk with him about his career, Korean film industry and the changes it has experienced through the years, his collaboration with Kim Ki-duk, Im Kwon-taek and Bae Chang-ho, and many other topics.
In your many years in the Korean film industry, what are the most important changes you have witnessed?
The changes I have witnessed in Korean cinema coincide with the social changes in modern Korean history. The movement towards democratization that begun in the late 80's started a new chapter in the 90's for Korea, which brought an influx of great talent in the local movie industry around that time. In addition, I think this is a global phenomenon, but the modernization of film equipment that happened around the same time also brought a significant change.
Do you think that the movie industry is now at a better place than it was in the 80s?
The 80's in Korea were a very important period because we had just come out of a long period of dictatorship, the so called Yushin Administration and so the 80's kind of compressed the loss of ten or twenty years of creativity. Therefore, a lot of films that came out at the time had very strong, powerful messages. And compared to the big budget, films have nowadays, back then filmmakers were driven just from their genuine passion for filmmaking.
Your previous film, "Human, Space, Time and Human" is a Kim Ki-duk film. But Kim is surrounded by much controversy at the moment. Did you feel reluctant to participate in one of his movies and did you feel any kind of pressure during the shooting?
When we were on the set shooting, the #MeToo movement had not started yet, so all the members of the cast, like Joe Odagiri from Japan and Jang Keun-suk from Korea, had a really good time shooting and we put all our efforts into making a great film. What happened in the past, actually caught up with Kim Ki-duk afterwards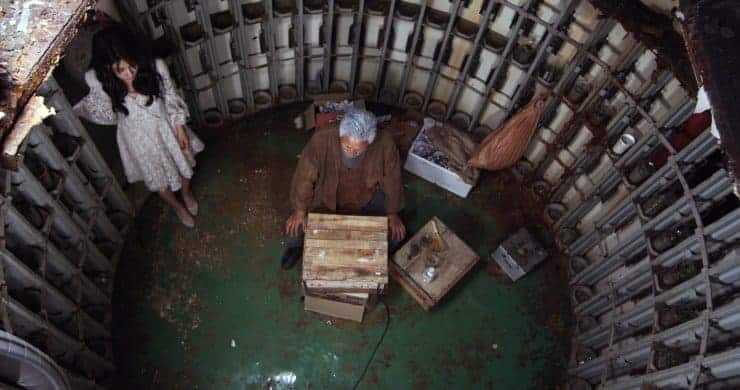 In your last film, "The Divine Fury", you play a priest who is also an exorcist. Can you tell us a bit about that part?
In the past four years, I worked with Kim Ki-duk, Im Kwon-taek and Kim Joo-hwan in "The Divine Fury" that did not exactly garner a lot of audience. Particularly with the last film, because it featured a very young and popular protagonist, Park Seo-joon, I hoped that the movie would attract large audiences. Kim Joo-hwan wanted to create a Marvel-style hero film but the very premise of the exorcist did not quite fit with the hero film he had in mind and that is why probably not many people came to see the film and therefore, I was disappointed with the result.
Have you ever thought of becoming a director, after acting for so long?
I think you have to be cut out to be a director and I guess I could have tried my hand in directing, but if I did it, I would want to be really good at it and excel at it as much as I do as an actor. I am not sure I have what it takes to be a great director. I also think you have to have this heartfelt urge to tell the story and to share it with people and I am not sure I have this urge in my heart in order to become a director.
In the past, most of your parts were that of the protagonist, occasionally of the young man all women like etc, but as time passes and you get older, your roles changed, to more mature characters, to mentors let us say. Are you comfortable with this change, have you accepted it?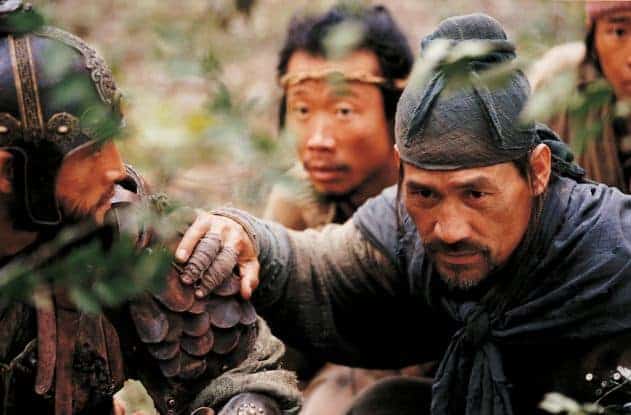 Very much so (laughter). I started to accept these changes in the late 90s and I think it has been a slow, gradual landing. With age, you have to accept that your roles will change and maybe they will become smaller; therefore, if you do not accept that, you set yourself for hard times. However, even if you get smaller roles, I think you can retain your presence on screen and that is something I have not given up, it is something I try to retain, screen presence.
Is there any role you would like to have played in your career and you did not?
I do not think in terms, "this is what I want to play" or "this is not what I want to play", I try to make the best choices based on what is given or offered to me and as an actor, I think this is the best thing I could do for my career and for myself. I think this is the best practice for an actor.
I do joke sometimes that if I was 10 years younger I could have played Oh Dal-su in "Oldboy" (laughter).
You started your career as a protagonist in Bae Chang-ho's films, who happens to be festival director of Ulju Mountain Film Festival, and played for a number of his films. Can you tell us a bit about your cooperation?
My first encounter with Bae Chang-ho was in 1980, when he was assistant director to Lee Jang-ho's "A Windy, but Pleasant Day" and he had been a fan of mine for a long time, and so he recommended me for the role in his first movie, "People of the Slum". This was the first film we worked together. We were of the same age and so we shared our opinions for filmmaking and we became really good friends. When we were working on "People of the Slum", we talked about what we could do next and we continued on like that, and we shot 10 films together.
You worked repeatedly with Bae Chang-ho as actor/director, but in "Gagman" you were co-protagonists. Was it strange for you?
Indeed, it was very strange for me having him next to me instead of behind the camera (laughter). He tried very hard with his acting and I think we had very good on-screen chemistry and we had a really good time. I really like this film.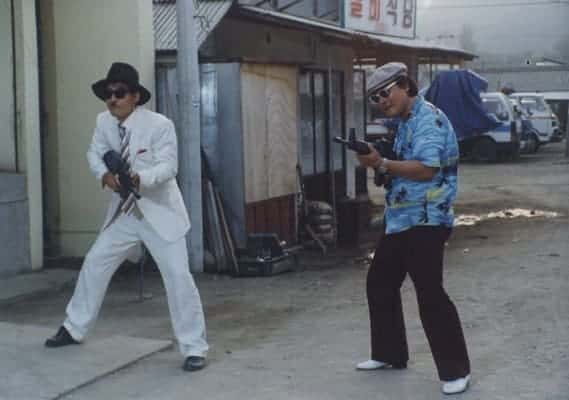 Why did you stop working together?
I think this is a question Chang-ho is more fitting to answer, but If I may explain, I think it is due to a change to his directorial style. He grew very doubtful of this artificial nature of filmmaking, something that started with his film "Hwang Jin-yi", where he tried to tell the story in very natural way and to let actors tell the story through their own emotions as well. This may seem boring to audiences following the conventional grammar of filmmaking, of long takes in scenes instead of quick changes, for example. Therefore, he started losing his touch with the general audiences and really started to struggle with conventional film directing.
Can you tell us about your experience working with Im Kwon-taek?
I have so much respect for him and his endless creative energy. In Korea, many directors kind of disappear when they reach their 60s. I think when you reach your 60's as a director you have a deeper, wider understanding of the world; nevertheless, a lot of directors stop at that point. It is has been an honor joining Im Kwon-taek in his continuous filmmaking endeavors and I really hope he goes on making at least one more film.
Are there any other directors that you cooperated with that stand out?
Lee Myung-se is known as a very stylist director in Korea for his unique style of directing and I think he has a very different mindset than other directors. The same goes for directors like Park Chan-wook, who worked as assistant directors or second assistant director around the same time. We do not see a lot like them these days and the past, of course, is very important, what they had done in the past but the present is also very important.
Are there any parts in your career that stand out for you?
(laughter). It is very difficult to pick just one…Lee Jang-ho's "A Windy, But Pleasant Day" is very significant because it was my first proper role, so I hold that film really dear to my heart. In addition, the film was a turning point for the history of Korean cinema, because it made the public realize that criticizing society through film is possible and that messages could be delivered through films as well. I also like films like "Radio Star", small but heartwarming ones.
How do you feel about the current level of actors in Korean cinema?
I think Korean actors are very good these days, but the tendency in Korean film industry at the moment is leading towards commercialization and I think that a lot of actors are too conscious about the audience's response to their acting. I think this is something they should avoid. Of course, we have independent , low budget film industry on the other side of commercialization and I feel that even really popular actors should try to at least experience both worlds. I think this very important for them to keep acting for a long period.
Are you working on anything new at the moment?
Earlier in the year, we finished shooting an independent, small scale film which will premiere in Busan next month. The Korean name translates into "Paper Flower". In October, I will begin shooting a new project that will be released probably next May. I cannot talk about this film too much, but I have high hopes for it.
So, you are not tired of acting yet?
(laughter) As far as I retain my charm as a person and as an actor, I will continue acting. When I lose that, that is the day I will stop acting.