There are different types of love theories and in the Assamese (Indian) movie "Aamis", director Bhaskar Hazarika deals with the mix of "Ludus" or playful love and "Mania"- the obsessive love in an unusual narrative. The narrative starts as a normal soft love story but with time changes to a weird but interesting plot which is masterly handled by the director.
Nirmali (Lima Das), a middle aged lady, a doctor by profession meets young PhD student Sumon (Arghadeep Baruah). Nirmali is married but her husband is inattentive and always busy with his assignments. Attracted by the youthful presence of Sumon, Nirmali falls in his love and the narrative turns towards an extramarital relationship. Sumon is a researcher of meat eating (Non-vegetarian) masses and Nirmali gets more close to him for her fascination towards different types of meat. But with time, Nirmali engrosses into the taste of meat and she starts getting physical pleasure inside the scent of animal flesh instead of real human touch. And the love story takes an unusual shape and director Bhaskar Hazarika surprises the audience with a unique narrative which has never been told in Indian cinema before.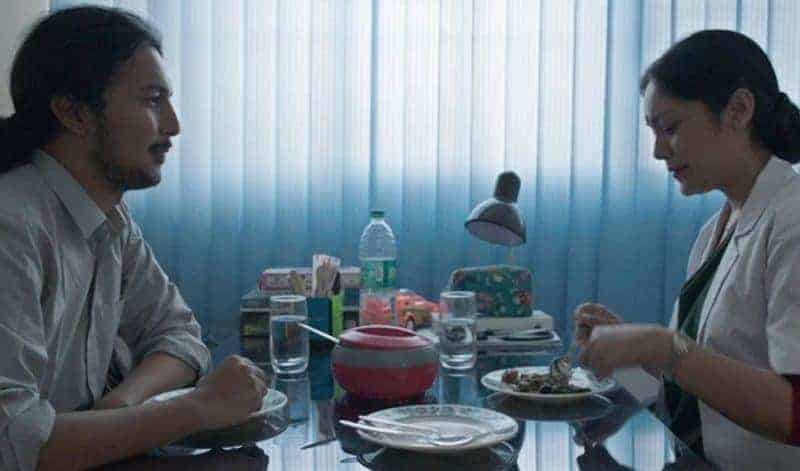 Lima Das is brilliant as Nirmali. She is a debutant along with Arghadeep, but spontaneous and vibrant throughout and spreads an aura of charm in the narrative. There are many close shots capturing different shades of Nirmali's character in the movie and Lima Das brings out the expressions convincingly. Arghadeep is a perfect selection for the character of Sumon, who is quite submissive and clearly lost in the love of Nirmali. The director "exploits" the childish smile of Sumon intelligently in the movie to portray his soft and submissive attitude perfectly. Neetali Das has a great presence as Nirmali's friend.
"Aamis" has a narrative which deals with the darker sides of human mind and associated obsessions, and Bhaskar Hazarika handles it brilliantly. The love is just a few steps of stairs in this movie which Nirmali uses to exploit Sumon to fulfill her fetish for meat. The narrative turns towards a gruesome crime at the end but follows the flow of simple love which defines the truth of human relationships. And it echoes in the last scene where two protagonists touch each other's fingers, which upholds the power of love in life. Bhaskar Hazarika throws the statement towards audience to decide whether all was for pure love or just for obsession? Amazing film and a great watch.