Sometimes love is silent, but it blooms with time and spreads its aura with expression. Director Ranjan Ghosh portrays a poetic love story in "Ahaa Re" where simple love blooms like a beautiful dish of Bengali cuisine.
Farhaz Chowdhury or Raja (Arifin Shuvoo), a popular chef of Bangladesh starts a new job in Kolkata after a heart break. Farhaz is in a relationship with Shahida (Amrita Chattopadhyay), but it does not click as somehow the spices required to create a perfect cuisine are missing from both. Farhaz joins his friend's hotel in Kolkata and eventually comes across Basundhara (Rituparna Sengupta). Basundhara runs a family catering service and she is older than Farhaz. But Farhaz smells the perfect spice in Basundhara and in his strive to find the long-awaited love in her, develops a closeness with her family members. He finds himself in the good book of Basundhara's father in law (Paran Bandopadhyay) and his brother but fails to bring out the suppressed love from the core of Basundhara's heart. The narrative continues through an emotional path with twists and turns till Bansundhara accepts Raja as the long needed love that results in a perfect and beautiful dish for the audience.
"Ahaa Re" is a beautifully crafted love story with some brilliant performances of the lead actors. Rituparna Sengupta is a splendid actor and portrays the character of Basundhara with subtle emotional traits. The character goes through different shades and the director uses many close shots to capture her facial expressions perfectly. Arifin Shuvoo is youthful and portrays the character of Raja with amazing freshness. He is elegant and polished throughout the narrative and that creates an aura of charmed sophistication. Paran Bandopadhyay is a versatile actor and performs brilliantly in a short but very important character in the narrative. Shakuntala Barua and Dipankar De live up to the expectations as Raja's mother and stepfather respectively. Amrita Chattopadhyay has a cameo but a perfect presence that blends nicely with the narrative.
Cinematography of Hari Nair is aesthetically poised and Rabiranjan Maitra edits the movie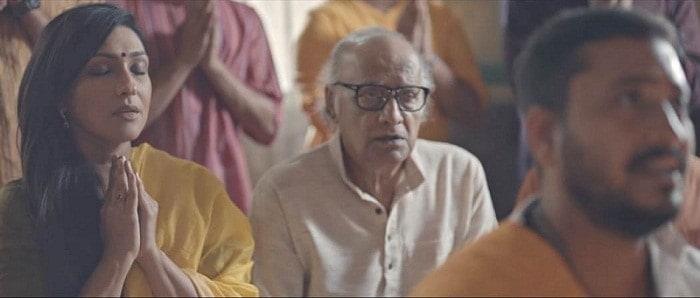 "Ahaa Re" is an emotional roller coaster where food plays an integral part. The strive for perfect love here has been portrayed as a beautiful dish of Bengali cuisine which Raja is in search of. And director Ranjan Ghosh places all the characters in the movie brilliantly to add up the spices in that perfect "Love Cuisine" of Raja and Bashundhara. Basundhara's feeling of love is submerged under an eventful but sad past, which needed the youthful aura of Farhaz for an emotional outburst. And it has been captured brilliantly by director Ranjan Ghosh. "Ahaa Re" stands out as a beautiful movie with a unique expression of youthful love.