Following "Durian Durian" at a short distance, "Hollywood Hong Kong" is billed as the second instalment of the Prostitute Trilogy. A personal favourite, the film has a playfulness and a blend of comedy, sleaze, horror and Cat III flavours that make it rather different from the more realistic previous one. In fact, the only evident similarity is the protagonist being a Mainland prostitute working in Hong Kong to make money to fulfill her dream.
"Hollywood Hong Kong" is screening at Five Flavours Asian Film Festival
"Hollywood Hong Kong" is staged in a very precise place and time. The story unfolds in the Village of Tai Hom, a small Hong Kong shantytown in the Kowloon area that was being evacuated due to impending regeneration of the area, right when Chan was filming. In stark contrast with the low-rise of the low-life of Tai Hom, a complex of Shopping Centre and 5 classy apartment blocks annex, called Plaza Hollywood, stands tall and proud just behind the Village.
In the colorful alleys of Tai Hom we meet the Chu family, consisting of dad, Mr Chu (Glen Chin) and his two sons, the eldest, adolescent Ming (Ho Sai Man) and the boy Tiny (Leung Sze Ping). The Chus look straight out of a freakish fairy tale; pig butchers by trade, all males, all very plump and sweaty and all seemingly happy. They live and work in the restricted space offered by the slums and – as if this wasn't enough – they share their home with a huge breeding sow called Mama who is fed (like the owners) roast pork and beer. After spending their days roasting, basting and chopping, they then sell their succulent products at a market stall.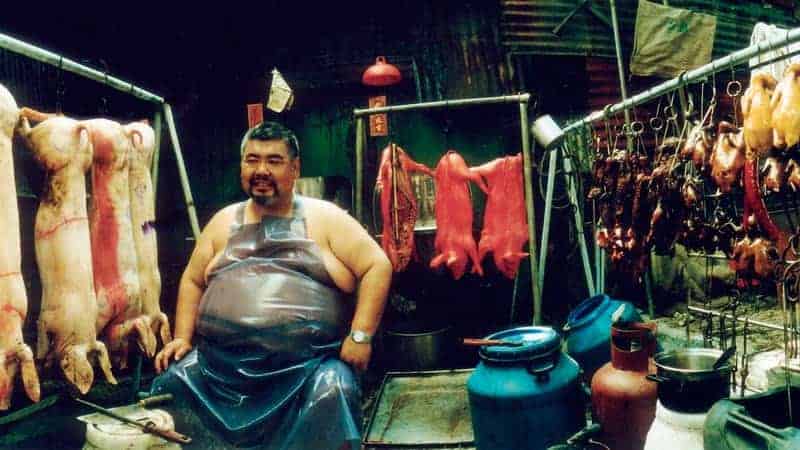 Next door to this hub of very physical work, the Chu's young punk neighbour Wong Chi-keung (first-timer Wong You-nam, from Cantopop duo Shine) – or "King of Kowloon Hill" how he calls himself – spends all day browsing the Internet looking at porn and managing the website where he pimps his lover Ah Lu. His eyes are caught by a beautiful Shanghainese prostitute called Hung Hung (Zhou Xun), who lives in one of the Hollywood Plaza apartment and advertises her services online. Keung is fascinated – he thinks she looks "so Mainland" – and resorts to call her and have sex with her.
At the same time Hung Hung casually (or not?) meets little Tiny Chu at the market stall, introducing herself as Tong Tong, and soon becomes friend with the Chu boys and dad. She is such a beautiful and charming lady that the whole family falls for her; she embodies all that is missing in the three men's life, including little Tiny who sees in her a big sister if not a motherly figure. Tong-Tong easily seduces Mr Chu and Ming, giving them some moments of happiness without asking anything back. But at this point, the film, after this whimsical prelude, takes a steep turn into a darker path where everything starts to go very wrong, to grotesque consequences. Little everybody knows in fact, that Tong Tong and her mysterious rich pimp Peter have set up an elaborate extortion plan. Soon some threatening letters start to arrive to Keung and to Chu father and son, documenting that the girl is underage, claiming statutory rape and asking for a large sum of money. The blackmail is proved very serious when Keung, who refuses to pay, is handled to a gang of limb-chopping thugs.
One recurrent theme in Fruit Chan's work is his perception and use of the human body and "Hollywood Hong Kong" is one of the films where it is more clearly displayed. The human and social narrative is expressed here mainly through bodies and flesh, to begin with the Chu family whose sons look like clones of the bulky father, a jolly 3-piece matryoshka resembling closely the animals they butcher and roast for a living with pride and love. They embody (literally) their socioeconomic status in the same nonchalant and mundane way the prostitutes of the whole trilogy do. The carnality is almost palpable; the whole film, from the creative opening credits impressed on skin like butchery stamps, is a feast of flesh, fat, skin, limbs, indulging at times in a dark pleasure in displeasing. A grotesque form of biotech is introduced by Dr Liu, a darkly funny Mainland doctor, trying to impregnate Chu's sow with human embryo, planting the seeds of a discourse around fetuses that Chan will develop afterward in "Dumplings". Later when Dr Liu performs a botched operation and sew the wrong hand to an amputee body the whole gag takes the strong metaphoric meaning of Hong Kong forcibly reattached to the Mainland. Not surprisingly the most heartbreaking moment of the film is when the unlucky recipient of the wrong hand cries and begs to have it chopped off.
This is – how to put it? – a strange beast of a film. It is indeed a tale of contrasts and opposites, tall / short, fat / slim, but also rich / poor, villain / victim and yet, it is rather difficult to take sides in this drama that makes you care of all the characters. We cannot help loving these odd losers; the Chus, Dr Liu, Kwong, in the same way we love the pesky main character. Tong Tong (or whatever is her real name) is the luminous core of the story. Played delightfully by an almost child-looking Zhou Xun, she possesses an irresistible charming and innocent foxiness and she effortlessly casts her spell on everybody, characters and audience alike. She is the promise of escapism while dreaming herself to escape and reach the "real" Hollywood.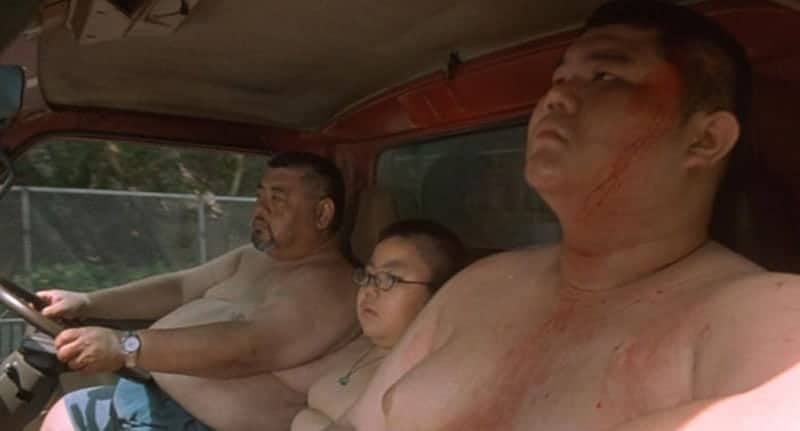 A chronicler of the dispossessed of Hong Kong and a sharp commentator of the effects of capitalism, Fruit Chan doesn't abstain from placing some social critique here too, but this time his commentary is tightly intertwined with the dark comedy of absurd, well away from drab realism, making the film more inscrutable and less aimed maybe, but at the same time also very enjoyable on a perception level.
The cinematography is by Sing-Pui O and it is beautifully dense and saturated, in perfect tune with the carnal undertone of the film; it is all the shades of blue and green and lots of red, way before Christopher Doyle stepped on board in "Dumplings", showing the director's strong and unique aesthetic vision. Once more, Fruit Chan produces some of the most lyrical snapshots of Hong Kong, lingering and impactful images; Ton Tong swinging on the swing in Chu's backyard, flying high from the slums to the luxury apartments blocks of Hollywood and again Mr Chu and Tiny running on the roofs of Tai Hom waving a flag to Tong Tong (very reminiscent of some final scenes of "Three Husbands").
With this flight of fantasy that is "Hollywood Hong Kong", Fruit Chan has managed once again to push his political agenda and create a piece of resistance against China-centrism, while at the same time, still succeeding in entertaining, amusing and captivating.