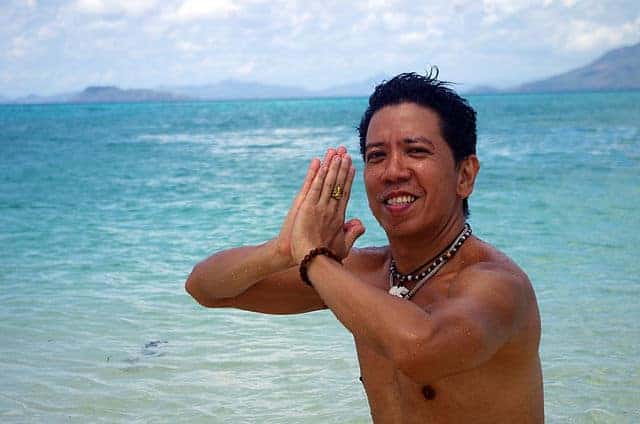 Auraeus Solito, also known as Kanakan-Balintagos, is a Palawán-Filipino filmmaker. On the occasion of "Boy" screening at the 13th Slovak Queer Film Festival, he answered a few curious questions on him as a filmmaker and some of his choices in regards to LGBTQIA+ cinema.
You are credited as Auraeus Solito and Kanakan-Balintagos, respectively. What is in the name?
Auraeus was a name I created from my full Christian name which is Arturo Aristotle Jr. Auraeus is an old word for Aura Solito is my actual surname. At the peak of my creativity, I can only see colours around people, not seeing them as is, but as essences of pure color.
While Kanakan-Balintagos was the name that my Uncle Shaman dreamt. It's a phrase which means the Hunter of the Balintagos bird, which is the bird of Truth. Like a Hunter of Truth.
You chose a gay coming of age story for your fiction feature debut, "The Blossoming of Maximo Oliveros" (2005). Yet the toughest dilemma of the 12-year old self-aware gay Maximo is not how to hide. He is rather stuck between the police officer Victor who stands for the law and his father and brothers making their living on the law's other side. Where you draw the inspirations for the character of Maximo, and for his dilemmas?
Well, the project chose me. The screenplay for "Maximo" got a grant and I was asked to direct this prize-winning work. I enhanced it as a director by having the preference of Maximo clearer; adding the Miss Universe scene, the evolution of Maxi's desire and defining each character to achieve their truths, instead of becoming a typical poverty queer drama. I wanted the queer character to be normal and accepted, with the consequences of his social milieu as the main conflict.
"Boy" (2009) comes with an 18-year old protagonist who hires a macho dancer. Did you draw from the popular macho dancer subgenre?
I grew up with the Macho Dancer genre and have always wanted to make an ode to the form. I myself was smitten with a Macho dancer when I was brought by my playwriting teacher to a gay bar (back then gay bars were only Macho Dancer bars). So the idea of the film comes from a very personal side of my life.
The dancers use the names of the actors, only the main character is with no name – why?
I wanted the Boy to be "everyboy" or "everygayboy". So that every boy will relate to this boy.
How was the casting process for the film like, particularly for the protagonists? What is the key trait you look for in your main protagonists?
Truth is the key. I usually hold auditions and won't stop till I find the perfect cast. 50% of a director's job is done, once he has a perfect cast. I look for truths and archetypes in my casting.
How do you select the music and songs for your films? I find it more than inspired.
Music is a major element of my work. For every film, I listen to particular music. Which inspires me with the film's rhythm.
Both films took us into the back alleys of Manilla's poor parts. Yet "Boy" works with more enclosed spaces (apartments, club, or enclosed yards) and contains a visibly higher number of detail shots and cuts to detail. Why these choices?
I grew up in these spaces. Both "Maximo" and "Boy" were shot in my neighborhood, Sampaloc Manila. We have this beautiful two-story house amidst the slums. A perfect location, really, since both aspects of rich and poor is within the neighborhood. I work with personal landscapes, Sampaloc is like the heart of Manila.
One double question about the main protagonists' parents. Maximo only has a father, Boy lives with his mother. Both parents seem to know, yet don't exactly acknowledge their child's sexual orientation. Is this situation somewhat typical? I mean, the families fallen apart, and parents turning a blind eye?
It's not really turning a blind eye. In the Philippines, there is no "coming out". The parents know deep inside and accept their children. It is this great love that leads to this acceptance.
How would you describe the life of LGBTQIA+ people in the Philippines? The statistics say it ranks in the top 20 most tolerant countries. But the mere impression from the films is, things are rather far from ideal.
It is more accepting, perhaps because we had a history of Babaylanes, queer Shamans. It was believed in ancient times that people who have both the animus and anima energies can communicate more to the Gods. But the Christian influences of labeling queerness as a sin makes it more complex. It is the clash of the Ancient and the Modern.
What does tradition, traditional culture, mean to you? How do you see its modern role? Yes, I am slightly poking in the direction of "Tuli" (2005) and "Busong", (2005) films where tradition and connection with origins play important if different roles.
I come from an indigenous lineage of Shaman Chieftains. My Mother was the first of her tribe, the Palawán, to be sent to Manila for a scholarship. There was a program in the 60s to send indigenous peoples to be "educated". I went to a deep stage of rediscovery when I was 25 to meet my relatives in South Palawan and learn from the Shamans of my people. I wanted to be a Shaman but I failed the final vision quest stage.
Shamans are World Bridgers. Through cinema. I have become a world bridger, retelling my people's stories and how we survive in the modern world. Perhaps by this, I have become what I wished in a different form, like a Cinematic Shaman.
You told me, that what is "Busong" to Palawan, "Boy" is to Manilla. In what way?
I celebrated the worlds I have lived in and I am living in. The modern structures of Sampaloc, Manila in "Boy" and the beautiful natural landscape of Palawan in "Busong".
Are you thinking of making another film, perhaps?
Yes, definitely.
I had a five-year hiatus doing theatre. My first Art was theatre, and I was a theatre major at the University of the Philippines and was touted as the " enfante terrible" of Philippine Theatre then. I directed my Palanca (like the Philippines' Pulitzer Prize for Literature) award-winning play " Mga Buhay na Apoy". Two of my original plays were also staged, my musical "Manhid (Apathy)" and my one-act play "Loyalist". Then last year, my Theater life caps off with directing David Henry Hwang's Tony Award-winning play "M Butterfly".
This year, I spent my time, planning possible comeback films… and I have a bunch in the works – a dream film about the Palawán Shaman Chieftains; our tribe's Origin Myth; a horror film on the ghosts of the present and a possible remake of a Filipino Classic. A mix of the past, present and possible future.
I believe I am on the verge of my second wind as a filmmaker to continue my duty as a Hunter of Truth.
Manunga banar (for Beautiful Truths),
Kanakan