Choi Hee-seung's graduation film "Love at the Crossroads" (2019) has been a consistent hit on the student animation circuit. The short condenses a shoujo love triangle between Dreams, Reality, and a forever flustered female protagonist into a laugh-out-loud five-minute reel. And just as the two handsome men win over the protagonist, "Love at the Crossroads" has captured the hearts of many. The film earned the Special Mention in the Animafest Zagreb Student Competition, the Audience Award at Indie-AniFest, and a screening at Bucheon International Fantastic Film Festival (BIFAN).

Now, in the middle of Choi Hee-seung's festival rounds (she has at least three more coming up, including a visit to Dok Leipzig!), she has taken the time to chat with us in Seoul's 15th edition of Indie-AniFest. We interviewed the elusive star — almost completely invisible from the Interwebs — within the print-lined walls of the CGV Myeongdong Cine Library.

Where did your interest in animation begin?
I was an otaku. I used to consume almost everything Japanese; though I liked Disney and Pixar, I really watched a lot of Japanimation and manga. Japanese anime from the 1990s and early 2000s really influenced me too; they got me started on following individual studios, and eventually spilled over into my style as well.

One day, a friend of mine recommended Anno Hideaki's "Evangelion." I didn't usually watch mecha anime — I read a lot of shoujo manga and watched a lot of romance — but I was just so fascinated by watching the pictures move. I think I have always been a lot more receptive to animation than live-action as a kid. It was easier to relate to. But my parents opposed my desire to study animation.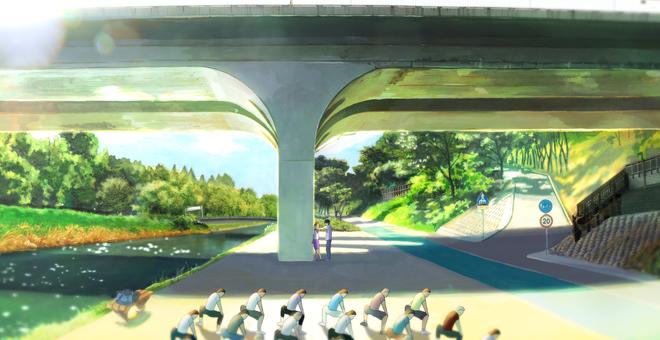 So what did you study in university?
After high school, I enrolled [in Hongik University of Fine Art] in Western painting. Actually, my undergraduate training helped me a bit; the backgrounds in "Love at the Crossroads" are hand-painted since I found it difficult to do everything in digital. I first painted my backgrounds traditionally, scanned them, and then retouched them in the computer. Backgrounds were the one thing I was really confident in while making the film, since I had not studied animation before.

But while painting backgrounds was fun, I felt like it was just a continuation of something I had done before. On the other hand, animation felt completely new — like venturing into totally uncharted waters. As a result, I enrolled in Korea National University of the Arts to complete a MFA in animation.

Any challenges transitioning?
There's something about the endurance that animation demands that really shook me. The only thing that really kept me going was the idea that, "if I don't finish the entire product, then this will all be for naught." This five-minute project alone took a year and a half. A single background could take around an entire week. Aside from the occasional break, I pretty much worked everyday, without weekends. It was a constant battle with myself.

How did you get started on "Love at the Crossroads" then?
For my MFA degree, I tried different kinds of animation, like paint on glass and other small experimental projects. However, I was hardly pleased with the result. I started to doubt myself. I was even ashamed. While I have always dreamed of being an animator, I couldn't help but wonder if it is really the right path for me. Think about it: as I grow older, my friends are getting married; they're having babies; and here I am, trying to figure out whether I should animate or not. [As a woman], the future holds a lot of uncertainty. I often thought to myself, "Shouldn't I also be doing the same – getting married, having kids? How long can I put these off to pursue my dreams?"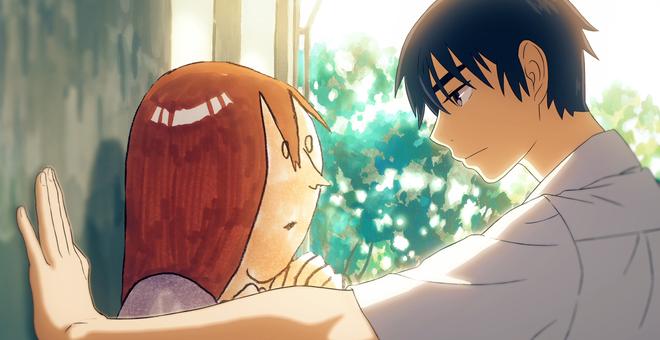 Additionally, animation takes a long time from beginning to the end. It's like a marathon. So I figured, "If I'm in the race, I thought I might as well make something I enjoy." I relished drawing the female characters. Just as my two male characters Dreams and Reality save the female protagonist, the [sheer enjoyment of working on the story] spared me from the arduousness of production. I can't help but wonder if "Love at the Crossroads" is really a subconscious product of passion – of my own ideas of dreams and reality, of love and labor, of my comics-loving spirit and burning desire (which somehow manifest into two handsome men). It's about how I should balance the love triangle of my own life. Compared to my previous projects, I'm quite pleased with this film. The power of love is great! (laughs)

How have you found its reception so far?
In Korea, the reception has been very warm. I'm a Korean making a Korean animation to play in front of a Korean audience. But when I went to Animafest Zagreb and saw the other student films, I thought mine stood out a little too much. Its cultural reference point was just so different — maybe too different — from everyone else's. I remember I asked the audience in limited English, "Do you understand?" And they answered congenially, "Oh, of course!" But honestly, I'm very curious if international audiences really understand why my film is funny. How do people from other cultures see my work? Is it easy to comprehend without a background in anime? I look forward to observing the reaction of the ever-serious Germany to my sense of humor [at Dok Leipzig]. (chuckles)

Your parents previously opposed your animation career. As you continue to win awards, what do they think of your choice to pursue animation now?
My parents watched my film twice. They first saw "Love at the Crossroads" at my university's graduate film screening, and then in theaters at Indie-AniFest. They're not the type to think of their children as geniuses, per say; I think they were more intrigued to learn that I can even do the things I do. They were pleasantly surprised that so many people laughed and appreciated the film at Indie-AniFest. Looking at my own comic book collection at home, I think they realize that people do need to follow their passions.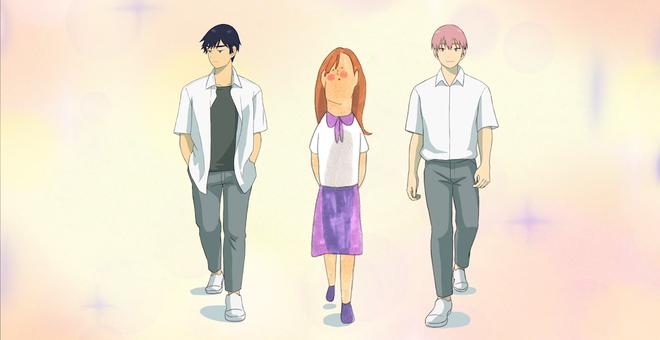 Speaking of passions, what other projects are you working on now?
Nowadays, I'm working at animation studio as a part-time. Animation is so hard to do alone. While shorts are feasible, the features that I love by studios like Disney and Ghibli involved a lot of people. To make something as high-quality, I need to learn from my studio peers.

On the side, I'm still brainstorming my future projects. The logistics will take time. I'm thinking of another slice-of-life, maybe another shoujo… but ultimately I want to inspire other people. I want to make something that evokes emotion, something that people will relate to. But we'll see. It's still a secret. Stay tuned for my next film!