An innocent woman spent 13 years in prison for the murder of a 6-year-old boy. Now, she's using her newfound freedom to track down the true killer.
62. Crying Fist (Ryoo Seung-wan, 2005)
Once a silver medallist in the Asian Games, Tae-shik has fallen on hard times, hiring himself out as a human punching bag. When he reaches the end of his rope, Tae-shik decides to attempt to win an amateur boxing title. Sang-hwan is a restless street rebel arrested for robbery. In juvenile detention, Sang-hwan discovers he has a gift for boxing. He becomes determined to win the amateur title for the sake of his father, ill grandmother, and himself. Ultimately, the two men meet in the title fight. Tae-shik has no place left to go while Sang-hwan is fighting for someone else for the first time of his life.
Cui Shun-ji is a Chinese woman of Korean ancestry. A single mother bringing up a young son, she lives away from her hometown, and makes a living by selling kimchi. In the course of living her life, she meets three men who betray her. When her son dies in an accident, she decides to take revenge.
64. Sunflower (Kang Seok-beom, 2006)
Tae-sik, who cleansed up the neighborhood back alley with his bare knuckle after dropping out of high school, is released on parole. The once sacrificial sheep of Tae-sik's frank Min-seok has become a detective and Tae-sik's henchmen friends have turned on each other's back. As if have forgotten the old days he shared with them, Tae-sik only does what he wishes to do, which was written down on his crumpling small scrapbook. Tae-sik finds a warm shelter in the small neighborhood food joint 'Sunflower', where Tae-sik handed his scrapbook to its owner before. Tae-sik tries to live a quiet new life with the lady who runs the restaurant and her daughter, Hee-ju. However, nobody believes him but the owner and her daughter of the 'Sunflower'.
65. The Host (Bong Joon-ho, 2006)
Gang-du is a dim-witted man working at his father's tiny snack bar near the Han River. One day, Gang-du's one and only daughter Hyun-seo comes back from school irritated. She is angry at her uncle, Nam-il, who visited her school as her guardian shamelessly drunk. Ignoring her father's excuses for Nam-il, Hyun-seo is soon engrossed in her aunt Nam-joo's archery tournament on TV. Meanwhile, outside of the snack bar, people are fascinated by an unidentified object hanging onto a bridge. In an instant, the object reveals itself as a terrifying creature turning the riverbank into a gruesome sea of blood¡¦ Amid the chaos, Hyun-seo is helplessly snatched up by the creature right before Gang-du's eyes. These unforeseen circumstances render the government powerless to act. But receiving a call of help from Hyun-seo, the once-ordinary citizen Gang-du and his family are thrust into a battle with the monster to rescue their beloved Hyun-seo.
66. I'm a Cyborg, But That's OK (Park Chan-wook, 2006)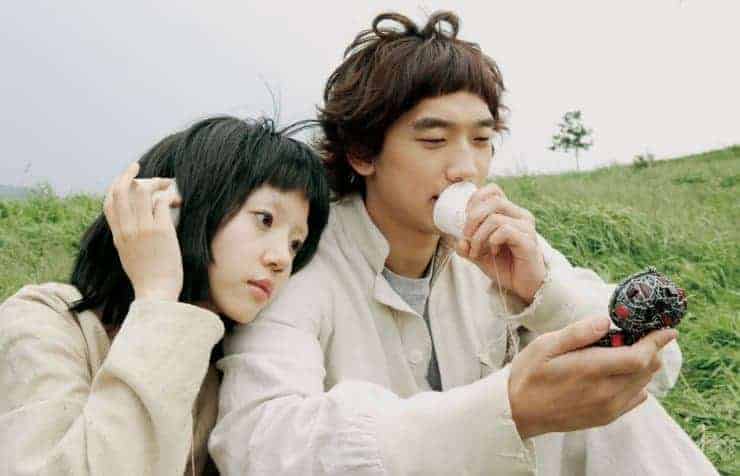 Young-goon, mentally deranged and frequently electro-charging herself with a transistor radio, has been admitted into a mental institution. Firmly believing herself to be a cyborg, she refuses to consume like a human being. Il-soon is another patient, who catches the eye of Young-goon and soon becomes a close friend. Il-soon is now confronted with the biggest task – to cure Young-goon's mental problem and have her eat real food.
Byung-doo, the No.2 man in a small-time organized crime gang, leads an aimless and wild life. Life is hard for him since he is the sole support of his mother and two younger siblings. However, when Mr. HWANG asks him to embark on a secret mission, Byung-doo realizes that this is one chance he should not let pass by. The mission is dangerous, but success would mean that Byung-doo would no longer have to worry about supporting his family…
68. Secret Sunshine (Lee Chang-dong, 2007)
After losing her husband, a woman relocates to a small-town called Miryang for a new start. When tragedy strikes, one local man stands by her through all of her struggles and tries to offer her hope.
69. Rough Cut (Jang Hoon, 2008)
Gang-pae, #2 in his organization, is swamped with routine violence, and his dream of becoming an actor never went away. Star actor Soo-ta lives behind a veil, away from public eyes. Over time his behavior becomes increasingly agitated, provoked by paparazzi wanting a piece of him wherever he goes. This behavior puts him in a series of spiraling and uncontrollable situations. Now he begins shooting a new movie playing a gangster. Because of his bad temper, he beats up a fellow actor and forces the production to a halt. Feeling responsible, Soo-ta requests Gang-pae, whom he met by chance, to play alongside him in the movie in order to save the production. Gang-pae agrees with the condition that the violence portrayed in the movie has to be real and not fake acting violence. Soo-ta accepts the condition and they get ready for the real match.
70. The Good, The Bad, The Weird (Kim Jee-woon, 2008)
With the Korean Peninsula under Japanese rule in 1930s, many Koreans flock to Manchuria for refuge. Some become bandits, some train robbers and yet others bounty hunters. While the Weird, a notorious train robber, is stealing from a Japanese train crossing the Manchurian plains, he discovers a treasure map. But the map is also sought after by the Bad, a merciless gang leader. Coincidentally, the Good, a bounty hunter, is on the train, and he is after the Bad. The three engage in a spectacular chase with the Japanese Army, the Korean independence fighters, and the Chinese bandits all looking to get their hands on the prized map.
71. The Chaser (Na Hong-jin, 2008)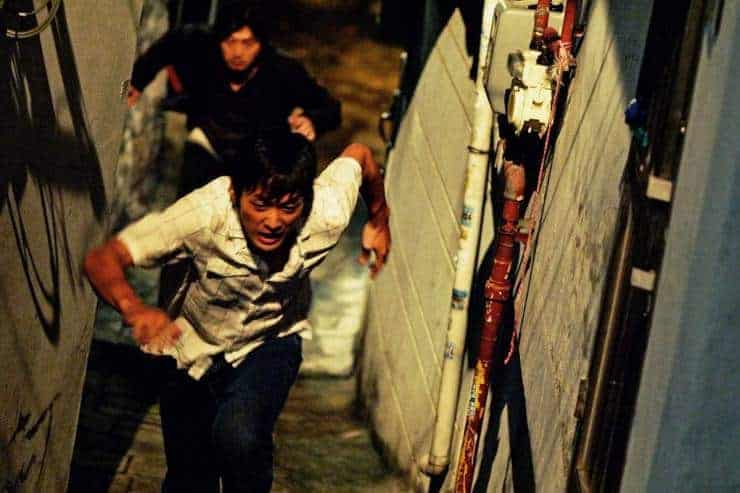 Ex-cop pimp Jung-ho is irritated because his girls keep disappearing without clearing their debts. One night, he gets a call from a customer and sends Mi-jin. Jung-ho realizes the phone number of the customer matches that of the calls the missing girls got last. As something smells fishy, he searches for her. During his search, Jung-ho dents a car in the alley. When Jung-ho spots blood splattered on the driver's shirt, he senses the man, Young-min, is the suspect. After an intense chase, Jung-ho catches Young-min. But because of Jung-ho's pretense as a cop, they are both taken to the police station. At the station, the man bluntly confesses he has killed the missing women, and the last girl, Mi-jin, may still be alive. As the whole police force is obsessed with a random search for corpses, Jung-ho is the only one who believes Mi-jin is still alive. With only 12 hours left to detain the serial killer without a warrant, Jung-ho's hunt begins, searching for Mi-jin entrapped in a place nobody knows.
72. Castaway on the Moon (Lee Hae-joon, 2009)
A man named KIM jumps into the dark, quiet waters of the Han River. He wakes up and finds himself lying on strange ground, covered with sand. For a second, he thinks he is in heaven, but soon recognizes that he simply drifted to a nameless island in the river. In one of the riverside apartment buildings, there's a girl who hasn't ventured out of her room for years. With her dishevelled hair and in the same old clothes she's worn for years, she looks just like a castaway. Then one day, she catches sight of a man living alone on an island through her binoculars. Day after day, his lonely but seemingly contented life triggers her curiosity and compels her to step out of her room after so many years. KIM's extraordinary life becomes the inspiration for change in this girl's lonely, detached life.
73. Hahaha (Hong Sang-soo, 2009)
Filmmaker Jo Moon-kyeong plans to leave Seoul to live in Canada. So days before his departure, he meets his close friend BANG Joong-sik who is a film critic, at a nearby mountain to drink 'makgeolli' a Korean traditional alcoholic beverage made from rice. After a few rounds, they find out that coincidentally, they have both been to the same small seaside town, Tongyeong recently. They decide to reveal their accounts of the trip over drinks, under the condition that they only stick to pleasant memories. Not realizing that they were in the same place, at the same time, and with the same people, the two men's reminiscence of a hot summer unfolds like a catalogue of memories.
74. Mother (Bong Joon-ho, 2009)
Widowed for a long time, a mother lives alone with her only son. He is 28 years old, a shy and quiet young man. In the aftermath of a terrible murder, the woman's hope- less, helpless son becomes the prime suspect. There is no real evidence against him, but the police throw groundless suspicion at him. Eager to close the case, the police are happy with their cursory investigation and arrest the boy. His defense attorney turns out to be in- competent and unreliable. Faced with no other choice, his mother gets involved, determined to prove her son's innocence.
75. Poetry (Lee Chang-dong, 2009)
Mi-ja (Yoon Jung-hee) leads a hand-to-mouth life raising her teenage grandson by herself. She nevertheless, retains a childlike innocence and curiosity, and becomes immersed in the world of poetry and beauty when she enrolls in a local writing class. But when she learns of a shocking revelation, she must confront the ugly side of life, and take matters into her own hands.
76. Thirst (Park Chan-wook, 2009)
Beloved and devoted priest from a small town volunteers for a medical experiment which fails and turns him into a vampire. Physical and psychological changes lead to his affair with a wife of his childhood friend who is repressed and tired of her mundane life. The one-time priest falls deeper in despair and depravity. As things turn for worse, he struggles to maintain what's left of his humanity.
77. Breathless (Yang Ik-June, 2009)
After witnessing the deaths of his mother and sister during childhood, Sang-hoon grew up along with violence. To punish his father for destorying the family, Sang-hoon visits his father regularly with rampage. One day, he meets a teenage girl, Yon-hi. As encounter piles up, Sanghoon and Yonhi find themselves in each other. But their link started long time ago. Out of blind, Sang-hoon, Yon-hi, and others among them reach out for more relationships.
Gu-nam (Ha), a taxi driver in the Yanbian Korean Autonomous Prefecture in Jilin Province, in Northeastern China, is living with a mounting debt. His wife left for South Korea six months ago and he hasn't heard from her since. He starts gambling to make money but always ends up losing.
79. I Saw the Devil (Kim Jee-woon, 2010)
Jang Gyeong-cheol is a dangerous psychopath who kills for pleasure. He has committed infernal serial murders in diabolic ways that one cannot even imagine and his victims range from young women to even children. The police have chased him for a long time, but were unable to catch him. One day the daughter of a retired police chief becomes his prey and is found dead in a horrific state. Her fiance Kim Soo-hyeon, a top secret agent, decides to track down the murderer himself. He promises himself that he will do everything in his power to take bloody vengeance against the killer, even if it means that he must become a monster himself.
A corrupted customs officer, Choi Ik-hyeon, faces losing his job. Then, his life turns around as he meets ganster Choi Hyeong-bae who has connection with the Yakuza. They quickly form a partnetship; Hyeong-bae helps Ik-hyeon set up a business with the money from drug trafficking while Ik-hyeon lobbies for his partner Hyeong-bae. As the government declares war on crime, however, their partnership begins to crack.