Back in the mid-to-late Noughties, a spate of anthology films with contributions from world cinema auteurs painting a picture of a particular city were in demand. Films like "Paris Je T'aime" and "New York, I Love You" featured a number of directors with their respective shorts of much shorter lengths. One such film was "Tokyo!" which collected three short films of around 40-minutes by French directors Michel Gondry and Leos Carax as well as Korea's Bong Joon-ho. Where most films tend to show the beauty of the cities and the lives of its citizens, "Tokyo!" is more interested in exploring places not usually on tourists' itineraries- the tiny gaps between the buildings in the cities, the underground sewers of Tokyo and the confines of a Japanese house.
"Tokyo!" will be screened at Japan Society
First up is "Interior Design" by Michel Gondry ("Eternal Sunshine of the Spotless Mind"), a film about a couple who moves to Tokyo to earn money and fulfil their dreams, or at least those of the boyfriend. Akira is a filmmaker who has just produced an avant-garde film that he is screening for friends and prospective distributors while his girlfriend Hiroko lovingly follows him to support him. Though they stay at the tiny place of a friend until they find a stable job and accomodation, the friend soon gets fed up with their extended stay and is particularly miffed with Hiroko who can't seem to find a job, or indeed a purpose in life. Even her boyfriend admits that she has no ambition, which prompts Hiroko to introspect on her role in life and within the bustling metropolis that is Tokyo, her self-esteeming starts to crumble and her tough exterior loosens with each passing day.
This segment critiques the real estate situation in Tokyo, as the two move from one terrible house-viewing to another, and how the youth moving from other parts of the country find it hard to secure lodgings and livelihood. Featuring an excellent central performance by Ayako Fujitani as Hiroko, the segment also establishes how people are used, quite literally, as furniture in the fast-paced life of the city, through a fantastical finale that is sure to be remembered for a while.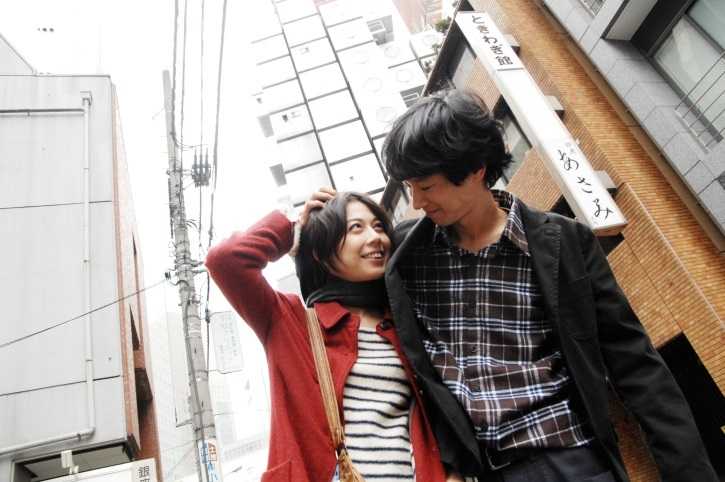 Equally memorable is the second short, for better or worse, by Leos Carax ("The Lovers on the Bridge), entitled "Merde". An odd man lives within the sewers of Tokyo, dubbed "The Creature from the Sewers" by the media, who randomly comes out, walks about in his unusual gait with his unusual beard and marble eye, eats flowers and money which he pockets from passerbys, licks women's armpits, causes general chaos and then quietly returns back to the sewer. Inside, he stumbles upon a cache of grenades left over from World War II, which he climbs back out with and starts blowing the place up. Caught and put on trial, he is helped by a French lawyer who speaks the language of the creature, the titular "Merde", to fight his side.
Carax's segment is tour de force filmmaking which challenges and provokes, and might not be everyone's cup of tea, but manages to leave the biggest impression, thanks to Carax regular Denis Lavant's terrific performance as the unkempt, long-nailed Merde. It provides no answers to the questions the Japanese media seem to have about the Creature, like where he came from or how he happened to get to Tokyo, among others, but it touches upon a subject that not many Japanese films like to touch- the atrocities inflicted by the Japanese during the war, particularly in China. This is a subject that needs to be explored in depth but one that Carax's experimental style of filmmaking is not fully able to address. The final part of the story makes novel use of four languages, the weird tongue of Merde translated into French by his lawyer, which in turn is translated into Japanese for the judges and prosecution, which is then translated to English for the audience via the subtitles and is a particular highlight.
The final piece of the film is from Korean auteur Bong Joon-ho ("The Host"), called "Shaking Tokyo". This is the story of an unnamed man, a shut-in who has decided to close himself off and live his life within the confines of his home without any human contact, a phenomenon that is so common in Japan that they actually have a word, hikikomori, for such people. The only contact he does have with any other humans is his weekly Saturday pizza delivery, the boxes of which he stacks neatly within the house like everything else in there. On one such delivery, he encounters a beautiful delivery girl just as an earthquake starts, causing the girl to faint. He revives her and she soon leaves, but it isn't until next week that he realises she has quit, having decided to live the hikikomori life herself. Armed with a rough address for her, the man decides to step out of the house for the first time in eleven years to look for her.
"Shaking Tokyo" is probably the most straight-forward narrative of the three segments, and as a result, it feels slightly lesser than the preceding two shorts, but it still has its moments. Teruyuki Kagawa does a fine job as the man and Yu Aoi fans will be pleased to see her, while it also makes the best use from the three seaments of Lee Byung-woo's score. It succeeds in showing just how lonely Tokyo, one of the busiest cities in the world, is and how for a recluse like our lead, the comforts of his own home are more bustling than the bright outdoors. The symbolism of the earthquake literally shaking our protagonists's world also does not go unnoticed.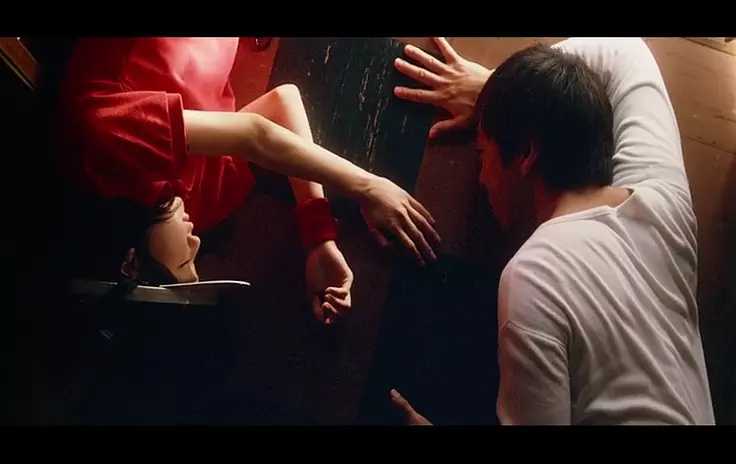 For a film that's supposed to be about a city and the likes of which usually do their best to showcase the city in the best light, the cinematography of "Tokyo!" is surprisingly bleak for the most part, only to give some semblance of beauty in the final segment. But "Tokyo!" is not just another omnibus feature. Featuring two visually and mentally challenging segments and one a more standard but engaging fare, "Tokyo!" might not be a grand success throughout, with all stories having their individual strengths and weaknesses, but one that surely remains among the better omnibus films.