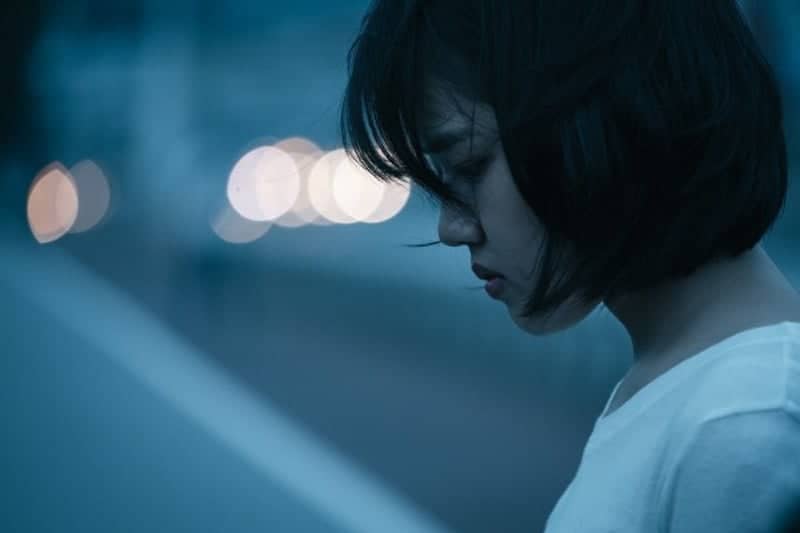 Following the epidemic of high-quality debut features that is spreading in South Korea, director Cha Sung-duk's presents her compelling independent film "Youngju". Her work premiered in Busan and was able to do a jump (even if only a small one) from the festival circuit to the theatre and to be released last November at Gwangju Independent Film Theatre.
"Youngju" is screening at the London Korean Film Festival
A chilling hypothetical conditional over a fried chicken basket introduces unapologetically a young girl named Young-ju (Kim Hyang-gi) and her younger brother Young-in (Tang Jung-sang) on the opening scene. "What if … we could have either mum or dad back? Who would you choose?" The parents of the two siblings have been killed in a car accident five years earlier, leaving Young-ju and Young-in in great difficulty, coping with an adult life they knows nothing about. They are little more than children; Young-ju is 19 and the legal guardian of her 15 year-old brother, and she has left school to be able to work odd jobs and look after the boy. Nobody give them a real constructive hand or, more than anything, a bit of affection or care. Their rather unpleasant aunt is trying to make them sell the house, ignoring the fact that that house is the only thing left from their "previous" life with their parents, and therefore triggering Young-in's rage. In fact, while Young-ju looks ahead with determination and a crumb of hope, the teenager boy is the one who feels scarred the most. He soon ends up in trouble, arrested for a petty crime with some bad friends and Young-ju must find a hefty sum of won for a settlement and to prevent him from being sent to a reformatory.
When her cry for help is ignored by the nasty aunt, the poor thing in her naivety loses the tiny amount she owns on a dodgy loan service. Desperate and alone at home, surrounded by the few things left by the parents, her eyes are caught by the name of the one person who has caused all the pain she is feeling now. The name and address of the driver who killed her parents in that fatal accident are on the court file and Youngju decides to confront him. She hasn't got a plan but she goes to the tofu shop that the man, Sang-mun (Yoo Jae-myung) and his wife Hyang-sook (Kim Ho-jung) run, and ask for a job without revealing her identity. To her disorientation the couple proves to be warm and caring, giving Young-ju some long-lost moments of serenity that she truly savours, even though she knows the truth could ruin everything.
Director Cha Sung-duk's drama is an emotionally gripping tale of guilt, penance and retribution, where a relatively simple framework is enriched by nuanced emotions, delivered with measure and control. The film never derails in pure tear-jerking territory but the undercurrent intensity of the emotions is constant and deeply affecting. Actions and consequences create a sense of foreboding that pervades the whole film, and a certain dose of predictability serves the purpose. We know that the loan service is a scam and it's harrowing watching Young-ju falling in the trap. We know that confronting the man responsible for her parents' death is not a good idea but we watch it happening and, moreover, the moment we realise that Sang-mun and Hyang-sook are good people, fighting with their own demons, we know Young-ju is bound to get hurt.
Despite the young age, actress Kim Hyang-gi is already a star, having under her belt big productions like "A Werewolf Boy" and "Along with the Gods". Her brilliant performance is the backbone of the movie and the centre of the emotions. She is almost in every frame, often in revealing close-ups, and she owns them all. It is thanks to her performance that the film really connects with the audiences and delivers that range of intricate feelings that create empathy and gets under the skin. However, it must be said that Kim's supporting actors are all excellent; I particularly appreciated Kim Ho-jung in her role of a woman who is exhausted of all the sadness in her life and is yearning for giving some love to a stranger. The film relies heavily on the performances, leaving all the rest very simple and realistic. And in its realism "Youngju", in a subtle way, doesn't fail in highlighting also some important social issues, intrinsically linked to the conditions in which Young-ju navigates.
The guilt and atonement theme mixed with the dangerous attraction / repulsion for who caused pain, reminded me of another of this year's excellent Korean first features, "Clean Up", from young director Kwon Man-ki, although "Youngju" doesn't use plot-twists or metaphors to draw us in, but the sheer complexity of contrasting emotions.
"Youngju" is another proof of a thriving indie scene alongside the blockbuster-driven South Korean film market.