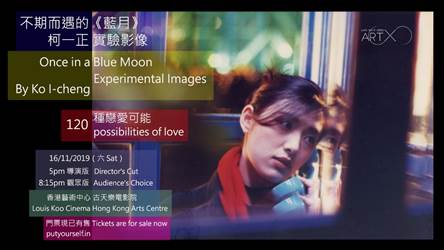 Moving Image programme "Once in a Blue Moon – Experimental Images" by Ko I-cheng co-presented by the Hong Kong Arts Centre (HKAC) and Kwang Hwa Information and Culture Centre, supported by Spotlight Taiwan Project will be held at the Louis Koo Cinema, Hong Kong Arts Centre on 16 November 2019 (this Saturday). Two versions will be screened – Director's Cut and Audience's Choice. This is a programme of the Taiwan Arts Festival.
The film "Blue Moon" is directed by Ko I-cheng, one of the leading figures from the film movement New Taiwanese Cinema (other prominent filmmakers include Edward Yang, Hou Hsiao-hsien and Wu Nien-jen amongst others). Blue Moon is about an unpredictable love story in a city. The film is separated into five parts, respectively labeled "red", "orange", "yellow", "green" and "blue". These parts, on separate reels, can be presented in different orders, weaving 120 possible stories of a romantic triangle. All the versions have different rhythms, stories, feelings and endings. This experimental film breathes the mysteriousness, possibilities and impermanence of romance; it also explores the nature of urbanity and how people live and love in a city.
"Blue Moon" was already getting a lot of attention when it was first released in 1997. The work was originally shot on 16mm and released on 35mm. The HKAC will present DCP screenings of digitally restored Blue Moon. Director's Cut is the story originally presented by Ko I-cheng. Audience's Choice will present a chronology chosen by one of the HKAC's audience members. Ko will introduce his film on video before each screening starts; he will also have a live chat with the audience via Skype after the screening of the Audience's Choice. Tsang Tsui-shan (Hong Kong director) will also chat with Ko about the intricate relationships between Hong Kong and Taiwan cinemas. Dr. Timmy Chen (Research Assistant Professor of the Academy of Film at the Hong Kong Baptist University) will be the moderator. It will be conducted in Mandarin only.
Individual tickets and tickets packages of the screenings are now available on www.putyourself.in.
Blue Moon (Director's Cut)
16/11/2019 (Sat) 5pm
Blue Moon (Audience's Choice)
16/11/2019 (Sat) 8:15pm *
With video introduction by director Ko I-cheng
*Director Ko I-cheng will attend the after-screening video chat (Skype live chat), Tsang Tsui-shan (Hong Kong director) will join; and Dr. Timmy Chen (Research Assistant Professor, Academy of Film at the Hong Kong Baptist University) will be the moderator.
Synopsis
Director: Ko I-cheng | Cast: Tarcy Su, Leon Dai, David Wang
Nominated for Grand Prix, Tokyo International Film Festival 1997
International Film Festival Rotterdam, 1998
Taiwan | 1997 | 97 mins | In Mandarin with English subtitles | DCP | Colour
A "blue moon" refers to something that happens only once in a lifetime, or is a rare second full moon in the same calendar month. Cuen-shu and A-gua were classmates and grew up together. One day, they meet a woman called Yi-fang while they are playing softball, and both end up falling in love with her. On an evening of a blue moon, the three try to clear up the clouds of their intricate love triangle.