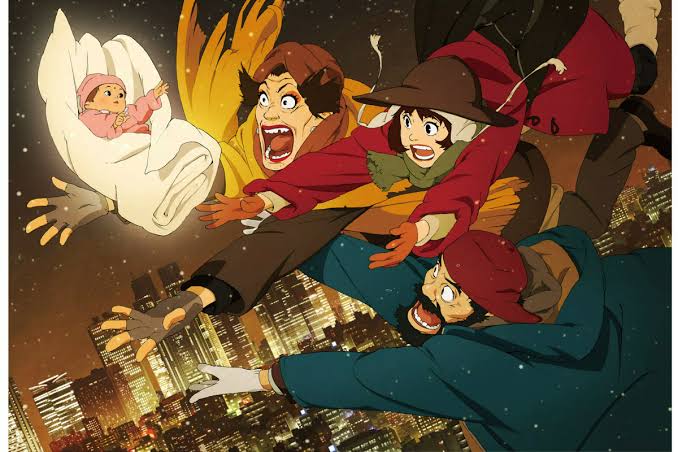 The film draws its core element of a trio of people becoming godfathers to a newborn child from Peter B Kyne's novel titled 'Three Godfathers.' Upon its release in 2003, it received an Excellence Prize at the 2003 Japan Media Arts Festival
The film focuses on three homeless individuals (a teenage runaway, an alcoholic gambler, and a former drag queen) who live in a cardboard shack. Whilst scavenging amongst a mixture of jumble and garbage for a Christmas gift, they come across a baby girl whom they call Kiyoko and set out to find her parents with the help of clues found near the baby.
Buy

This

Title
"Tokyo Godfathers" gets to its end goal and explores the past of its characters with the use of coincidences. These coincidences work beautifully as we get treated to a few doses of dark humour with an ambulance and a door. The story weaves in the joys of Christmas with startling social commentary. It begins with the enacting of the nativity while a soft instrumental tune of silent night plays. Some people are there just for the free dinner. They even substitute the word "Lord" with "food" when food is finally served. The question of what truly is Christmas for different parts of society is raised here.
We get to see the societal prejudices against the homeless throughout. Yet this production doesn't confuse you, even as the story twists and turns, as these keep you hooked right till that conclusion which is unexpected and breathes in some life to what seemed to be a very reflective and deep film. There are miracles, but at no point is this a redemption story where the protagonists have been marginalized and, secretly, are wise souls. The trio aren't a family but they are all they have. Their actions towards each other make it seem as though they have the bond of a family.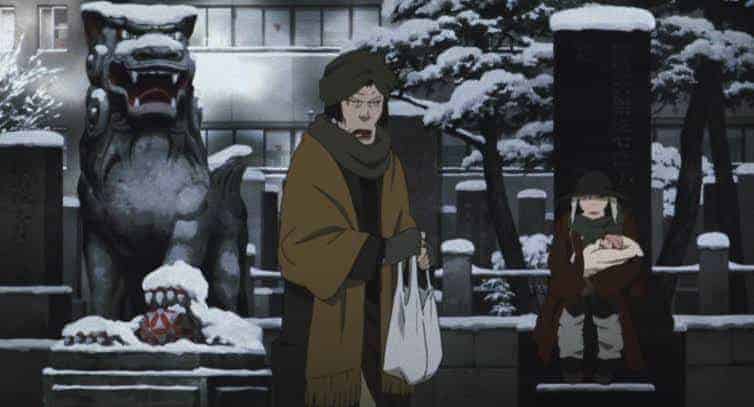 The movie has beautiful animation and like most anime, this one too has stills that make audiences wish that they had that as their desktop wallpaper. I loved the fight scene between Gin and the young punks who brutalize him. It had both competitors face off and a row of windows above them had lights flicker as the battle went on before one side eventually went dark. It pays tribute to the power bars seen amongst combatants in video games. The absurd and non-realistic look of the characters helped show their expressions in a much better manner than a live-action feature film.
"Tokyo Grandfathers" presents relatable characters and show us all that the light of happiness we cannot see can be found even in the darkest of places if one remembers to turn on the light.