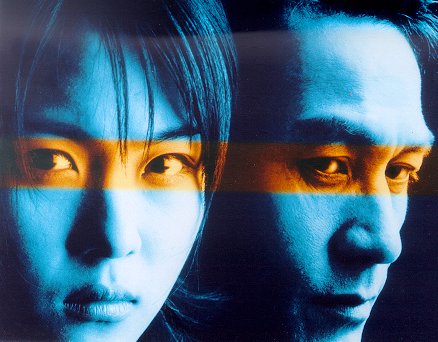 "Truth Game" has a bit of everything: fanatical K-pop fandom, estranged family relationships, bullying, and lesbian romance. It's one of the early Korean thrillers no one really talks about these days, but for its unnerving plot-twist, wonderful performances of the leading cast, and prescient social commentaries, deserves some belated recognition.
Shots of a cheering, rowdy crowd are repeatedly intruded by unsettling images of a sexual assault. Onscreen are the animated atmosphere of a superstar concert and flashing glimpses of a girl's lower body, her legs frantically moving, her panties forcefully stripped off, her cries ignored. That continues for a good one minute before the audience's cheers and the girl's futile shouts for help subdue, and someone is seen ploddingly approaching a public phone booth. We hear a few rings and the voice of someone on the other end. The murder of the phenomenal rock star Cho Ha-rock has just been reported.
Turns out high-school student Da-hye is the caller and suspected murderer. Devoted fans chide her for the death of their idol and take every opportunity to harass her and her bereft mother. Activists demand her immediate release, seeing her possible victimhood as a chance to advocate for their cause. But public prosecutor Cho Jae-hyun knows the case is more muddied than it appears, and Da-hye and her multiple truths are there just to prove him right.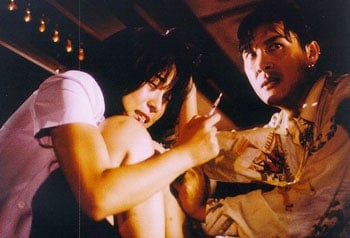 "Truth Game" has versatile actress Ha Ji-won in one of the finest performances she's ever delivered. Though Da-hye is one of the first roles she got as a new actress, it is arguably the most challenging and sophisticated she's ever got in her career. The first few scenes of the film may have us believe that she's a battered, terribly wronged school girl; however, as she starts to get Jae-hyun into her game of truth, we start to have less confidence in her innocence. She's not exactly evil, but not quite pure-hearted either, just as complicated as all human beings are. And just as we think we've known her true colors, we realize that we cannot be further from the truth. Such a character wouldn't have come to life had it not been for Ha Ji-won's realistic acting.
Ahn Sung-ki is convincing in his role of a public prosecutor who struggles to solve the case and be a good father. Sung-ki's cool and collected vibe is particularly suited for the role, and his eyes and countenance convey suppressed feelings and thoughts even better than the lines he is accorded. Though the self-assured, dignified-looking Jae-hyun is indeed less intriguing than the unpredictable Da-hye, the actor's restrained acting is worth praising.
The camerawork of "Truth Game" is less impressive and sometimes even repetitive, but in several scenes of interrogation the use of shades and colors have been effective in communicating the overall mood and characters' psychology. Music does not have much of a role either, and I have to admit that I find the ending score rather off-putting. That aside, the film does a good job of exposing the audience to nasty issues lurking beneath their uneventful lives and holding the audience's attention by evoking disturbing thoughts. Much recommended for fans of psychological thrillers.