Young Thai director Nawapol Thamrongrattanarit's latest film finds him back on his familiar ground of arty, quirky kids and young professionals seen in his "36" (2012) and "Mary Is Happy, Mary Is Happy" (2013), and this time the alchemy is almost perfect. "Heart Attack" has been a pleasant surprise for both public and critics, earning box office success and few awards (Best Film and a plethora of related Awards in Thailand, ABC Award in Osaka, Best New Asian Film at Five Flavours Film Festival).
Buy This Title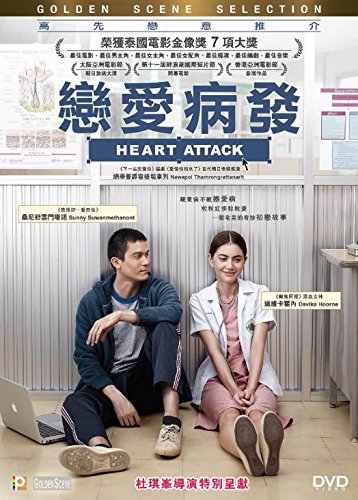 30-year-old Yoon is a freelance graphic designer and Photoshop retoucher. Undeniably, he is damn good and incredibly committed, but he is also trapped in the typical loop of working-hard-and-never-turning-down-a-job for fear of being left out and losing connections. Yoon spends most of his days and nights in his room, in front of a Mac, and in this tiny world, there is no room for leisure or friends, left alone sleep. His proud and joy is in fact the ability of going without sleeping for up to 5 days, in order to meet the tight deadlines of the creative industry. Not surprisingly, his social life is basically non-existent and his meager bunch of friends comprises only his sympathetic junior producer Je, the corner shop attendant and an old classmate he hasn't seen for years.
One day, an annoying, itchy rush appears on Yoon's neck and predictably starts to spread to his body. Forced to take action, reluctant Yoon tries an expensive private doctor but he is soon put off by the prescription of expensive and sleep-inducing medications and decides to try the public hospital where he ends up under the care of Imm, a dedicated junior physician. Imm's detached eyes can see the big picture and understand the problem is not of a merely dermatological nature but it is rooted in the patient's lousy lifestyle. In order to get well, Yoon needs a regime of healthy food, exercise and good sleep above all.
Once cornered Yoon must rethink his life choices and reevaluate his priorities while getting increasingly dependent on the appointments with the only person that seems to care about him.
Director Thamrongrattanarit has cleverly put together a profitable movie that preserves an indie flavour and sheers off from a static genre definition. Notably, it's not the classic rom-com the poster and international title «Heart Attack» might suggest and it's not a full on comedy, although there are plenty of genuinely hilarious moments. Thamrongrattanarit's brilliant script and direction blends comedy, drama, dark humor and just an innuendo of romance. He sensibly avoids the corny romantic cliches in favour of a sympathetic and accurate character study. Strict work ethic is a notorious prerogative of Asian countries but the movie makes it extremely easy to relate with the protagonist. In an era where stress-related disorders are epidemic, Yoon's conundrum will probably feel painfully familiar to the movie's target audience and to the majority of us.
Chonlasit Upanigkit's awarded editing is snappy without being frenetic and combines long meditative takes with fast paced ones, creating an effective comic "tempo". Nevertheless, the movie feels a touch too long (2 hours and 10 min) and could have benefited from further trimming here and there.
"Heart Attack" heavily relies on its main character as we spend plenty of time with Yoon and his thoughts, and Thai heartthrob Sunny Suwanmethanont does an excellent job building up goofy, likable Yoon layer by layer, with the additional help of a voice over that let us overhear the protagonist's ruminations in his solitary days.
Davika Hoorne is Imm and she owns the role with her girl-next-door appeal and her refreshing normality in contrast with Yoon's frantic work life. Little wonder after "Heart Attack" she landed the protagonist role in "Suddenly 20", the Thai remake of the incredibly successful Korean movie-turned-template "Miss Granny".
Violette Wautier as Je, Yoon's work buddy, manages to channel a touch of motherly sensibility into her otherwise tomboyish character and she is also the voice of the theme song.
"Heart Attack" is an easily relatable movie, an honest look at the hardship of balancing work choices and personal life, presented with a light touch and the right amount of humor.