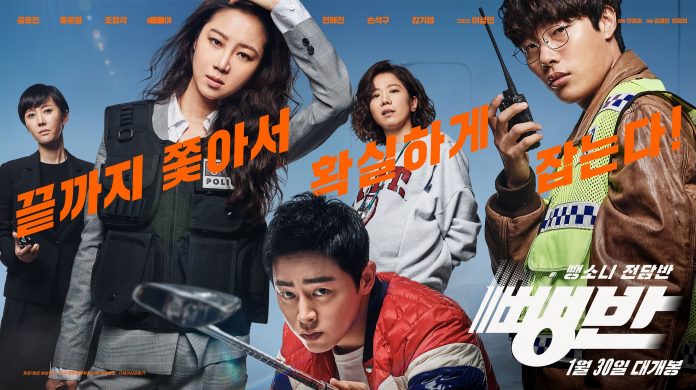 "Hit-and-Run-Squad" is a 2019 police procedural film which managed to generate a huge buzz before its release due to a stellar cast of popular actors.
Released back in January, 2019 in South Korea, the movie tells the story of a police officer, Eun Shi-Yeon (Gong Hyo-jin), who is transferred to a hit-and-run team after a failed investigation involving police corruption. Eun Shi-Yeon joins forces with officer Seo Min-Jae (Ryu Jun-yeol) and team-leader Woo Sun-Young (Jeon Hye-jin) in order to catch Jung Jae-Cheol (Jo Jung-suk), a racing maniac who also happens to be a business tycoon. However, catching the culprit proves to be an arduous undertaking.
Even though the title of the film clearly implies car action, you have to be aware that the it is primarily a crime thriller with racing elements rather than the other way round. All in all, not everything car-related has to be "Initial D" right away. Nevertheless, "Hit-and-Run-Squad" manages to deliver plenty of gripping chase sequences as well as an engaging storyline. On top of that, there is a quite Lethal-Weapon-like music score.
The secret behind this film's magic is its amazing cast. Gong Hyo-jin and Ryu Jun-yeol are great as upright police officers determined to catch the baddies and save the day. There are also great supporting parts from veteran actresses Yum Jung-ah and Jeon Hye-jin, who evoke the classic "dirty cop vs. good cop" conflict. However, the ultimate show-stealer is Jo Jung-suk as the main bad guy with a stutter and some serious behavioural issues. He could easily befriend the Joker.
If you are looking for an interesting movie that involves police and cars, then "Hit-and-Run-Squad" is the choice for you. Director Han Jun-hee was so sure that the film is going to be a hit (1 million moviegoers within 6 days since the release) that a mid-credits scene was included, which heavily implies a sequel. Some critics cite weak plot development as the film's primary disadvantage, but I really did not mind that in view of wonderful performances of the main leads.