Evidently, the romantic comedy film has been done to death, as one of the most popular movie categories in the entire world. In that regard, shooting a romantic movie that manages to present something different is a feat by itself, and Masahide Ichii tries to do so through smart dialogue, role reversal and a general, very Japanese quirkiness. Let us see if he succeeds.
Our Meal for Tomorrow is screening as part of The Japan Foundation Touring Film Programme
Based on the novel "Bokura no Gohan wa Ashita de Matteru" by Maiko Seo, the film focuses on two radically different high school students. Hayama is an introverted shy boy while Uemura is an outspoken, always cheerful girl. After circumstances and Uemura's invitation brings them into becoming partners in a rice bag race, the two strike a friendship which eventually has Hayama speaking about the reason he is so morose. When Uemura learns about his brother's death, she immediately asks him out and while he is initially reluctant, eventually he agrees (the role reversal aspect I mentioned before). Their relationship carries on to college and involves a number of meals, while the two share some of their deepest thoughts, including Uemura's fascination for Colonel Sanders and KFC. Their path however, is not paved with rose petals…
Masahide Ichii follows one of the most common paths of the romantic film, having a couple who meet at school, date and fall in love, until they drift apart at some point in their lives only to realize they cannot live without each other in the end. However, the way he goes to this path is quite different than usual, not only due to the role reversal, but also due to the dialogue, which mostly features the two of them being unexpectedly sincere about their feelings, in somewhat comic fashion. This style enhances the comedy aspect of the film, but at the same time manages to communicate a number of social comments regarding grief, social pressure,s particularly due to one's families but also due to societal norms, and the difficult path towards maturity youths without steady parental guidance face.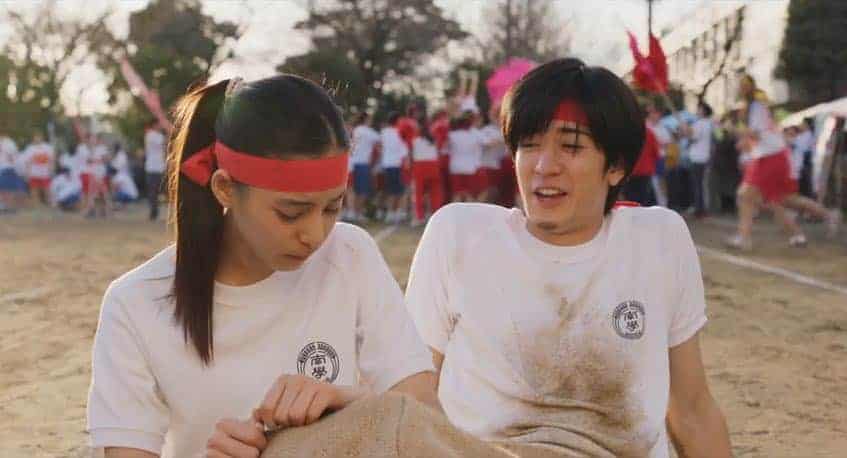 Both these two elements (role reversal and dialogue style and context) work quite well for the movie, due to both Ichii's writing and direction, but also because the two protagonists fully adapted to their roles. Yuto Nakajima as Hayama and Yuko Araki as Uemura are quite convincing in their parts, while their chemistry is one of the best assets of the movie, a trait that becomes even more important when one considers that the majority of the narrative features scenes with just the two of them, in a style much similar to stage plays.
Masafumi Seki's cinematography frames this, occasionally stage-play style, quite nicely, while the coloring fits the generally cheerful aesthetics greatly. The same applies to the editing, which induces the film with a relatively fast pace, although I think that a bit more trimming would probably benefit the narrative, which seems to lag at some points, and particularly closer to the end.
"Our Meal For Tomorrow" is easy to watch and presents a different approach to the romantic comedy and that is where its most important asset lies.