Even though he had gained quite a reputation for himself before, it was not until the release of titles such as "The Mission" that Johnnie To received major international attention. While the action genre as well as the image of the killer is perhaps forever linked to the name of John Woo, over the course of his career, To has created his very own interpretation of this figure, his existence in the shadows of society and his ambivalent nature. As the director reflects in his career in an interview with "The Skinny", he admits that making an action film was not an easy undertaking, given the lack of investors at the end of the 90s. At the same time, and although he ran out of money, he also admits there was a sense of freedom with a project such as this, an idea to make something aware of its roots but also quite unique.
Watch

This

Title
After there have been many attempts on his life, triad boss Lung (Eddy Ko) asks his right-hand man Frank (Simon Yam) to hire a team of bodyguards. In the course of a few days Frank hires Curtis (Anthony Wong), Roy (Francis Ng), Mike (Roy Cheung), James (Lam Suet) and Shin (Jackie Lui) for the job. While some of them run rather lucrative businesses themselves or enjoy the quiet routine outside the Hong Kong underworld, they accept the offer and little by little the men adjust to each other and become a team.
However, as the team led by Curtis manages to not only protect Lung, but also to find the men behind the assassination attempts, their loyalty towards each other is tested since Frank has accused Shin of having slept with Lung's wife. Realizing there is no alternative in the world he lives in, Curtis begin planning the hit, but after he has also heard the news, Roy and Mike swear to protect their colleague whatever the cost may be.
In general, the worlds that To creates in his films are defined by codes, deception and a certain cold elegance fitting to the parallel world his characters occupy. At the same time, To's style of narration and Nai-Hoi Yau's script are structured of a sometimes elliptical, clever structure as indicated by the opening scene showing James leaving a game parlor. As he walks though the populated nocturnal streets of Hong Kong, we experience seemingly banal insights into the daily life of the shop owners, people who we will soon get to know as the band of bodyguards Frank hires, along with James, to protect his boss. Essentially, this narrative ploy, a technique To is quite fond of, considering he uses it a lot in his body of work, hints at the connection of these men as well as their existence in the underworld.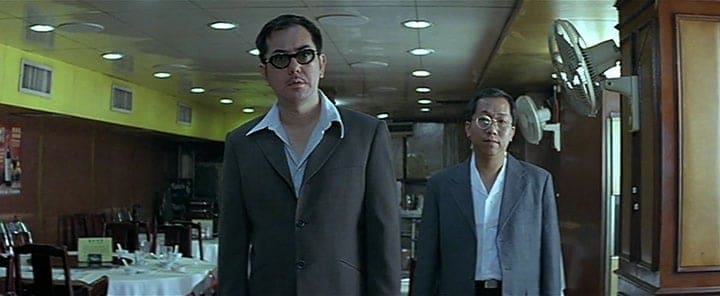 Subsequently, the figure of the killer is an ambivalent figure. While capable of living in the world of crime, To's characters surprise us quite often with actions of bizarre silliness and heartfelt camaraderie, for example, when one of them starts the running gag of hiding small firecrackers in his colleague's cigarettes. Using minimal gestures and expression, the men in this film, similar to other works of this director, indicate their connection, their status as professional through an almost silent agreement, making their first meeting in Lung's offices one of the most entertaining and best-photographed of the film. Additionally, To's cast showcases its mastery of establishing their characters, the group's hierarchy and their roles within this team within a short amount of time and without much dialogue. You have to ask yourself, whether Johnnie To is actually making a silent film at some point given the elegant choreography, framing and editing of some of the scenes in "The Mission" (which is something that can be said for many of his films).
In conclusion, "The Mission" is a masterful action film showcasing the qualities of Johnnie To's cinema, its elegance and its underlying themes. Besides containing some of the best action scenes in Hong Kong cinema, it is also a cleverly written work with a great cast, a timeless classic within the genre indicating the talent of its director.