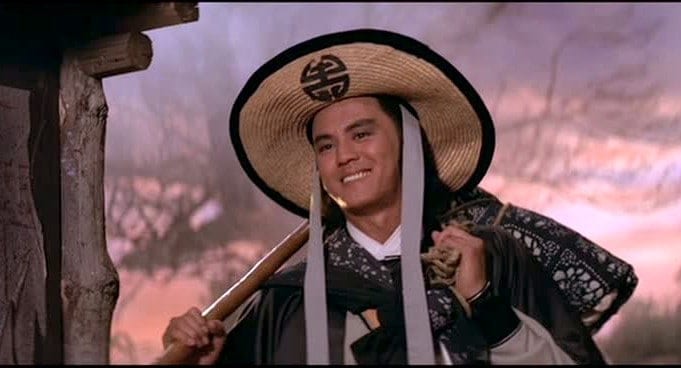 The story of Pan Jin Lian (nicknamed the Golden Lotus) and her lover, Ximen Qing is again given another spin by Li Han Hsiang, a director who's renowned for making erotic romance movies. Throwing into the mix in "Tiger Killer", we have Wu Song, a legendary character from the epic Chinese literature 'The Water Margin' or 'Outlaws of the Marsh'.
Buy This Title
"Tiger Killer" is very much the story of Wu Song and his brother Elder Wu. In the beginning of the movie, we learn that baby Wu Song is raised up by his brother because they parents are dead. Elder Wu sells buns on the streets, takes a lot of abuses from kids because he is a dwarf with crocked teeth. As Wu Song grows up, he always gets into trouble standing up for his brother to the point that he has to leave town and seek shelter in a nearby temple.
However, he soon grows up to be a strong and righteous young man. He even manages to become a local constable after killing a man-eating tiger. Upon returning to town, he looks his brother up and discovers that he has married to the beautiful Pan Jin Lian. That is actually when more trouble starts because the lusty Pan takes a shine to the good looking Wu Song.
One day, he is sent away on a mission outside town. In the meantime, Pan has an affair with a rich playboy, Ximen Qing and this leads to the murder of Elder Wu. Sure enough, all hell breaks loose after Wu Song returns to town and discovers that they are responsible for his brother's death.
Although this is a Ti Lung movie, credits must go to Ku Feng who is almost unrecognizable as Elder Wu. It must have been physically challenging since he has to walk on bended knees most of the time to look the part of a dwarf. However, for this demanding role, he rightly won the Best Supporting Actor award.
Wang Ping, on the other hand, is appropriate as the adulterous Pan who has a sorrowful background. While working as a maid, her master is caught raping her and her mistress punishes her instead by forcing her to marry a lowly dwarf who happens to be Elder Wu. Wang Ping is impressive as the lone suffering wife and scores the Best Actress award for her acting ability.
As usual, Ti Lung is in top form as the legendary Wu Song, full of energy and very charming. He actually plays the same character ten years earlier in "The Delightful Forest", directed by Chang Cheh. Interestingly, a real tiger is used in this movie during the tiger-killing scene, but not the close-ups shots. However, it does look like the tiger is playing with the trainer rather than attacking him. Anyhow, that is a plus for a Shaw Brother production.
"Tiger Killer" is a good family drama; it touches on the subject of love, sex and murder, but the martial arts action is relatively light. It has a great cast and wonderful performances from all the actors. The production value is top notch with beautifully constructed set design.
Overall, this is a perfect movie to watch and make sure to top it off with "The Delightful Forest" for a more action packed experience.