'Virus' is a Malayalam language film. This investigative medical thriller presents a fictionalized version of true events. It is a saga of the brave individuals who in the face of adversity and risk of life, treated and helped contain the epidemic in the state.
Buy This Title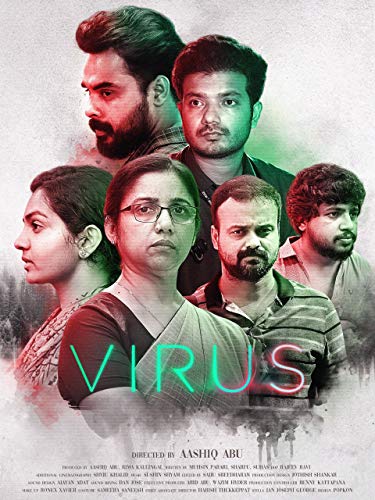 Director Aashiq Abu ensures that these 3 words 'Fear', 'Fight', 'Survival' on the film's poster are ever-present in every scene. He achieves this through a combination of a remarkable background score, script and grounded acting by its ensemble cast which includes Parvathy Thiruvothu, Kunchacko Boban, Tovino Thomas, Asif Ali, Indrajith Sukumaran, and Revathi. No actor is presented as the beacon of light behind whom the others rallied.
The script by Muhsin Parari, Sharfu and Suhas reminds that it just wasn't the doctors who were in the limelight. It allows the general public, the ambulance drivers, hygiene workers too to have their moment in the spotlight and be the heroes in some small manner. This emphasizes the line said by a doctor to the group of hesitant drivers, "not villains, you are all heroes."
'Virus' gives every character a backstory. This helps us empathize with their struggles in their quest to solve the conundrum. The film explores the aspect of misinformation about the illness. I like the timing of this scene as it isn't placed at the beginning of the movie. This gave me the impression that it has been worked in as an important aspect and not just something that was used because it had to be in the movie
The score by Sushin Shyam is haunting. It builds a sense of dread that sticks with the audience throughout. Shyam's score kicks in right at the start after a normal scene showing a family walk back into a house. It helps us understand the gravity of the issue after we take in the expression of shock on the actor's face. As we wonder what it is, the film's title flashes on screen as the music drills further into our heads. The suspenseful music is punctuated with sinister beats that can make you go cold from within.
'Virus' adheres to the moniker "content is king." This moderately paced film relies on its strong script. The grounded performances by the ensemble cast will captivate you. Parts of the audience may find the investigative part of too tedious to watch and may have hoped for a crisper edit. However, its 152-minute runtime helps the makers do justice to a real life incident.