International Film Festival Rotterdam (IFFR) will be held this year from January 23rd until February 2nd. They have announced the line-up for their 2020 edition, which includes a massive number of Asian titles across various categories. Here are all the Asian films which will be showcased at the Dutch festival:
Aahuti (dir. Lubdhak Chatterjee, 15′)
The silent short film explores the concept of Panchabhuta, or the five elements, and follows the filmmaker's engagement with forms of artistic expression.
Action, Almost Unable to Think (dir. Mao Haonan, 11′)
A visually ingenious portrayal of a life story and inner world of a soldier killed in an explosion is told through hypnotically visualized allegoric scenes and objects during an imaginary encounter of views by a scientist searching for a relation to reality, a filmmaker reflecting on a role of time in art and a refugee stripped of the possibility to live in his hometown.
Age of Valiant (dir. Lo Chun-yip, 11′)
Anito (dir. Martha Atienza, 9′)
An animistic festival Christianized and incorporated into Folk Catholicism slowly turns into modern day madness. The Ati-atihan festival means, "to be like Aetas" or "make believe Ati's." The Aeta people are thought to be among the earliest inhabitants of the Philippines, preceding the Austronesian migrations some 30,000 years ago. Through all influences throughout it's history, the Philippines is at another turning point of using the influences of ancestral belief, with their catholic religion together with their strive for survival, search for identity and need for creativity. People take a day to step out of themselves and get connected to whatever they wish to be. Inspired by their ancestors they become powerful, god-like and mad.
As Far As We Could Get (dir. Ivan Argote, 26′)
Switching back and forth between two antipodal cities, filmmaker Ivan Argote digs an imaginary tunnel between Indonesia and Colombia.
At Home but Not at Home (dir. Suneil Sanzgiri, 11′)
A personal exploration of identity, liberation and the diasporic movement of people from the shores of Goa to Mozambique and Angola.
Balloon (dir. Pema Tseden, 102′)
In this cheerfully melancholic story of Tibet in the 1980s, China's one-child policy comes up against belief in reincarnation, and condoms can become balloons. Mother Drolkar is at the heart of a family of shepherds as modernisation slowly starts to encroach on Buddhist tradition in their everyday lives.
Beasts Clawing at Straws (dir. Kim Yong-hoon, 116′)
Debut director Kim Yong-hoon ensembles a great cast (Asura's Jung Woo-sung and Secret Sunshine star Jeon Do-yeon) for his energetic film adaptation of Japanese hard-boiled crime novel Beasts Clawing at Straws. The result is an artfully constructed, black comedy/crime drama as well as a compelling summary of human shortcomings. But where did that bag come from?
Becoming Alluvium (dir. Thao Nguyen Phan, 16')
Past and present collide in a multilayered and emotionally charged contemplation on the beauty and suffering of the Mekong River.
Bitter Chestnut (dir. Gurvinder Singh, 100′)
Kishan is at the crossroads of youth and adulthood. He wants more than the predictable life offered by his village in the Himalayas, but has heard from friends that life in the city can be hard. Against the background of global urbanisation, this intimate coming-of-age drama shows the strength of traditional village communities.
Bring Me Home (dir. Kim Seung-woo)
Yoon-su is still missing after six years when an anonymous caller assures his desperate mother Jung-yeon that her son is living in a remote fishing village. She comes face-to-face with a local fishermen's gruesome secrets. An enthralling thriller full of twists, as can only be made in Korea.
Cageman (dir. Jacob Cheung, 145′)
The movie explores the lives of tenants of the Wah Ha cage-house, who try to resist to stay in their cage-homes after the landlord announces he will take the building back and demolish it.
Cemetery (dir. Carlos Casas, 85′)
How great would the loss be to humanity if the last elephant were to die? Deep in the jungle of Sri Lanka, this suggestive and very patient film urges us to reflect philosophically about our bond with the largest land mammal on earth, notoriously blessed with a superior memory.
Cenote (dir. Oda Kaori, 75′)
Entrancing footage of denotes, or holy springs, in Yucatan, Mexico. Long-lost memories echo in a hallucinatory game of light and dark. Swimming in these, director Oda encounters mysterious shapes. The past and present of the people living around the denotes coalesce in this place where noting is forgotten.
Children of the Sea (dir. Watanabe Ayumu, 112′)
After a falling out with both her mother and the other members of her school club, female lead and junior high school student Ruka finds herself with nowhere to spend her days during summer vacation, and so she ends up hanging out at the aquarium where her father works. While there, she meets a mysterious pair of brothers, named Umi and Sora, who her father tells her were "raised by dugongs." The three teens share some sort of connection to a series of supernatural phenomena that have been affecting the world's marine life, such as a comet falling into the sea and aquatic life from around the world gathering in Japan.
Children of the Sun (dir. Prasanna Vithanage, 103′)
1814, Ceylon (now Sri Lanka). The Tamil king has been deposed by Sinhalese Buddhists aided by the British army. Amid the tumult, a man and woman from very different castes are condemned to marry each other. The differences seem irreconcilable in this epic love story, but ultimately they realise that character is more important.
The Cloud in Her Room (dir. Zheng Lu Xinyuan, 98′)
Chinese filmmaker Zheng Lu Xinyuan's debut is a melancholy, palpably personal film about twenty-something Muzi returning home for the New Year's celebration. Everything seems the same, but different. An expressionist each for love, (in)dependence and connection, filmed in atmospheric shades of black and white.
Côi (dir. Anh La, 15′)
The Cube Phantom (dir. Alan Lau, 73′)
Alan Lau's feature-length film debut "The Cube Phantom" is an experimental dance film about Hong Kong people's struggle for freedom and democracy.
Damp Season (dir. Gao Ming, 109′)
A young Chinese working couple drift apart ending up in the arms of others. Atmospheric study of the unsayable dynamics of human relationships, shot in a Southern city, where in early summer the weather grows dank and humid, and life becomes complex and ambiguous.
A Dark, Dark Man (dir. Adilkhan Yerzhanov, 130′)
A boy is murdered in a Kazakh village. Detective Bekzat wants to wrap up the inquiries quickly: after all, the perpetrator has already been found by local police officers. But when a journalist arrives from the city, everything falls to pieces. For the first time in his career, Bekzat must conduct a real investigation according to procedure.
Detention (dir. John Hsu, 103′)
In 1962, a sense of desolation and tension permeate the society. Fang, a twelfth grader at Tsuihua Senior High School, falls in love with Zhang, a counselling teacher. Troubled by the problems at school and home, Fang feels that Zhang is the only person who understands her. Longing for freedom, Zhang forms a study group with his colleagues and students, including Yin and Wei. Reading the banned books allows them to be liberated for a brief moment but at the same time, they put their lives in great danger. One day, Zhang vanishes into thin air, and only Fang and Wei, an eleventh grader, remember him. Together, Fang and Wei start looking for the disappeared teacher but find the school gradually slipping out of the world they are familiar with. Then in a realm dominated by ghosts and spirits, the pair are forced to face the terrifying truth…
Don't Light My Fire (Otoboke Beaver music video) (dir. ONIONSKIN, 3′)
Tokyo-based alt-animation studio ONIONSKIN partner up with Kyoto punk band Otoboke Beaver for rivetingly in your face music video Don't Light My Fire which expresses vocalist Accorinrin's anarchic spirit world through the curvature and speed of a 360 degree camera captured performance.
Duilian (dir. Wu Tsang, 26′)
Artist and filmmaker Wu Tsang re-imagines the story of Chinese feminist Qiu Jin in the film installation "Duilian".
Dwelling in the Fuchun Mountains (dir. Gu Xiaogang, 150′)
Shot over two years, and marking the first Chinese film to compete at Cannes Critics' Week in eight years, Gu Xiaogang's ambitious, assured debut follows the Yu family as their lives ebb and flow like the seasons over one eventful year, as an elderly Fuyang matriarch and her four adult sons weather the vagaries of fate – in the restaurant trade, in the pursuit of wealth and social standing, and in following their hearts.
Everyone is Welcome Here (dir. Ji Jun, 18′)
Eye Bags (dir. Jun Ho Wai-kwan, 6′)
Through monologue, Talia describes her chronic insomnia. When Talia meets Ah Gum, a goldfish who lives in her eye bags, they develop an interesting relationship.
The Eyes of Summer (dir. Rajee Samarasinghe, 15′)
In a Sri Lankan hamlet a shy girl becomes friends with a spirit. Based on the filmmaker's mother's childhood experiences.
First Love (dir. Takashi Miike, 108′)
Genre master Miike Takashi returns to his first love, characteristic of his 1990s career- Yakuza films. This contemporary take includes the usual explosive elements: talented, yet ill boxer Leo and call girl Monica become embroiled in a failed drug deal between local gangsters and a Chinese triad.
From Its Mouth Came a River of High-End Residential Appliances (dir. WangShui, 13′)
A journey through Hong-Kong's dragon gates as research into contemporary fengshui practices while contemplating the mythology and selfhood.
From the Queen to the Chief Executive (dir. Herman Yau, 106′)
In the ex British colony Hong Kong, young offenders unlimitedly had been prisoned for their committed crimes before their term of imprisonment is settled. The lawmaker Liang Zhongqin helps these young offenders.
Fuel (dir. Araki Yu, 16′)
Set in Kushiro, the North-Eastern port city in Hokkaido, ​FUEL​ quietly observes an expert griller working at one of the original and oldest Robata-yaki restaurants in Japan. While the slow-paced editing is matched with contemplative visuals of slow-cooking, the film subtly refers to indigenous Ainu culture, as well as envisages environmental movement in contemporary society.
Gangs (dir.Lawrence Lau, 98′)
Two brothers are forced into joining a gang in veteran director Lawrence Lau's debut feature.
A Girl Missing (dir. Fukada Koji, 111′)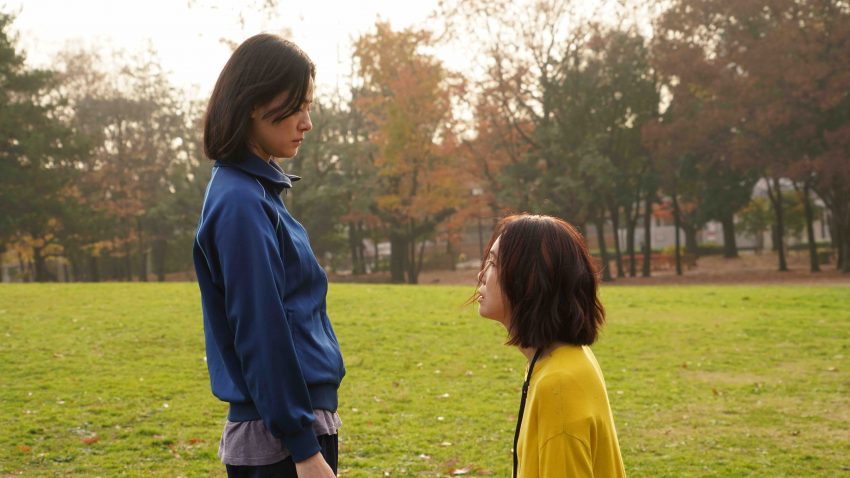 In this calm, stylised revenge drama by Fukada Koji ('Harmonium'), nurse Ichiko feels the ground slipping away beneath her when her nephew is suspected of the kidnappinng of a good friend. Driven by madness and desire, it turns out that Ichiko herself also has a dark side.
A Girl Who's Afraid of Touching People (dir. Huang Liang-Hsin, 5′)
The Halt (dir. Lav Diaz, 278′)
Manila, 2034. Dark times. Literally and figuratively. Volcanic eruptions have obscured the sun. A crazed dictator rules while the military carry out summary executions. Drones watch over everyone in the continual downpour. Prize winning director Diaz's work is tightly entwined with the tragedy of the Philippines. It isn't hard to view this SF film as contemporary commentary.
Happy Old Year (dir. Nawapol Thamrongrattanarit, 113′)
Jean wants to convert her house into a home office. Anything that lying around unused, she throws away. However, when she comes across some items that belonged to Aim, her ex, each one reminds her of a story that brings back memories, along with unresolved feelings that cannot easily be discarded.
The Home & The World Today (dir. Aparna Sen, 146′)
It is a complex triangular love story of a Leftist student leader, young Dalit girl and her liberal editor husband. The film set on the present political turbulence in country. Sandip, an active politician was a childhood friend of Nikhilesh. Nikhilesh, the editor lives with her wife Brinda. After long time Sandip comes to meet them which causes the serious changes of the relationship and complexities among husband and wife.
Home, and a Distant Archive (dir. Dorothy Cheung Tsz-yan, 24′)
The Honor Among Thieves (dir. Ma Lanhua, 50′)
Playful amalgamation of popular Asian and European literary, theatrical and film traditions situated in an industrial no man's land. Boundless creativity turns a tale of four classic thieves surviving in a corrupt world with a guile and deception into an original, visually stunning adventure.
If We Burn (dir. James Leong, Lynn Lee, 90′)
"If We Burn" is a documentary feature on the seven-month long protests that were sparked by the now-withdrawn extradition bill in June 2019.
Impetigore (dir. Joko Anwar, 107′)
After surviving a murder attempt in the city, Maya, a down-on-her-luck young woman, learns that she may inherit a house in her ancestral village. With her friend Dini, Maya returns to the village of her birth, unaware that the community has been trying to locate and kill her to remove the curse that has plagued the village for years. As she begins to discover the complicated reality about her past, Maya finds herself in a fight for her life.
In the Month of Love, (dir. Shashank Walia, 31′)
An evening during the onset of the month of spring, while trying to recollect a long lost song, someone gets reminiscence of a love tale that blossomed years back in what now remains as ruins of an old, low-income housing colony. An unfolding of a Raga- an arrangement of musical notes evoking a feeling of longing and love in Indian classical aesthetic.
Indonesia (dir. Sharyn Davies, 0′)
"Indonesia" is a selection of personal photographs which document assistant professor Sharyn Davies' fieldwork in Sulawesi during her 20-year research career, showing both the beauty and diversity of its land and people. The collection focuses in particular on gender non-binary people, who often play particular roles in the community, including performing weddings for heterosexual couples and fertility rituals.
The Invitation (dir. Saurav Rai, 85′)
Ten-year-old Tashi and his ageing grandma live as tenants to a wealthy family, In a remote mountain village in Darjeeling. Their job is to look after the family's cardamom orchard and guard it at night from wild animals. An approaching wedding at their patron's house excites Tashi. But will they invite him?
Jallikattu (dir. Lijo Jose Pellissery, 91′)
Kalan Varkey, a butcher, faces a lot of trouble when the buffalo he was supposed to slaughter goes astray and causes chaos in a village.
Kasiterit (dir. Riar Rizaldi, 18′)
One-third of the global tin supply is extracted from Bangka island in Indonesia. Tin is the most impacted mineral by the upcoming technological development, which includes artificial intelligence and technology for renewable energy. Natasha is a solar-powered A.I. voice, and in this film, they trace their genealogy and the truth of their origin; from the capital liquidity to labour dynamic. With their feminised voice—as quite often performed by other AI-powered voice assistants produced by tech-companies, Natasha narrates the emergence of tin in Bangka island and their existence from the perspective of tropical anthropology of nature, value theory, philosophy of time, genetic mutation, geopolitics, and automation.
Kin's Hair (dir. Chang See-Wan, Chan Kwun-Chung, 6′)
Kin's Hair is a comedy animation which included the history of Hong Kong, we would like to recall the Memories of Hong Kong people and encourage everyone to regard and enjoy what you have, don't regret after losing it.
Krabi, 2562 (dir. Ben Rivers, Anocha Suwichakornpong, 93′)
Krabi is a stunning city on the coast of southwestern Thailand. The beaches glisten, there is plenty of shade from luxuriant greenery, street vendors sell authentic local food and the fertility temple is extremely Instagramable. But in just a few years it will all be gone forever, crushed by mass tourism. Not quite yet, however, in the year 2562 in the Buddhist calendar. We see Krabi through the eyes of a woman who introduces herself in different ways and absorbs the local history and inhabitants' stories with detachment.
Labyrinth of Cinema (dir. Obayashi Nobuhiko, 179′)
The story centers on a group of young people who travel back in time when they are in a movie theater just before closing time. They witness deaths during the closing days of Japan's feudal times and on the battlefront in China before they are sent to Hiroshima just before the Aug. 6, 1945, atomic bombing of the city.
Last Night in Sham Shui Po (dir. Andrew Lang, 3′)
Long Arm of the Law (dir. Johnny Bak, 100′)
Thugs sneak into Hong Kong to rob a jewellery store, then kill a cop during their getaway. They plan another heist while hiding from the police hunting them down to avenge the slain comrade.
The Long Walk (dir. Mattie Do, 116′)
Decades after witnessing a fatal car accident near his isolated home in rural Laos, a middle-aged man is left alone with his regrets and the unsettled spirit who still walks the road where she died, in this hauntingly dramatic third feature from Mattie Do (Dearest Sister).
Lost in the Fumes (dir. Nora Lam, 93′)
Politician and activist Edward Leung is the subject of Lam's intimate and disarming biographical documentary, which begins by following the young radical localist on his campaign to win a seat on Hong Kong's Legislative Council—a contest which he'll be barred from due to his advocacy for HK independence. Only 22 when the film was made, Lam is a near-contemporary to rising leader Leung, and their Lost in the Fumes shows the psychological toll—depression, disillusion, and anger—of passionate political engagement on a generation of young people tried in the fires of protest.
The Lost Procession (dir. Bani Abidi, 17′)
Banu Abidi emphatically presents scenes from the daily lives of the Hazara community in Quetta, Pakistan, alongside narratives of persecution and exodus.
A Love Unknown (dir. John Clang, 82′)
In New York and Singapore, an estranged mother and daughter independently try to fight their depressions and answer existential questions. This drama that subtly connects complex problems, harsh reality and hallucinations, portrays fours days in the women's lives. Do invisible connections exist?
Love's Twisting Path (dir. Nakajima Sado, 94′)
When Nakajima Sadao joined Tōei in 1959 the studio was working on overdrive, producing around 100 films a year. The majority of these were genre movies of the more hard-hitting kind. At first chambara (sword-fighting films), then the yakuza eiga (gangster films) at which Nakajima was to excel, chalking up some sixty-plus titles until 1998 when he retired from active duty with Yakuza Ladies: Decision, continuing as a professor at Ōsaka's Geidai.
Lullaby (dir. Pathompon Mont Tesprateep, 8′)
"Lullaby" is the prologue of Mont's ongoing film project "The Scattered World" (working title) (2019-2020) based on his research concerning the subnational conflict in the Deep South, Thailand. The prologue consists of four new renditions of traditional Chehe dialect lullaby tunes.
Made in Hong Kong (dir. Fruit Chan, 109′)
After his father abandons the family, Autumn Moon drops out of high school and becomes a money collector for organized criminals the Triads. On his rounds, he meets and falls in love with Ping, a daughter of one of the Triads' debtors. She is suffering from a fatal kidney disease, and to pay for her medical expenses, Autumn Moon takes an assassination contract, but as he slips deeper into the criminal underworld, he's haunted by a figure from his past.
Memories to Choke On, Drinks to Wash Them Down (dir. Ming Kai Leung, Kate Reilly, 78′)
Memories to Choke on, Drinks to Wash them Down is a collection of short films from cinematographer-director Leung Ming-kai and partner Kate Reilly. It contains three stories about how Hongkongers bear the weight of treasured memories, raise themselves up to meet present challenges, and stand ready.
Moving On (dir. Yoon Dan-bi, 105′)
Financial and relationship problems force three generations of a family to live together under one roof. Tender, subtly structured portrait of five individuals discovering, exploring or critiquing the meaning of family and other relationships in their lives, each from their own perspective.
Moving Pictures: Filmmakers and the Art of Cinematography (dir. Sophie Kill, Henning Rädlein, An Tran, 106′)
In an intimate setting, camera people such as Roger Deakins, Vittorio Storaro, Rachel Morrison, Christopher Doyle, Rodrigo Prieto, Matthew Libatique and Mahmoud Kalari talk about their profession. World famous directors such as Ang Lee, Francis Ford Coppola and Wim Wenders also speak candidly about their special relationships with their cameramen or camerawomen. Their shared professional experiences – not limited to just the technical aspects – are intercut with illuminating film clips.
Mr. Jimmy (dir. Peter Michael Dowd, 113′)
In snowbound Tokamachi, Japan, teenaged Akio Sakurai took refuge in his room, escaping to another world with a pair of headphones and a pile of Led Zeppelin records. Moving to Tokyo, Akio worked as a "salary man" by day, but by night became "Mr. Jimmy," adopting the guitar chops and persona of Jimmy Page. For 35 years, Akio recreated vintage Zeppelin concerts note-for-note in small Tokyo clubs, until the "real" Jimmy Page stopped by one night, and Akio's life changed forever. Inspired by Mr. Page's ovation, Akio quits his job, leaving behind his family to move to Los Angeles and join "Led Zepagain." Soon cultures clash, and Akio's idyllic vision of America meets with reality.
Murmuring Debris and Leaves Silently Fall (dir. Bo Wang, 22′)
A visual exploration of the abandoned site of the former Armed Forces' Hospital in Gwangju, South Korea, through rubbles, dusts, wild grasses, debris, ruins, human body and its cultural transformation. During the Gwangju Uprising in May 1980, people wounded by torture and assault were taken here and forced to receive treatment.
Nasir (dir. Arun Karthick, 78′)
Candid portrait of a gentleman living in a degrading, second-class existence as a Muslim in an India characterised by rising Hindu nationalism. His poetry and love for his wife keep him going, while toxic intolerance bubbles just below the surface of everyday life. Until the explosion, as sudden as it is inevitable.
Not in this World (dir. Park Jungbum, 167′)
"Not in This World" is director Park Jungbum's renewed exploration of the darkest recesses of the human soul. He focuses on teenager Jisu who – as the daughter of struggling parents – refuses to submit to capitalist society's harsh rules. She raps, finding a solitary fan in Jeongcheol (played by Park), an oddball with a big heart and moral compass. After the umpteenth argument she runs away and attempts to destroy the cruel world from the inside out by enthusiastically, and seemingly emotionlessly, ruining herself.
Nothing to Be Afraid of (dir. Silva Khnkanosian, 69′)
Sparse in dialogue, this immersive documentary highlights the stunning devotion of a group of women who work as mine-clearers. They are the vulnerable archaeologists of a particular chapter in Armenian history when 30 years ago, after the collapse of the Soviet Union, the enclave of Nagono-Karabakh tried to separate from Azerbadjan and reunite with the Republic of Armenia. Metre by metre they are clearing the 'Lachin Corridor', a former combat zone where thousands of mines were planted.
No.7 Cherry Lane (dir. Yonfan, 125′)
In Hong Kong of the 1960s, student Ziming falls for wealthy Mrs Yu, the mother of the ravishing, 18-year-old Meiling whom he tutors. Yu fled Taiwan in the 1950s escaping the severe suppression of leftist dissidents. While their affair unfolds, Ziming also develops feelings for the daughter. In the meantime, political unrest slowly grips the city.
One Arm (dir. Yamamoto Eiichi, Sugii Gisaburo, 30′)
We follow a man who borrows an arm from a young beautiful woman for a night.
Only You Alone (dir. Zhou Zhou, 90′)
Ordinary Heroes (dir. Ann Hui, 128′)
"Ordinary Heroes" is a 1999 Hong Kong drama film directed and produced by Ann Hui. Based on real-life prototypes, the film focused on social activists in the 1970s and 1980s who fought defiantly against British Colonial government for the rights of the Yau Ma Tei boat people and their mainland wives. Mostly leftists and Communist sympathisers, their despair after the 1989 Tiananmen Square Massacre is also highlighted.
Parasite (B&W Version) (dir. Bong Joon-ho, 131′)
Bong Joon-ho's record breaking film will be shown in a new Black & White version.
People on Sunday (dir. Tulapop Saenjaroen, 20′)
"People on Sunday" is a reinterpretation, a response, and a homage to a 1930 German silent film "Menschen Am Sonntag", a film with no actors, as it employed only non-actors and shot only on Sundays.
The Pregnant Tree and the Goblin (dir. Kim Dong-ryung, Park Kyoung-tae, 115′)
Sublime film about a former 'comfort woman' who lives next to an American military base in Korea. Faced with death, she rw-writes history as revenge against obscurity. A docufiction that transforms her unbearable existence into something increasingly spiritual, fantastical and touching.
Prelude of the Moving Zoo (dir. Sorayos Prapapan, 16′)
An idiosyncratic goodbye letter to the oldest zoo in Thailand. Simultaneously political and humorous.
Reiwa Uprising (dir. Hara Kazuo, 270′)
Acclaimed documentary filmmaker Kazuo Hara follows Ayumi Yasutomi, a cross-dressing candidate, who is also a Tokyo University professor, as she embarks on a national campaign for a seat in Japan's Upper House.
A Rifle and a Bag (dir. Isabella Rinaldi, Cristina Hanes, Arya Rothe, 89′)
Intimate documentary about a family of ex-rebels trying to safeguard their sona dn unborn child's futures whilst living as third-rate citizens. Ex-Naxalite communists, they fought the government for tribal rights. Fighters could surrender and betray their comrades in exchange for citizenship.
The Science of Fiction (dir. Yosep Anggi Noen, 106′)
In 1962, Siman, a solitary farmer, came to Gumuk, sandy bare land. Siman was witnessing a shooting of a fiction film about man landing on the moon. It was an unlucky day for him, Siman was caught by the army and got his tongue chopped off.Soekarno, the first president of Republic Indonesia, came to Gumuk, brought with him a Bolex 8mm camera. From the distance, he made a "the making of" man-landing-on-the-moon film. And the politics went so wrong. Under the new regime, A New Order of Soeharto, Siman was then being named as an insane person because he often moves stupidly, acting as if he is walking on the moon. In the village, Siman built a strange cubical building looking like a robotic machine that he saw in the sands. Siman designed an astronaut costume, and always uses a white helmet every time he goes out of his house. All the villagers agree that Siman is insane, but what he did is actually words and the only way he knows to show the truth. He is the only one who knew about the worlds biggest lie.
The Sculpture (dir. Musquiqui Chihying, 28′)
The double-channel video, featuring Chihying's narrative voice layered over archival images and videos, elaborates on how so many African artifacts ended up in European museums, before bringing us back to the present with an account of the collecting habits of Xie Yanshen, a Chinese philanthropist with a penchant for African art who has donated some 5,000 items to the National Museum of China, and who serves as director of his private International Museum of African Art in Lomé, Togo.
The Sculpture of Place & Time (dir. Utagawa Tatsuhito, 8′)
Tatsuhito Utagawa captures the space and time experienced by Cambodian-American dancer Prumsodun Ok, who takes up the space within the static frame through his bodily movements while a prayer is recited. Ok's sensuality draws inspiration from Cambodian legends, spiritual beliefs and resilience, depicted in his revival of Khmer classical dance.
Serial Parallels (dir. Max Hattler, 9′)
This experimental animation approaches Hong Kong's built environment from the conceptual perspective of celluloid film, by applying the technique of film animation to the photographic image. The city's signature architecture of horizon-eclipsing housing estates is reimagined as parallel rows of film strips: Serial Parallels.
Shell and Joint (dir. Hirabayashi Isamu, 154′)
Understated, intelligent comedy by award-swimming director of short films Hirabayashi Isamu. Japanese capsule hotel users philosophise about sex, death and love. The tight framing and absurdist humour make it seem as if the makers of Toren C (offbeat Dutch TV series) and Roy Andersson have had a completely idiosyncratic Japanese love child.
Shut Up Sona (dir. Deepti Gupta, 85′)
Deepti Gupta followed singer Sona Mohapatra, the rebellious face of the Indian #MeToo movement for three years resulting in an intimate portrait and feminist pamphlet. It shows how tough the fight for equal rights is in a country with such strong patriarchal traditions and a history of violently suppressing women.
Signal 8, (dir. Simon Liu, 15′)
A prologue to Hong Kong's nest, this 16mm film captures the colour, light, texture and chaos of a city before civil protest.
Single Copy (dir. Hsu Che-yu, 21′)
Working between the worlds of filmmaking, animation, and drawing, Hsu Che-Yu's art examines in forensic-like detail the abnormalities that occur in the portrayal of our reality through mass media. His latest work Single Copy continues to explore how this intertwines with our daily lives to merge fact and fiction in various unexpected ways. It looks deeply into the meaning of what it means to have a life under the interpretation of media, also discusses how our memories intersect with technology and how this influences the collective imagination.
Special Actors (dir. Ueda Shinichiro, 109′)
A money-grabbing cult involved in rice balls, a charming young damsel in distress and an improbably dork-hero who faints every time someone looks at him. How on earth can that end well? If only Rescueman were here! Sympathetic absurdity from the maker of the unexpected cult hit One Cut of the Dead.
Stone (dir. Jeroen Van der Stock, 6′)
Stone is a short film entirely based on 15 chemically treated film stills from the remake film Diabolique, featuring Sharon Stone. It is an abstract remake of the remake of the original thriller Les Diaboliques.
Synapses (dir. Chang Tso-chi, 119′)
When the young Xiao Meng is released from prison, her father and son don't recognise her – the former due to dementia developed during her six-year prison term and the latter because he was only a baby when she was arrested because of her dodgy boyfriend. In the melancholy Taiwanese Synapses, Xiao Meng's return unsettles her family. While the family members try to regain their balance, their vulnerable interrelations are acutely observed by director Chang Tso-chi.
Ten Years (Jevons Au, Kiwi Chow, Zune Kwok, Ka-Leung Ng, Fei-Pang Wong, 104′)
"Ten Years" offers a vision of the semi-autonomous territory in the year 2025, with human rights and freedoms gradually diminishing as the Chinese government exerts increasing influence there.
Tenzo (dir. Tomita Katsuya, 62′)
Chiken, a Buddhist monk, attempts to live his life in a useful way. His old friend Ryûgyô, also a monk, lives in Fukushima, and works on construction sites.
There is a Spider Living Between Us (dir. Tejal Shah, 6′)
Indian artist Tejal Shah wanders through the layers of female sexuality and desires, particularly the sexual act of tribadism, where two beings merge – fusing and becoming one. The film combines several techniques to produce a dream-like sequence, a space to reflect the nature of oneness.
Together Apart (dir. Qu Youjia, 52′)
Post funeral, the widow meets her recently cremated husband at home, very much love. His long-dead brother also proves to be on his way over. How the bereaved deal with the illogical unfolds in long and composed takes, replete with understated humour and tender reflections on family, loneliness and memory.
Tokyo Telepath (dir. Endo Maiko, 49′)
In preparation for theOlympics and Paralympic Games, Tokyo has become a giant building site. Simultaneously, an even more far-reaching transformation is taking place, the city is being digitised, population and all. Presented as science fiction, this spiritual-philosophical film provides a dystopian vision of our time.
Tora-san, Wish You Were Here (dir. Yamada Yoji, 116′)
50 years since his movie debut, Tora-san is back in a new story. One of Japan's most beloved characters returns to the big screen through a combination of new footage and 4K restored images.
Transcript (dir. Erica Sheu, 3′)
Quite film on super-sharp 35mm in which filigree gypsophila flowers, old love letters and cyanotypes lead to inner contemplation.
The Tree House (dir. Truong Minh Quy, 84′)
What does a filmmakers journey to Mars have to do with the Ruc- an isolated ethnic group living in the mountains and caves of Vietnam? This original mix of science fiction and anthropology investigates the meaning of the concept of 'home'.
Tyrant Star (dir. Diane Severin Nguyen, 16′)
With an electric fan as her microphone, a young woman gives it her all in a bedroom karaoke for this tantalising poen coloured in loneliness.
We Have Boots (dir. Evans Chan, 125′)
We Have Boots is filmmaker Evans Chan's sequel to Raise the Umbrellas, featuring young activists, including Agnes Chow, Ray Wong, Alex Chow and legislator Shiu Ka-chun; and Occupy initiators, Benny Tai and Chan Kin-man, in the post-Umbrella era of disqualification and prosecution. In the film, they reflect on their personal paths – from pursuing graduate studies or seeking political asylum overseas, to accepting the political cost of dissent by confronting the prospect of imprisonment.
The Wild Goose Lake (dir. Diao Yi'nan, 113′)
A man and a woman meet. Pouring rain, a desolate corner of the city, a cigarette that flares in the dark. He is the leader of a gang, she a prostitute with hazy allegiances. Director Diao Yi'Nan leaves no room for doubt in the opening scene of The Wild Goose Lake: this is film noir. Like the classic noirs that ripped open the nihilistic underbelly of the USA post-World War II, Diao shows us the debauchery of contemporary China by putting his characters on a road to nowhere.
Wisdom Tooth (dir. Liang Ming, 104′)
Thriller/coming-of-age film in which Guxi and her half-brother's harmonious lives are shaken up by an attractive woman who brings adventure and danger. Tension rises in a world that shifts from colourful and warm to cold and threatening.
A Witness Out of the Blue (dir. Fung Chih-chiang, 104′)
In this classic whodunit, a Police detective must rely on the only witness, a parrot, to catch the killer of an armed robber.
Wong Ping's Fables 2 (dir. Wong Ping, 13′)
What does an ex-activist cow and a three-headed rabbit have in common? They're both doomed in Wong Pin's political animated fable.
Yellowing (dir. Chan Tze-Woon, 128′)
The Hong Kong protests of 2014 known as the "Umbrella Revolution" were an expression of some people's dissatisfaction with the restrictive interventions in local affairs by the Chinese government. The protestors, primarily young people, rejected the limitations on local autonomy made by the communist government. In his first-person participant documentary, director Tze-woon Chan and his hand-held camera become a part of events in the island city. Over the course of 20 chapters (or "memos"), the film's young protagonists express their feelings and views of the revolution whose cruel historical momentum rolled right over them.
15 Days (dir. Suzuki Shiroyasu, 90′)
For the "15 days" from November 11 to December 3 1979, Suzuki recorded himself for six minutes each day using a camera with audio recording capabilities. This was a daily routine which he drew-up himself. However, for the first few days, we end up viewing him from behind, making weak excuses about his day to day existence being filled with deadlines for magazines and newspapers, moaning about sleeping during the day and working at night, and voicing his regrets about deciding to make the film at all. He shrinks as if cornered by the audience, and whilst we can sense slight variations in his daily sensibility, we are not able to ascertain much more than that. A week passes, and when the first rush has receded, he begins to think about how he should act in front of the camera. At this point we see the sort of results his method can bring. Finally, on the last day, he comes up with his own sense of the direction in which the work should go. With 6 minutes a day, there are some days in which he doesn't have much to say, and others when the time is just not long enough. Occasionally, the sound of the camera running seems to be torturing him or hurrying him along, and at times it even makes us, the audience, feel anxiety: as if we were ourselves being filmed.
7465 (dir. Watsamon Tri-yasakda, 0′)