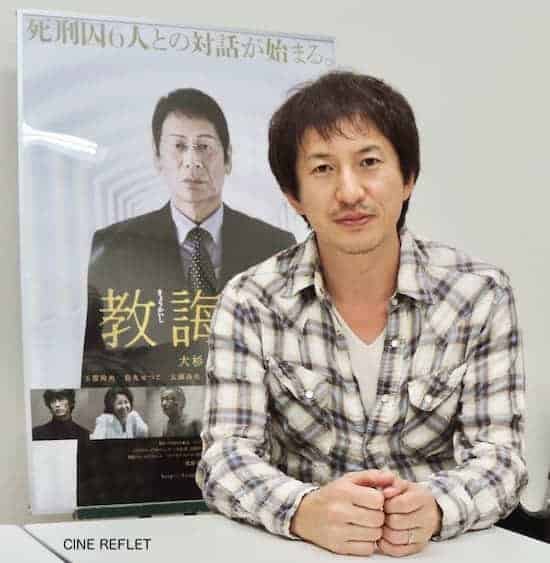 Dai Sako was born in Kanagawa Prefecture in 1971. After working successfully as a screenwriter, he made his directorial debut with Still Paradise (2005). His follow-up feature Running on Empty (2009) was shown at various international film festivals. The Chaplain (2018) marks his comeback as a director, after having returned to writing film scripts for some years.
On the occasion of "The Chaplain" being included in our Best Japanese Films of 2019 list, we speak with him about his cooperation with the late Ren Osugi, the death penalty and Christianity, the cast, the Japanese movie industry and many other topics.
I could not but start with the inevitable question, since "The Chaplain" was Ren Osugi's last movie. How do you feel about that and how was your cooperation with him?
I had great respect for Mr. Osugi both as an actor and as a person. I took the project The Chaplain to Mr. Osugi first, and it got made because he agreed to not only to star in it but also to produce it. I was really sad when he died because thanks to this title, we were talking about working together in the future. At the same time, I am proud to have made his last film.
Why did you decide to shoot a film that deals with the death penalty? What kind of research did you do on the subject and what was your inspiration for creating the characters appearing in the movie? Is Takamiya based on the Sagamihara stabbings?
I first started writing the screenplay for a film entitled "The Vacation," about a death-row convict and a prison oficer, 13 years ago. I'm also interested in the extremely unreasonable and mysterious system of the death penalty.
I couldn't talk to actual prisoners, but I was able to talk to some chaplains before filming. They couldn't really talk about life inside, however, so I asked them mainly about their preparation for the chaplaincy.
While I was writing the script, the Sagamihara stabbings occurred. It was a shocking event and Takamiya's character was created with the criminal as a model, but with additional elements.
Surveys suggest that death penalty is widely accepted in Japan. What are the reasons for this do you think, and what is your opinion about it?
While the world moves in the direction of abolition, more than 80% of Japanese are in favour of the death penalty. I think it's because Japanese have a strong desire to reject those that have committed crimes (i.e., those who have deviated from the existing system). Many people think that, "considering the feelings of the victim's family, the death penalty is the only choice," or, "it's strange that an innocent person has been killed, but the killer survives." Executing the assailant will not make anyone happy but it will take another life. I think it's better to make the criminal pay for their crimes for a lifetime.
How widespread is Christianity in Japan nowadays, and what are your thoughts on the concept?
Probably all Japanese people love Christmas (including me!), but Christianity is not widespread. On the other hand, while the concept of Buddhism is widespread, few people can be described as Buddhists. Most Japanese have no religion.
Can you give us some more information about the location the film was shot? Is it an actual prison and if positive, how did you manage to get permission to shoot there?
The film was shot entirely in Saitama Prefecture. The scenes in the detention center were shot in a large garbage-disposal facility. We built walls in the hallway inside the building and assembled a set because the ceiling was so impressive.
How was your cooperation with Tatsuya Yamada regarding the cinematography of the film?
We thought it was most important to really capture each character. Most of the film is scenes of conversations between two people, but we tried to avoid side-angle, same-frame shots as much as possible and ensure that the viewer was "talking" with the characters. We also carefully considered how to show the actors' performance most effectively. To some extent, we met in advance to decide the shooting methods, but each time we finished one scene, I talked with cinematographer Mr. Yamada and, taking into account the relationship with the scenes before and after, we went on to shoot the next scene.
Noboru Ogawa also appeared in your "Still Paradise" but he is not a professional actor right? How is your cooperation with him? I general, how was the casting process for the film like?
Mr. Osugi's role as chaplain was decided from the beginning. For the six prisoners, we tried to mix famous actors, such as Mitsuishi Ken as Yoshida and Setsuko Karasuma as Noguchi, with lesser-known actors. But we tried to get them to play on an equal footing, regardless of reputation. Mr. Ogawa is an ordinary company employee who has only appeared in my independent films. I thought that having a non-actor perform would make the work richer than expected.
The film is quite minimalist, mostly taking place inside single rooms while these is almost no music. Why did you choose this approach?
Death-row prisoners are deprived of liberty and spend almost the entire day in solitary cells. You can imagine their feelings of loneliness and suffocation every day. In addition, the chaplain cannot escape when he enters the chaplain's room either. We chose standard size with no music so that the audience would feel the sensation of being trapped too. This was also a challenge for me when creating this story.
What is your opinion of the Japanese movie industry at the moment?
Crap. While it's the global trend, adaptations of "based-on" and series are even more widespread, and there are almost no producers trying new things. In the end, I think the root cause is that there is no audience for ambitious movies. No company wants to make something that won't make a profit. Since a single company cannot raise the production cost on its own, many companies have to invest. When you have to take care of every company, the result is going to be bland. The finished product is too safe, and nobody knows who will watch it. I feel that it's a vicious cycle. But over the past few years, I think this bad trend is changing. That's what I want to believe.
Are you working on anything new?
I just finished a new script. It's the story of people who do irreparable things, take no responsibility and try to act as if it never happened. I hope I can raise the production budget…