Hiromichi Nakao started filmmaking after working on a friend's film. He is a DIY-style director who makes films all by himself. "Obake" is his third film to be selected for PFF after 2 short films "The Ship" (2015) and "The Balloon" (2017).
On the occasion of "Obake" winning the Grand Prize at the 2019 PIA Film Awards, we speak with him about the significance of the award, shooting a film by himself, the hardships of being a director, and other topics.
Last year you won the Grand Prize from PIA Film Festival for "Obake". How do you think this award will help you in your career from now on?
Negotiations will be more easy because of the Grand Prize, for example with entertainment agencies or record companies.
How difficult is it to shoot a film all by yourself and why have you chosen this path? If you had more money would you change that?
About 10 years ago, I went to a friend's movie shooting site and helped several times. They were a two-person team who did it everything by themselves, acting, composition, field recording etc. It was then I realized that shooting a movie does require a team. It can be made by one person, however, it is difficult to climb a mountain alone with a camera, recording equipment, telescope etc. I often want more staff.
If I have the money, I may hire a cinematographer, a sound engineer or actor, but I have no plans for that at the moment. Basically it is easier to work alone.
Is this how you are as a person also? A loner?
I'm lonely when it comes to filmmaking, but there are so many things I can notice and find. I don't feel so lonely in everyday life.
How did you shoot the film and particularly those scenes where the camera is recording you from far away?
Just like in the movie, I press the record button on the camera and I actually go into that frame and shoot. I do the same thing no matter the distance.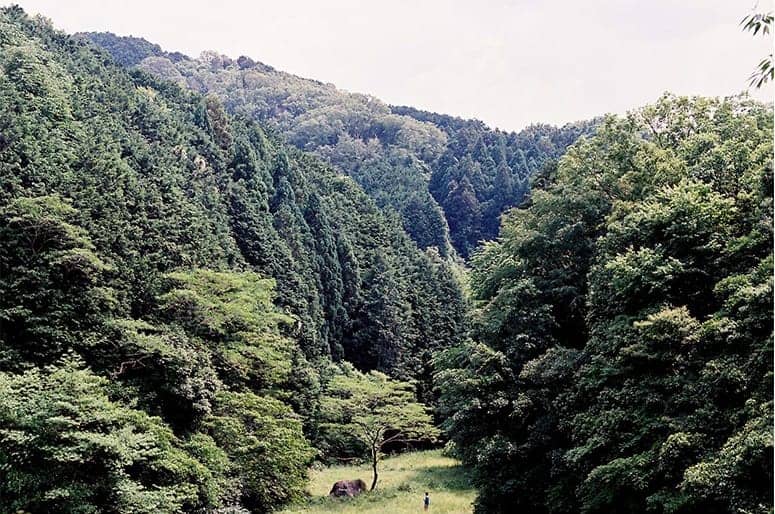 And how about the scenes inside the train?
The moving, starry sky is chartered by a planetarium, moving about 20 times faster than usual. The Galaxy Station scene is a long escalator (Shooting with a mirror object attached to the front of camera).
All train models are stop motion.
The story also includes humor, although a bit bitter one occasionally. Can you give us some details about this tactic?
This movie is almost identical to my actual life, because it is only painful to reflect it as it is. To not be too serious, I tried to make a structure that makes the audience laugh slightly. The two stars are actually young comedians in Japan. They tell humorous things in the movie, but I am not sure how accurately the English subtitles can capture their jokes.
Where did the inspiration for the film came from? Are some parts autobiographical? And where did the idea for the stars that watch the filmmaker came from?
Some, or almost all, autobiographical parts of the film are true stories. The inspiration for the film came during the production of my previous work, "The Balloon". A friend of mine said, "It's very inefficient and ridiculous to make a movie about shooting your movie". Certainly, I thought it would be interesting to objectively capture such wasteful shooting scenes.

The idea of a star looking at a movie director came up when I was shooting on a mountain at night. I felt that at least the starry sky looked at me and supported me. And it's a parody of "It's a Wonderful Life" in its current form.
In the film, there are some scenes that look like actual footage, from a screening in the Tokyo Film Archive for example. Are those actual footage from your film screenings? And if positive, how was the reaction of the audience to your movie?
Yes. The show in the theater and the subsequent teach-in are all real events. Three years ago, when the previous film "The Balloon" was screened, I was filming because of this project "Obake".
Who was the kid that appeared towards the end of the film?
Both kids that appear in the film are my real children. It is the same as in real life when children who are separated, return. I love them!
What is your opinion of the Japanese film industry at the moment?
I don't know much about it, but I think everyone has an equal opportunity in making films.
Have you planned any future projects?
Yes, I rotate the camera on a daily basis and shoot a lot. Some plans are coming out of that.